Waiting game
Uncertainty over Presidents Cup roster leaves International captain Trevor Immelman preparing for anything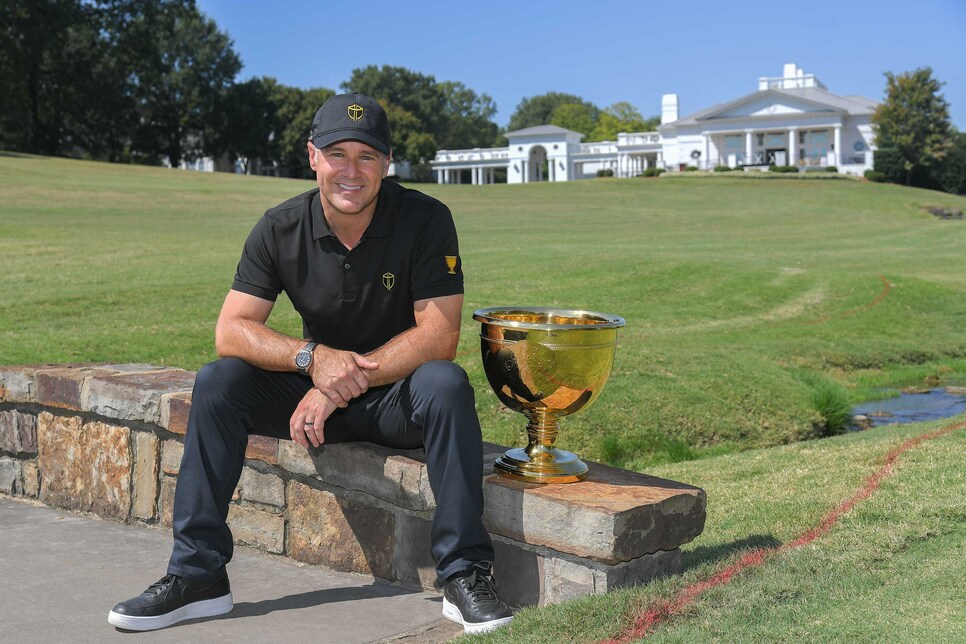 Trevor Immelman poses with the Presidents Cup at Quail Hollow.
Ben Jared
ATLANTA — Trevor Immelman has been working the phones for months trying to learn the latest happenings with LIV Golf. It's not that the captain of the International Presidents Cup team cares about the success or failure of the Saudi-backed circuit, but rather what any defections mean for his roster as he prepares for next month's match at Quail Hollow.
"I've been calling players, caddies and agents just trying to be the most prepared I can be," Immelman said Wednesday when reached by phone.
The 42-year-old South African should only have to wait a few more days before he'll know who is staying and who is going. Multiple reports suggest as many as seven PGA Tour players who competed in the FedEx Cup Playoffs will announce they are joining the Saudi-backed rival tour after the Tour Championship in Atlanta. It is believed the new recruits will then play LIV Golf's next event outside Boston on Sept. 2-4. Those players will be banned by the PGA Tour and become ineligible to play in the Presidents Cup, taking place Sept. 22-25 in Charlotte.
"The timeline is barrelling down on us now," Immelman said, "and I feel we are close to getting a lot of clarity around who is going to be at Quail Hollow."
Among the seven reportedly leaving for LIV is Australia's Cameron Smith, the No. 2-ranked player in the world who won the Players Championship in March and Open Championship at St. Andrews in July (Smith has not denied the reports). Smith's countryman, Marc Leishman, also has been said to be joining the Greg Norman-led LIV tour.
It's safe to say Immelman is on alert. "I don't know if 'nervous' is the right word … maybe it is," noted the 2008 Masters champion. "I'm a bit anxious but also excited."
Eight automatic qualifiers for the International team have been finalized—Smith included, along with Hideki Matsuyama, Sungjae Im, Joaquin Niemann, Tom Kim, Corey Conners, Adam Scott and Mito Periera—while four captain's picks need to be made on Sept. 6. Davis Love III, the U.S. captain, has six qualifiers in place (Scottie Scheffler, Patrick Cantlay, Sam Burns, Xander Schauffele, Justin Thomas and Tony Finau) and will fill out his team roster with six captain's picks on Sept. 7.
Should Smith take himself out of the mix, it would be a cruel blow for the Internationals, given the 29-year-old is playing the best golf of his life. He was also impressive on debut in 2019 at Royal Melbourne, beating Justin Thomas in singles. His elite putting is made for match play.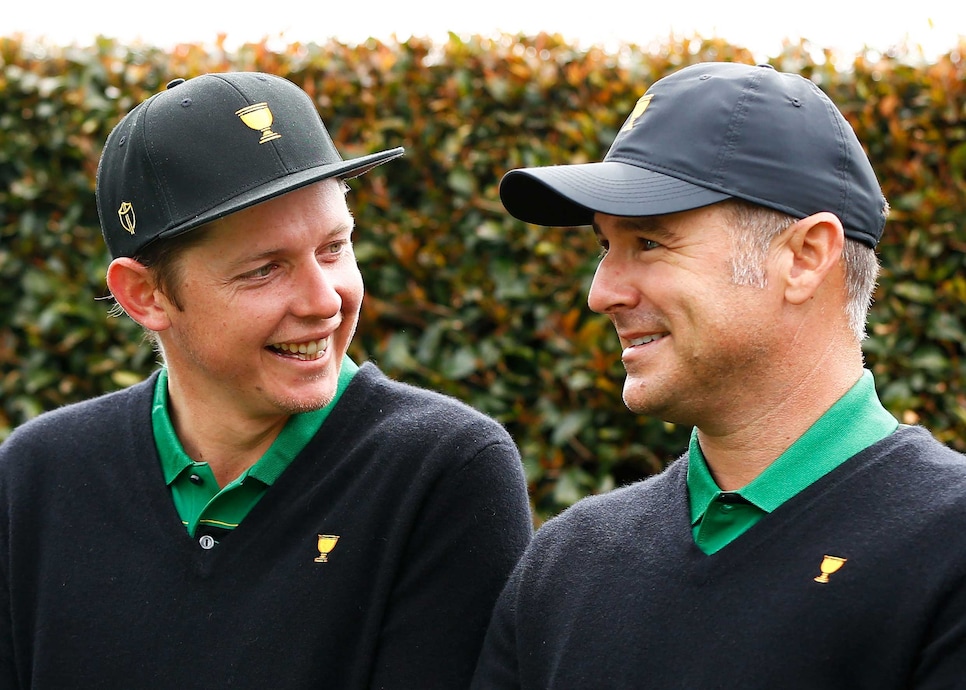 Cameron Smith talks to Trevor Immelman at the 2019 Presidents Cup in Australia. Smith was the top qualifier for the 2022 International team but reports are that he will sign with LIV Golf and be potentially ineligible for the match at Quail Hollow in September.
Daniel Pockett
Immelman was also eyeing Leishman, a six-time PGA Tour winner who was 17th on the points list but a vital contributor to the Internationals' team morale in his four previous Cup appearances, as a captain's pick.
Using his time on the road this year as a PGA Tour commentator for CBS to bond with team candidates, Immelman is confident he can assemble a competitive side even if he has to dive down the standings. Justifiable captain's picks could include South Korea's K.H. Lee, as well as South Africans Erik van Rooyen and Christiaan Bezuidenhout. There are also some big hitters on the list whose driving distance could be useful at the lengthy Quail Hollow, including Canada's Taylor Pendrith and New Zealand's Ryan Fox.
"There's a ton of depth, but we'd be foolish not to acknowledge players who may go to [LIV] have the potential to hurt our team," Immelman said.
On Wednesday at the Tour Championship, PGA Tour Commissioner Jay Monahan was buoyant about both teams but also pragmatic about LIV implications. "There's so much depth right now, [but] I think both captains and both teams recognize there's a next-man-up philosophy," Monahan said.
The PGA Tour's banning of LIV golfers has raised an old discussion about whether the International team should work separately from the tour. After a lopsided loss at the 2017 Presidents Cup at New Jersey's Liberty National, then-captain Ernie Els said his successors should "make our own decisions" on things like the selection process and course set-up when the Cup is played outside the U.S. If the International team had its own governance structure, LIV golfers such as Abraham Ancer, Louis Oosthuizen and Charl Schwartzel might still be allowed to compete. As awkward as that may be for tour officials, including these prominent players would strengthen the International team, and in the process the event.
But Immelman said rules were rules.
"We've had conversations [with golfers such as Els] over the past five years about the possibility of the International team becoming autonomous. While that sounds good, it's not as easy as that," he said. "There's a ton of moving parts. I don't think people realize how much work is done to make PGA Tour events run smoothly."
The Presidents Cup's future may not look as bright as it did when Tiger Woods led the American team to a stirring victory as a playing captain at Royal Melbourne in 2019. That tightly contested edition breathed life into a lopsided event plagued by the fact the Internationals have won just once (1998) in 13 tries.
But Immelman is prepared to roll up his sleeves for a fight against an American team. "The 12 Internationals we end up with will be the 12 that decided to be on our team," Immelman said, "and that's who I want to get in the trenches with."