Rocket Mortgage Classic
Looking ahead to Presidents Cup, Adam Scott is hoping 10th time is a charm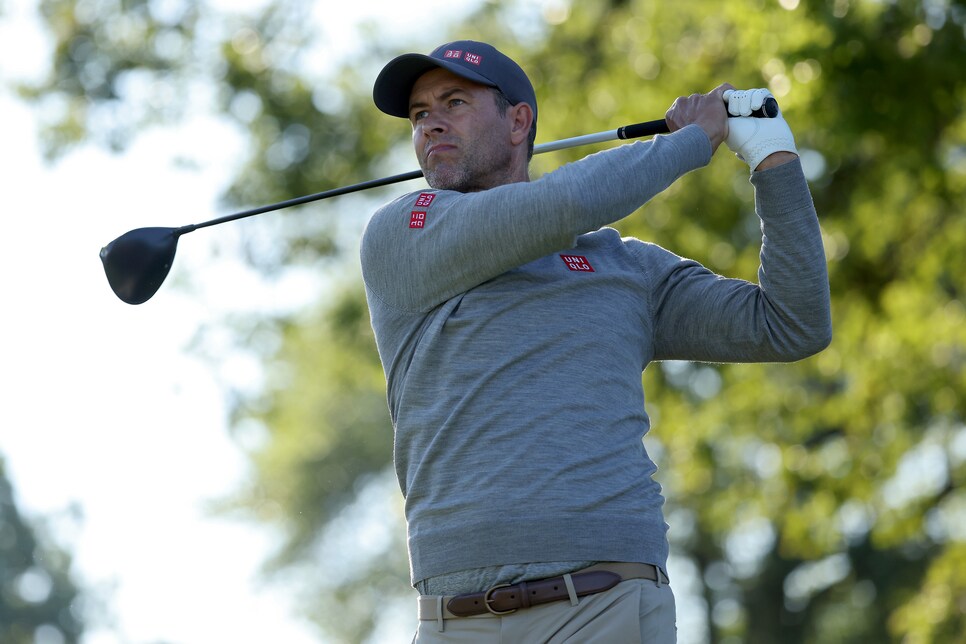 Adam Scott plays his shot from the 14th tee during the second round of the Rocket Mortgage Classic.
Mike Mulholland
DETROIT – Adam Scott has yet to play on a winning Presidents Cup team, and this year he will make his 10th appearance on the International Team. It would be understandable if he were inclined to have doubts about his side ending an American winning streak dating to 2005, but he remains hopeful that the perennial underdogs can somehow mount a proper challenge similar to the last edition in 2019 in Australia.
"We're still talking about 18 holes of match play, and we've got to remember anything can happen in an 18-hole match, play and momentum plays a big deal in these things," Scott said on Friday after firing a six-under 66 to climb into contention in the Rocket Mortgage Classic. "We saw that at the last one; we kind of got up early and we nearly hung on."
The key for the International Team, as the matches approach in September at Quail Hollow Club in Charlotte, is hoping it can hang on to a strong enough roster to legitimately vie for its second win in the series. Defections to the LIV Golf Series have robbed captain Trevor Immelman of some experienced personnel—most notably Louis Oosthuizen of South Africa and Abraham Ancer of Mexico.
Ranked 40th in the world and sixth in the International Team standings, Scott, a former Masters champion, isn't prone to panic about the makeup of the squad. The International side has had young teams and it has fielded experienced teams, but, as he points out, "we're always the weaker team on paper.
"The U.S. has been on a run for a while where they just throw up, you know, 12 of the top 15 in the world, so to lose anybody, we're already the underdogs every time going up against a powerhouse. Obviously, I'm concerned with where things are going and the challenges and dealing with a lot of unknowns."
The Americans, led by playing captain Tiger Woods, had to mount a Sunday singles rally to register a 16-14 victory three years ago in Melbourne, and they lead the series 11-1-1. The U.S. also has lost players to LIV Golf, including three—Dustin Johnson, Brooks Koepka and Bryson DeChambeau—who were part of the record Ryder Cup victory over Europe last fall at Whistling Straits. But their nucleus of 20-something stalwarts including Justin Thomas, Jordan Spieth, Patrick Cantlay, Xander Schauffele and Scottie Scheffler remains intact.
Scott, the elder statesman at 42, feels the tug of taking on a leadership role but has been hesitant about being proactive out of respect for Immelman, who at 42 succeeded fellow South African Ernie Els. Scott's primary goal, he said, is simply to be a calming influence in the team room and to provide support for whatever Immelman needs.
"Whatever he asks of me I'm happy to do, but he's the captain, and I'm playing, and I don't want to be overstepping my mark," Scott said. "We are good mates. And we respect each other a lot and each other's opinions a lot, and if he needs to lean on me for anything, I'm there. You know, he obviously wants to put the best team possible out there and that's all he's working to do.
"As I look in as a player on where we were previously at this point leading up to cups, I think Trevor's taken it so much further into a better place for the International Team," Scott added. "And I know he expects a lot out of himself. So, removing the unknowns, I think we're in a good place. I feel confident in what Trevor has been doing. He's farther along that maybe what he realizes, but I see it. And it's going to be great to be a part of it."