PGA Tour
Cameron Smith still isn't talking about LIV Golf, but likes the idea of being a spoiler at East Lake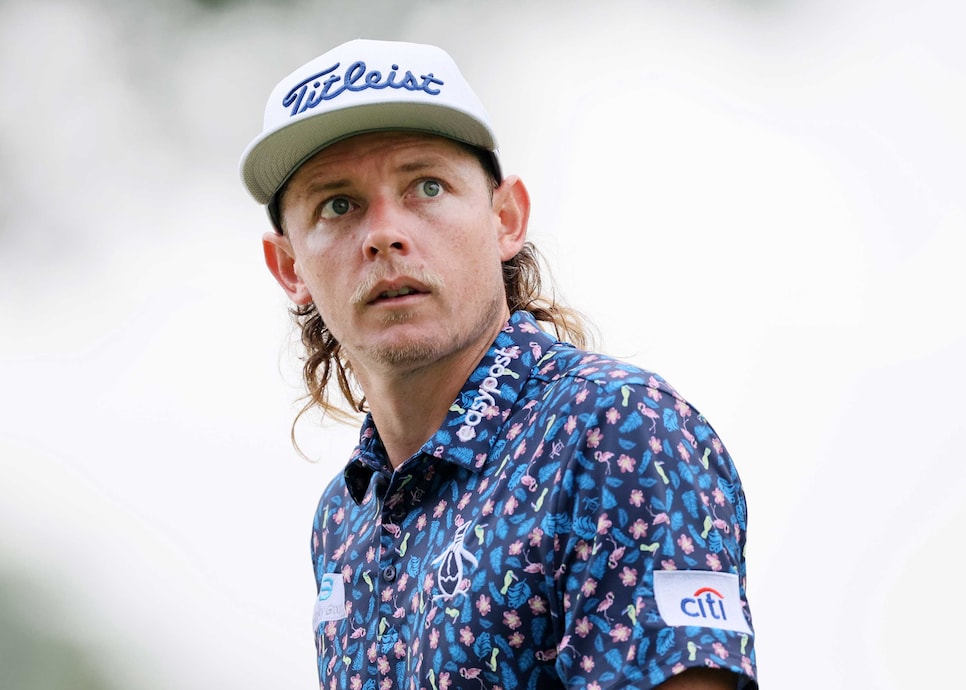 Cameron Smith walks on the 10th fairway during the first round of the 2022 FedEx St. Jude Championship.
Andy Lyons
ATLANTA — Cameron Smith knows his work is cut out for him this week at the Tour Championship. If he wants to win the tournament—and by extension the FedEx Cup title—he will have to overcome a six-shot deficit to current points leader Scottie Scheffler. The 29-year-old Australian also has a niggling hip injury he's dealing with that forced him to withdrawal from last week's BMW Championship.
And then there's the elephant in the room—the ever-growing speculation that the World No. 2 and reigning Open Championship winner will sign with LIV Golf after the PGA Tour's season finale at East Lake Golf Club.
Smith has noticed the snickering and criticism on social media, which ramped up after an unusual week in Memphis during the FedEx St. Jude Championship, the first event of the FedEx Cup Playoffs.
Smith began that week by deflecting—but not denying—reports about a $100 million deal signed to join LIV. Over the weekend, he was penalized two shots for playing the ball from the wrong place (within a penalty area) during the third round at TPC Southwind. However, Smith wasn't told of the issue until moments before he teed off in the fourth round thanks to a bizarre sequence of events. Instead of starting at 11 under and two shots back, he was nine under and four back. He eventually finished T-13, six shots behind of a victorious Will Zalatoris. Many thought the timing of the penalty was dubious and should have been delivered after the third round or not at all.
It's a good thing Smith is not on Twitter.
"I've have tried to block it all out," Smith told Golf Digest on Tuesday at East Lake when asked about the constant speculation. Asked again about the reports of him going to LIV, Smith declined to address them. "Like I've said all along, I'm just here to play really good golf. My goal this week is to make lots of putts and try to be the first Australian to win the FedEx Cup."
Because of Smith's WD from the BMW, he fell from third in the FedEx Cup standings to sixth. As such, he will begin the Tour Championship at four under par and six behind World No. 1 and Masters champion Scheffler, who will tee off on Thursday with a two-shot lead over BMW winner Patrick Cantlay. Smith is paired with Rory McIlroy for the first round at East Lake.
Smith, though, usually thrives when the odds are against him. The way he sees it, the combination of LIV rumors and Scheffler's head start can't be any more difficult than starting the final round of the Open at St. Andrews last month four shots behind McIlroy when basically the entire golf world was rooting for the Northern Irishman to capture a long-awaited fifth major title. Smith also won the Players Championship in March from two back entering the final round.
"Yeah absolutely; I've come from behind a couple of times on the big stage this year," Smith said. "Mate, to be honest six shots … it's not that much. The course is a little wet, which will mean I'll hit more fairways and have more looks at birdie.
"East Lake is a tough track to lead on and if you are scrambling for par all day, this course will make you pay. I don't even think 10 shots is a lot. It wouldn't surprise me if, one year, one of the guys from 25 to 30 came up the leaderboard and won everything."
Smith spent last week at his home in Florida rehabbing his hip, an injury his trainer Nic Catterall confirmed as an inflamed sciatic nerve that Smith has managed for several years.
"I only practiced once last week," he said. "There was a lot of rest and stretching in the gym to try and get the hip mobile again. That'll be a challenge this week with how soft the course is. I'll have to keep an eye on it all week."
Smith arrived at East Lake on Tuesday morning for an 18-hole practice round with fellow Australian Adam Scott. Smith was driving it well and striking his irons impressively, but he was also surveying East Lake's greens closely. He knows his enviable putting stroke will be his biggest weapon in the uphill battle to reel in Scheffler. Smith had eight one-putts on the back nine of his Players win and 12 putts on the back nine of his Open victory at St Andrews. Along with his victory at the Sentry Tournament of Champions in Hawaii, Smith is chasing a fourth PGA Tour win of the season. He knows how difficult it will be, but the belief is well and truly there.
"[A win] would be an incredible end to a really good season," Smith said. "There's no reason why I can't come out and get it done."
No matter how awkward that outcome might wind up being for PGA Tour officials.