FedEx Cup
The 30 players who qualified for the 2022 Tour Championship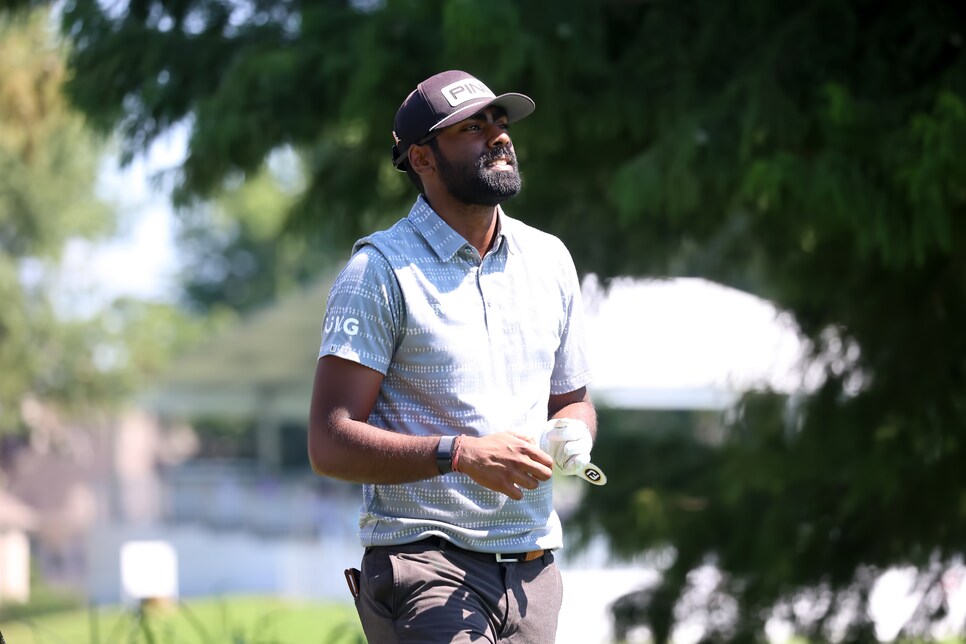 WILMINGTON, Del. — Sahith Theegala knew what was on the line and knew what he had to do, which may explain why he had the damndest time keeping his hands in one place.
"Yeah, I was really nervous this morning. I had my best friend Roy with me this week, and it was cool having him by my side. But I was nervous," Theegala said Sunday afternoon after a closing 68. "I had a little bit of the shakes warming up. I couldn't hold my hands still." In case the message wasn't clear, Theegala added "It was a wild ride."
And a ride that Theegala and a select few will continue one more week.
While Patrick Cantlay captured the BMW Championship at Wilmington Country Club there were 29 others who can count themselves winners in Delaware on Sunday, finishing inside the top 30 in the FedEx Cup to earn a trip to next week's Tour Championship.
"Yeah, it's really exciting," said Corey Conners, whose T-5 finish will keep his season alive. "It's always a goal at the start of the year. I feel like I've had a solid season. Still trying to get in the winner's circle again, but a lot of really solid play, giving myself some chances, and really excited to be going back to East Lake."
Aside from a Brinks truck worth of guaranteed money—$500,000 for last place at East Lake, $18 million for a victory—a spot in the Tour Championship brings exemptions into the Masters, U.S. Open and Open Championship along with a number of invites into the tour's more important events. In short, if you make it to the season finale at East Lake, your next year is made.
There were four players that were outside the top 30 entering the week that earned a trip to Atlanta thanks to their performances at the BMW. Scott Stallings leads the group, his runner-up finish jumping him 34 spots to No. 12.
Other players that vaulted into the top 30 were Adam Scott, K.H. Lee and Aaron Wise.
Scott provided the drama late on Sunday afternoon. Needing a par on the 18th hole, the Aussie's tee shot finished on a hill in the rough. It left Scott standing in a bunker with his ball two feet above his feet as he went to play his second shot. His approach wasn't great, finding a greenside bunker, yet pulled off a marvelous third to inside two feet and cleaned up what remained to secure his spot in next week's field.
Scott, one of just two players to qualify for the FedEx Cup Playoffs all 16 years since its inception, moved from 46th at the start of the week to 29th. It was the second straight week that he had "played" his way into the next playoff event, after finishing T-5 at last week's FedEx St. Jude Championship go from 82nd to 46th.
The final player in was Wise, who also made 4 on the closing hole when a 5 would have pushed him out.
"Yeah, it means a lot," Wise said. "It's tough to be in the top 30 on this tour for a year. It's an honor. It takes a lot of hard work. It takes a lot of good golf. Especially the first time I made it I had a win, which I feel like really helps you. This time I did it without a win. So it's kind of even more sweet to be in that elite field without having a win this year."
Of course, for players to jump out that means other have fallen out. Bad weeks by Tom Kim, Davis Riley and Kevin Kisner equated to their seasons coming to an end. J.J. Spaun, who entered the week at No. 30, dropped three spots at the BMW, unable to overcome a Friday 74.
Shane Lowry, who began the week at No. 37, was the first man out, a T-12 finish not enough to get him where he needed to be.
There is a golf tournament to be played next week, and once it begins all focus will be on the competition. But to most making the trip to even be in a position to compete is reward in itself, and one not lost on Theegala.
"I think the validation of the season, it's another step for me to feel like I really belong because I still don't feel like I'm really there at the top of the game," Theegala said. "Slowly building confidence every week, whether it's a good or bad week. I feel like I've made a lot of progress. Yeah, it would mean the world to make the Tour Championship and stand along 29 of the other best golfers in the world."
Here are the 30 players who have qualified for the 2022 Tour Championship.
Scottie Scheffler, -10
Patrick Cantlay, -8
Will Zalatoris, -7
Xander Schauffele, -6
Sam Burns, -5
Cameron Smith, -4
Rory McIlroy, -4
Tony Finau, -4
Sepp Straka, -4
Sungjae Im, -4
Jon Rahm, -3
Scott Stallings, -3
Justin Thomas, -3
Camerson Young, -3
Matt Fitzpatrick, -3
Max Homa, -2
Hideki Matsuyama, -2
Jordan Spieth, -2
Joaquin Niemann, -2
Viktor Hovland, -2
Collin Morikawa, -1
Billy Horschel, -1
Tom Hoge, -1
Corey Conners, -1
Brian Harman, -1
K.H. Lee, E
J.T. Poston, E
Sahith Theegala, E
Adam Scott, E
Aaron Wise, E