Takeaways
Denny McCarthy goes low again, Keegan Bradley's putter is on fire and Justin Thomas teases with a strong round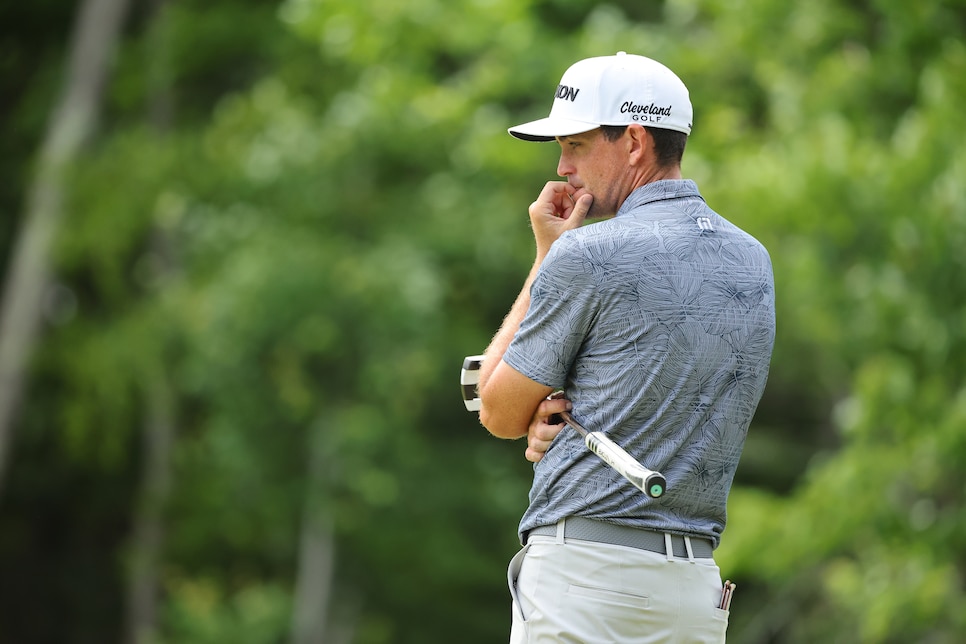 Keegan Bradley stands with his putter during the second round of the Travelers Championship.
Stacy Revere
Every golfer knows one of the most difficult things to do is back up a stupid-low round with another good one. That's certainly held true at the Travelers Championship, where Patrick Cantlay shot 60 in the second round in 2011 and followed it with a 72. Mackenzie Hughes did only slightly better in 2020 when he opened with a 60 and backed it up with a 68. (OK, a 72 and a 68 is hardly a chop-fest, but for elite golfers its close enough).
Denny McCarthy, however, avoided the dreaded post-60 stumble. On Friday, McCarthy brushed off a "sloppy bogey" at the second hole and no birdies over the first seven to rattle off six over his final 11 holes, posting 65 and setting the tournament 36-hole scoring record at 15 under par (matched later in the day by Keegan Bradley).
"It was a little slow out of the gates," McCarthy said. "We did a really good job of just settling into the round. I wasn't hitting any bad, loose shots. Just wasn't going my way like it was yesterday early on."
However, it went exactly his way like Thursday … at least on the back nine. McCarthy matched his 30 on the second nine from the day before with birdies on 13, 14 and 15, bookended by birdies on 10 (thanks to a 42-foot putt falling) and 18. It was a fitting display of golf considering McCarthy's fondness for the incoming nine at TPC River Highlands.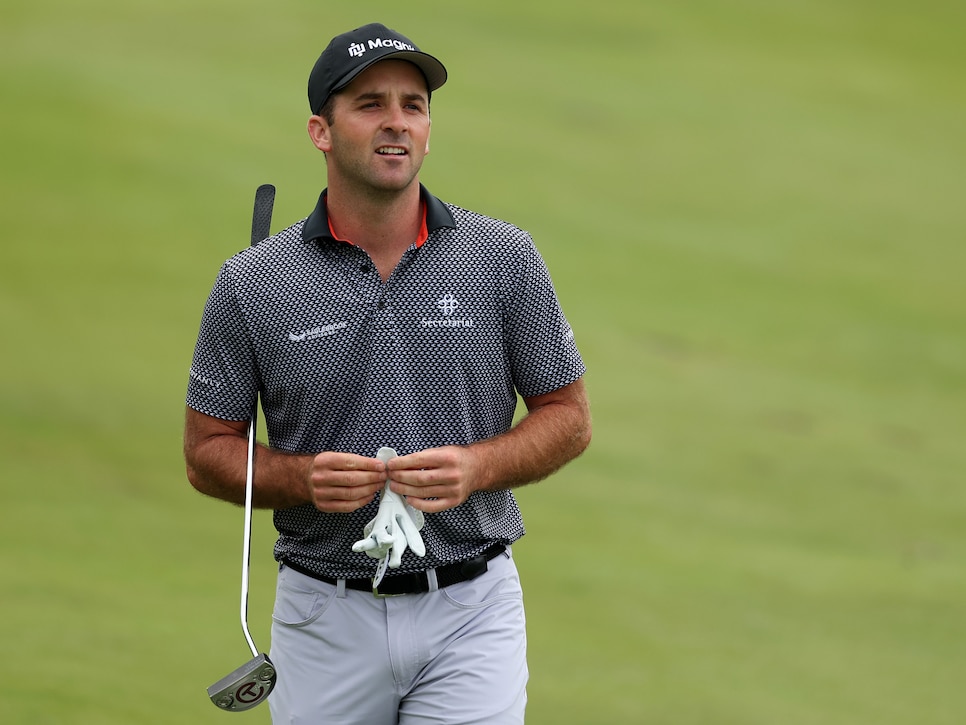 Denny McCarthy walks on the first hole in the second round of the Travelers Championship.
Rob Carr
"It's probably my favorite nine holes on tour because there is such a variety of holes, and it's fun and entertaining for us players and the fans," McCarthy said. "You get a short par-3 on 11; 12 is a cool little hole; 13 is a gettable par 5. There is a lot of risk in those holes, too. And, obviously, 15, the drivable one. It's just a fun nine holes to play. I look forward to it every time I get there."
Along with a penchant for playing the back nine well, history seems to be in McCarthy's favor. He's still looking for his maiden PGA Tour title, and the Travelers has produced 18 first-time winners in its history. Meanwhile, his 15-under-par total through 36 holes would be enough have been the winning 72-hole total in half of the previous 10 Travelers.
McCarthy, who lost this year's Memorial in a playoff with Viktor Hovland when a par on the 72nd hole would have won it, knows not to look ahead.
"Yeah, it's nice, but golf tournaments aren't 36 holes, unfortunately, so I know there is still a lot of golf left," he said.
Bradley's flat stick is on fire
Bradley tied McCarthy's tournament-record 125 total for the first 36 holes by dropping a nifty 63 in the second round. The fact he leaned on his putter to do it, however, might be a surprise.
Since the USGA banned anchoring in 2016, Bradley, who won the 2011 PGA Championship using an anchored stroke, has struggled on the greens. And that might be saying it kindly.
In 2018, Bradley ranked 174th in strokes gained/putting and was modestly worse in each of the next three seasons, basically dropping a half-shot to the field on the greens in each round. Spotting your fellow competitors a couple of blows over 72 holes doesn't often equate to success on the PGA Tour.
In late 2021, Bradley made the move to the AimPoint method of green reading (effectively using your feet to feel the slope, then using your fingers to measure how much break there is) and switching to an Odyssey Versa Jailbird mallet putter. Last season, Bradley finally got on the plus side of the ledger in putting, and this season he ranked T-42 coming into the Travelers, gaining a third of a stroke per round on the field.
"I had some pretty dark days with the putter," Bradley told Golf Channel after the round. "I couldn't figure out the switch from the belly putter. It was more difficult than I was expecting. It turned out it was pretty simple with AimPoint and [better] alignment. It's so much more fun to make putts.
Friday merged solid ball-striking (17 of 18 greens in regulation, but only 34th in strokes gained/approach) with putting only the bishop from "Caddyshack" could appreciate, rolling in more than 170 feet of putts, including a 58-footer at the third and a 34-footer at the 12th for birdies.
Such success led Bradley to pay homage to his putter by handing it to his caddie as if he were presenting a gourmet meal—level with two hands on it. "You have to pay your respects the putter," Bradley explained. "She was hot today."
Hot, but, like the bishop, not everything went down. Had Bradley made one more birdie he would have accomplished something done only once on the PGA Tour since 1983—shooting 62-62 to start a tournament. David Toms accomplished that at the 2011 Colonial, but Bradley couldn't get a 16-footer to go at 17 or a 13-footer to fall at the last.
Thomas' best round of the year: progress or a tease?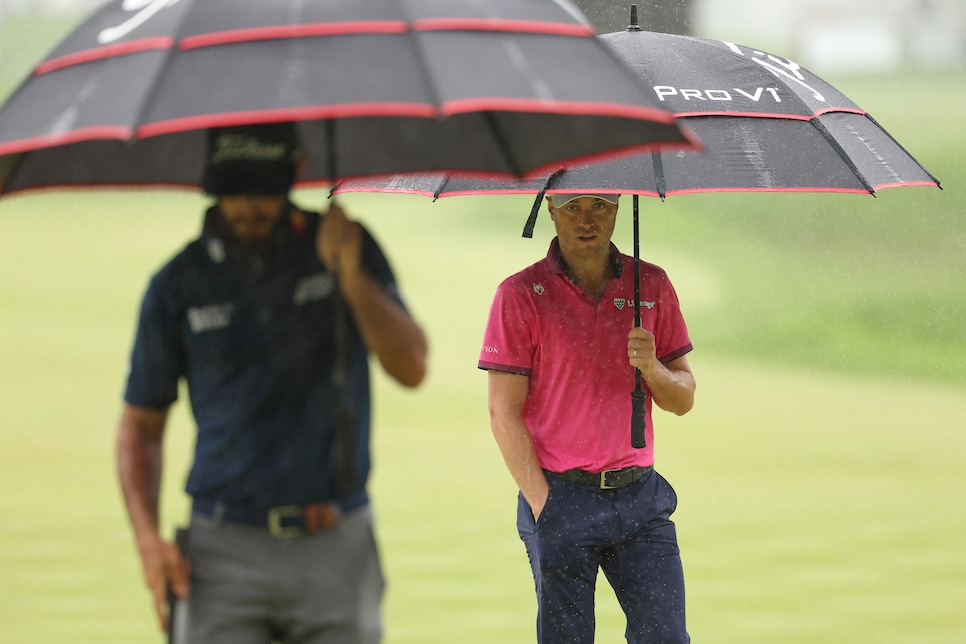 Max Homa and Justin Thomas had to use their umbrellas at one point in the second round.
Patrick Smith
Justin Thomas' game has been in a funk. How big of one? Consider no top-10s since the WM Phoenix Open in early February. Consider eight consecutive rounds over par coming into the Travelers. Consider a second-round 81 at last week's U.S. Open, leading to his second straight missed cut.
An opening even-par 70 this week seemed to merely continue the troubling trend, but Thomas found some of the game on Friday by firing a six-under-par 64—his lowest round the year, besting his final-round 65 at the Waste Management.
Thomas flashed his strong tee-to-green game by leading the field in strokes gained in that category in Round 2, knocking many approaches close. On the greens, he benefited from a 53-footer for birdie at the par-4 fourth that got some positive momentum going.
However, JT had to be frustrated by his finish. Standing at eight under on his round going to 17, he went long on his approach on 17, then found the fairway bunker off the tee on 18, both miscues leading to bogeys.
So is Thomas back or just teasing us? The weekend at TPC River Highlands could answer that question.
Connecticut club pro makes the weekend in his backyard
Andrew Svoboda isn't just any club professional. The head pro at Great River Golf Club in Milford, Conn., a short jump up the Merritt Parkway to I-91 and TPC River Highlands, not only is comfortable playing PGA Tour events, but doing well in them.
Svoboda shot 65 Friday and finds himself T-22 heading into the weekend. The round could have been better, save for a tee shot that found the left rough on the side of a hill on 17 that led to him dunking his second in the water. Svoboda, however, rebounded to make bogey.
Such steeliness is borne out of 79 previous PGA Tour starts, including three top-10s with a runner-up at the 2014 Zurich Classic of New Orleans, helping him to a season where he won $1.17 million.
Since 2015, however, Svoboda—a legend in the PGA's Met Section—has just three PGA Tour starts, making this week a special one in front of the home fans and family, including his sister and niece and a bunch of Great River members.
"It's just kind of cool to be part of that," Svoboda said. "I'm a new head pro there. I've been working there for like three months. So, yeah, there was a little bit of pressure with all the members watching."
And pressure to continue doing well. Asked how much time he had to be club pro if he kept doing well at tournaments, Svoboda didn't blink.
"Yeah, well, unless I get a top-10 this week I'll be back being club pro next week."