Get A Room
This couple nearly going at it in Tampa Bay shows just how wild of a series Leafs-Bolts has been
So here's the deal -- I had a whole post written about how desperate this Toronto Maple Leafs couple was/is for a first-round series victory, something Maple Leafs fans haven't experienced since George W. Bush's first term as President of the United States. Monday night's epic comeback win now has them on the brink of advancing, and these two didn't know how to handle it. It was both beautiful and sort of gross to watch at the same time.
Then, after watching the video for the 10th time, I finally picked up on the fact that the wife is in a freaking Tampa Bay Lightning shirt, which explains her crazy eyes in retrospect: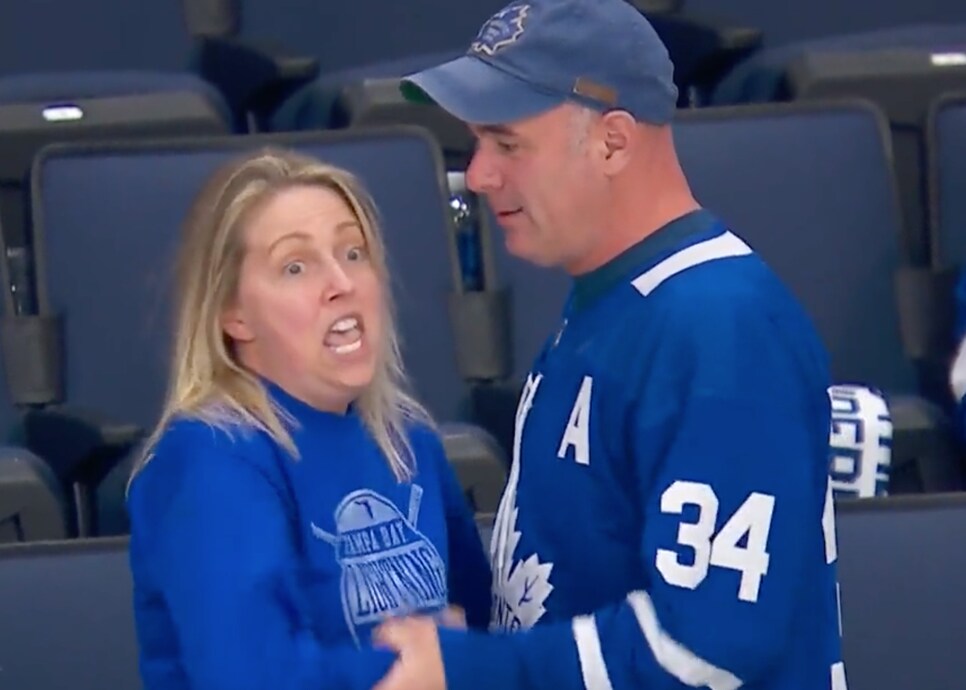 That was a true M. Night Shyamalan-type twist. By the way she was acting, I just assumed she was a crazy Maple Leafs fan that had seen so much through the years that she wasn't ready to start celebrating with her husband yet. Turns out, the husband, the actual Leafs fan, is the calm, cool, collected one here, while the wife is going koo koo for Cocoa Puffs after witnessing her Bolts blow a 4-1 lead Toronto Maple Leafs-style (zing!) in the final 10 minutes of the third period. Now, it all makes a little more sense.
What this does show is just how insane of a series this has been, particularly both games in Tampa. For a Toronto fan to be this happy before the series is even over and a Lightning fan to be acting this crazy (likely drunk) is an all-time Russian reversal. This woman saw back-to-back Stanley Cup wins, plus a third straight Cup appearance, and she looks like the one who needs to be talked off a ledge. The NHL Playoffs can be a fickle, fickle beast. Just ask this Leafs guy, who has witnessed five consecutive first-round ousters, all of them in soul-crushing fashion, just to come back for more this year. He has no idea how to react, nor should he, hence why he and his Bolts-fan wife almost got it on right there in Amalie Arena Monday night. Tune in Thursday night to see what absolutely insane sh-t happens inside Scotiabank Arena after Game 5. If this is any indication, a Leafs win might lead to a full on or-.... never mind.