Souvenir
Redditor takes divot from Augusta National, deletes account after post goes viral
There are a few things you hear year in and year out when it comes to the Masters. The cheap sandwiches are a godsend, the Tiger Woods crowds are somehow more intimidating than you expect and the Augusta National merch shop is a madhouse on par with a Taylor Swift concert.
So … when a free and indelible souvenir falls right in front of you, you have to take that opportunity.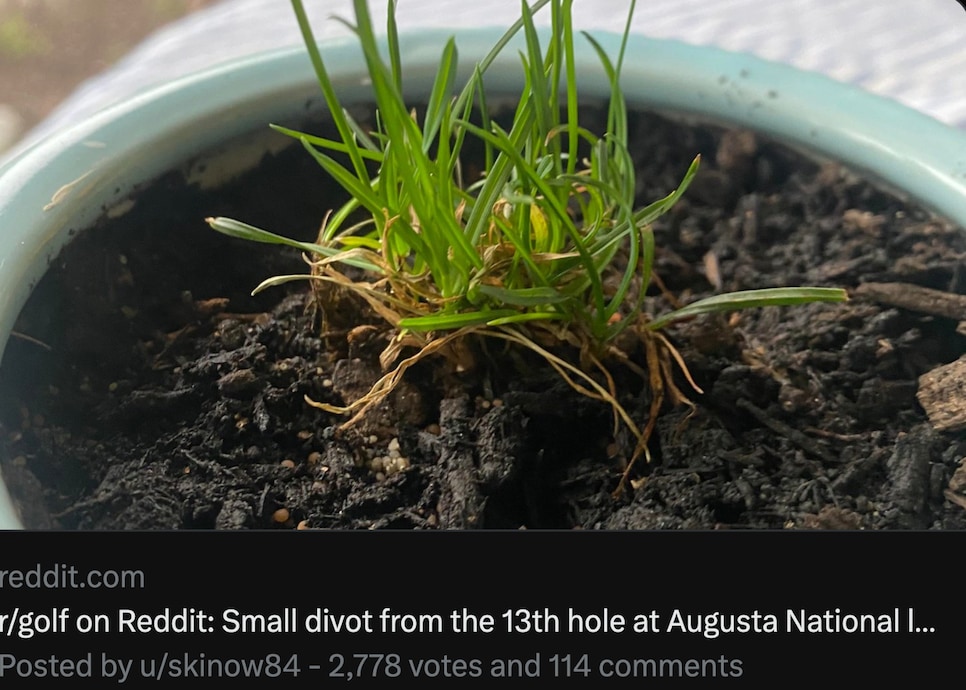 A Redditor over the weekend dropped quite the post on r/golf with the title "Small divot from the 13th hole at Augusta National landed next to me two weeks ago, took it home in a chip bag. It's thriving." Along with the caption, the thread from u/skinow84 came with an image of a seemingly innocuous piece of turf in a pot. Innocuous, that is, until you remember where it's from.
One commenter went so far as to joke that "Augusta is going to send an assassin for it" to which the OP replied, "I was well within the patron rope, it was going to die anyway, yet I was nervous for some reason. I put it in the potato chip bag with a couple drops of water and planted it the day I got home."
That potato chip bag came in handy for sure. The moral of the story here is to always be eating chips just in case.
The entire thread is an impressive showing of one-liners and Augusta National quips, so you might want to check it out, but this writer's favorites included:
PLAY AUGUSTA WITH YOUR FRIENDS USING THIS ONE WEIRD TRICK!!!!!
With the right fertilizer, we can have Second Augusta in a few thousand years.
I would hit a ball off that bad boy so I could say I hit a shot off Augusta turf.
We don't know whether the new Augusta National greenkeeper got too paranoid after posting or if Fred Ridley and company got to him, but the account has been deleted since the post.
We just hope that wherever this person is, they're enjoying their Masters memento and that they're slowly working on a way to duplicate the vaunted course with this divot as the catalyst.