News
Top-ranked Oklahoma State gets to NCAA match play on its home course, and now the pressure begins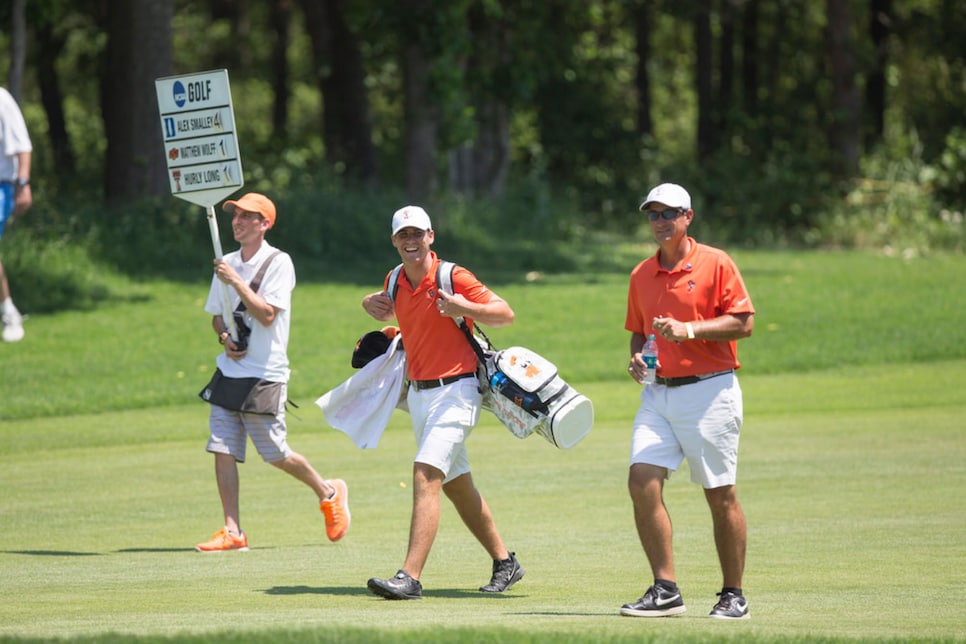 Courtesy of Oklahoma State
There is little doubt who'll have the biggest cheering section on Tuesday at Karsten Creek Golf Club. As expected, host Oklahoma State easily qualified for the match-play portion of the NCAA Championship, posting the low 72-hole score (even-par 1,142) in stroke play, much to the satisfaction of the hometown fans in Stillwater.
There's also no doubt who'll have the most pressure on them as well. The Cowboys have won nine team titles during the 2017-'18 season, each increasing the anticipation for what might be as the team plays for the national championship on its home course. Given their familiarity with the Tom Fazio layout, as well as the talent on the squad—freshman Matthew Wolff and sophomore Viktor Hovland are in the running for first-team All-American honors while freshman Austin Eckroat, senior Kristoffer Ventura and junior Zach Bauchou have all also had standout seasons with individual victories to their credit—anything less than an 11th NCAA team title potentially will feel like a letdown.
Still, OSU's road to the title won't be easy. As their "reward" for earning the No. 1 seed in stroke play, the Cowboys face the second-ranked team in the country, Texas A&M, after the Aggies just snuck through to grab the eighth and final match-play spot.
"We've played with them quite a few times," said Oklahoma State men's coach Alan Bratton. "Obviously, I'm familiar with the university. I'm from College Station. That will be a good match-up. They've had a good year, and we'll need to be on our game, but I promise you we'll be ready."
"We knew coming up here if we wanted to win a national championship we were going to have to beat Oklahoma State," Texas A&M men's coach J.T. Higgins said. "There's no getting around it and you've got to play them at some point. We just happen to be the team to draw them in the first match. I really believe these are the two best teams in the country. I think we match up pretty good with them, and we're going to go out and give them all they can handle. It's going to be a great atmosphere."
Meanwhile, if Oklahoma State manages to advance to Tuesday afternoon's semifinals, it could set up arguably the most anticipated head-to-head showdown since the NCAA Championship went to match play to decide the team title in 2009. The Cowboys could play in-state rival and defending NCAA champion Oklahoma. The Sooners earned the No. 4 seed in the match-play bracket and face off with SEC champion Auburn on Tuesday morning.
In the other quarterfinal match-ups in Stillwater, No. 2 seed Duke plays No. 7 seed Texas and No. 3 seed Texas Tech plays No. 6 seed Alabama.
While playing a road game by being at Karsten Creek, Oklahoma men's coach Ryan Hybl knows his team will also have plenty of fans traveling from Norman and providing support. Hybl acknowledged, too, that there is a little bit of relief in having gotten to this stage of the championship, given expectations for his own squad to back-up their title from a year ago.
"I've gotten that question a lot this week about the pressure of defending," Hybl said. "That was a year ago. …The pressure honestly is not on us. We're not favored here this week, and we kind of like that."
Here's are the pairings for all the quarterfinal matches (all times are CDT).