News
Augusta's Broc Everett saves best for last, wins NCAA individual title in final college start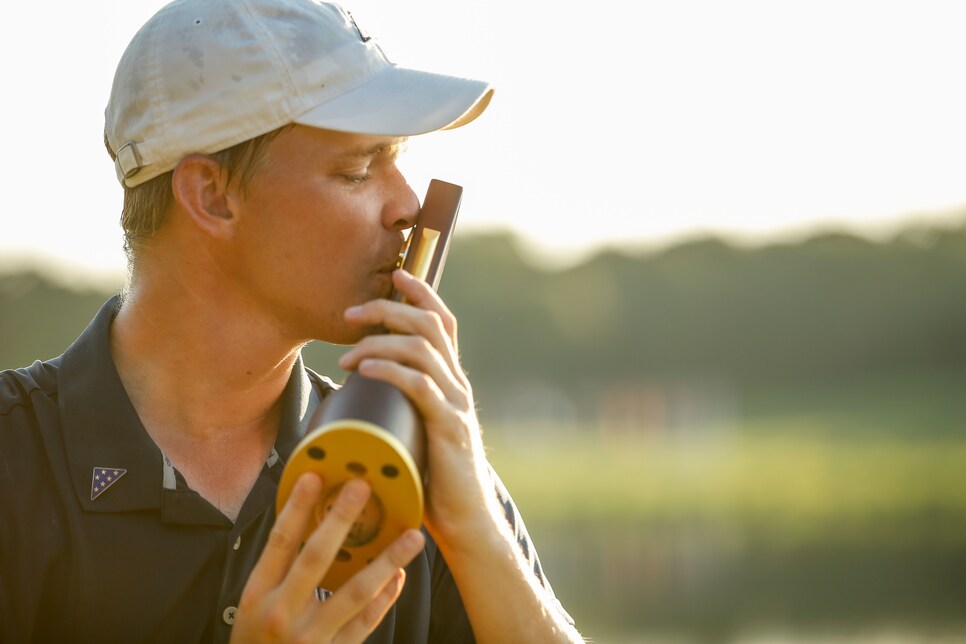 In his last start of as a college golfer, Augusta's Broc Everett finally got his wish. No, it wasn't to claim the NCAA individual championship. It was simply to win a collegiate event.
Of course, that it was the biggest title in men's college golf makes the accomplishment all the more sweet. When the redshirt senior from West Des Moines, Iowa, rolled in a 10-foot birdie putt on the first playoff hole to beat Auburn freshman Brandon Mancheno, it wasn't just for posterity. It was for history. In the process, he became the first Jaguar to win an individual NCAA Championship and the first golfer to make the NCAA title his first and only college victory since Florida's Nick Gilliam in 2001.
Everett, a 23-year-old walk-on at Augusta who shot a closing 71, his fourth straight sub-par score, to get to seven-under 281, had five top-five finishes during the 2017-'18 season prior to playing nationals, including his last three starts. The lefty was runner-up at MEAC conference championship (the third time he'd finished second in the event) and the NCAA Raleigh Regional. He also lost a playoff last October to teammate Alex Shead at the SSU Tiger Fall Invitational. And for his career, he had posted 17 top-10s.
"It's been my goal for a long time to win a collegiate event," said Everett, ranked No. 152 on Golfstat entering the championship. "I've had a bunch of seconds, thirds and fourth … lots of top-10s. To see the patience and hard work pay off, it's very rewarding."
That it came at Karsten Creek Golf Club in Stillwater, Okla., may just be coincidence, but it's an interesting one at that. The last time the NCAAs were held at Oklahoma State's home course, the Jaguars walked off with the team title.
The 2018 team competition will play out over the next two days in match play that is sure to be packed with plenty of drama. Top-ranked Oklahoma State, winner of nine tournaments this season, is the heavy favorite to claim the school's 11th NCAA team title this week given its familiarity with the course and the large fanbase rooting them on. The Cowboys walked off with the No. 1 seed for match play after finishing out the 72 holes of stroke play at even-par 1,152, eight strokes clear of Duke.
And their "reward" for being the low team in stroke play? They face the second-ranked team in the country, Texas A&M, in Tuesday morning's quarterfinals, after the Aggies just snuck through to grab the eighth and final seed. Oh, and then there's the fact that no No. 1 seed has ever won the team championship since they added match play in 2009.
In the other quarterfinal match-ups for Tuesday morning in Stillwater, No. 2-seed Duke plays No. 7-seed Texas, No. 3-seed Texas Tech plays No. 6-seed Alabama and No. 4-seed Oklahoma, the defending national champions, play No. 5-seed Auburn.
With no playoff needed to see determine the teams that advanced to match play—Vanderbilt was the odd squad out in ninth place, one stroke back of A&M—the race for medalist honors became the focus late Monday. Clemson's Bryson Nimmer started the day with the lead at nine under par, but stumbled early and played his way out of contention with a six-over 78.
That brought a group of chasers into play, led by Mancheno. The Auburn rookie was a highly touted recruit out of Jacksonville, Fla., who played steady on Monday, starting the day at seven under and then posting early an even-par 72 total (with a birdie on the 18th hole) to take the clubhouse lead (and set the 72-hole scoring mark at Karsten Creek).
Mancheno, the SEC freshman of the year, then had to wait and watch. Texas senior Doug Ghim, winner of college golf's Ben Hogan Award for top player, made a run, but his even-par 72 left him at six under. And Texas Tech's Ivan Ramirez was at five under with the chance to tie Mancheno if he made an eagle on the 18th, only to hit his second shot into a greenside bunker and fail to hole the sand shot.
That left Everett, who started the day at six under, three off the lead, after posting three straight rounds of 70 (he'd finish the day as the only player all week to play every round under par). Birdies on two of his first three holes set the right tone as he made the turn in one under for the day. A birdie on the 14th hole got him to eight under, only to fall back to seven under when he made a bogey on the par-3 15th.
Still at seven under while standing on the 18th tee, Everett had a chance to win the title outright on the last hole in regulation. In the fairway off the tee, he chose to lay up with his second shot, then hit his approach on the par 5 to 10 feet. But the lefty powered the birdie effort past the hole to set up sudden death with Mancheno.
In the playoff, a return to the par-5 18th, Mancheno had the advantage off the tee, hitting the fairway after Everett found the right rough and was forced to lay up . Mancheno went for the green with a hybrid, but overcooked the shot. The ball ending up long and right of the green, near a tree and in a horribly gnarly lie. Still, he managed to scramble for par, putting pressure on Everett, who hit his approach again to roughly 10 feet. Only this time, he faced an uphill putt, which he confidently rolled in for the victory.
"It's crazy how far in five years that I've been able to come," Everett said. "To have it all kind of accumulate into a national championship is obviously a dream come true. You can't have a better finish to your collegiate career that this."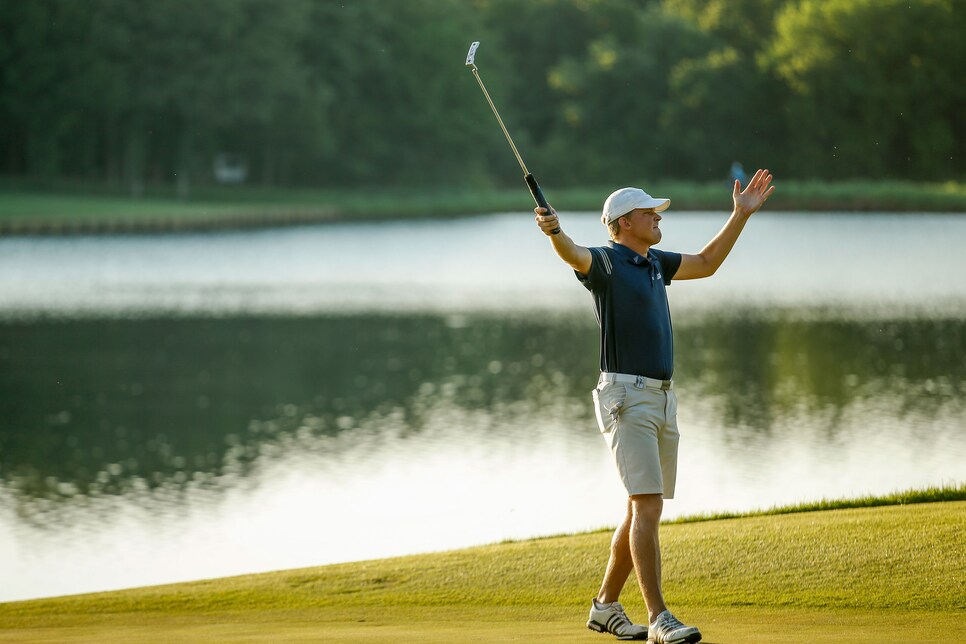 Shane Bevel/NCAA Photos via Getty Images
As a teenager, Everett wasn't a golf junkie with a blue-chip pedigree. He played multiple sports growing up (golf, basketball, track and field and baseball while in high school) and only focused on golf during his junior year. But he slowly but surely started to see improvement once arriving at Augusta, playing in five tournaments his redshirt freshman season before becoming a regular starter as a sophomore. His scoring average as a freshman was 73.62, but would fall to a 70.97 as a junior and 72.08 for his career total.
Augusta coach Jack O'Keefe, who inherited Everett when he arrived to take over the program mid-way through the 2013-'14 season, says technically speaking the thing Everett needed the most work on entering college was tightening up a long and loose swing. Everett took the advice to heart—he said he had been nervous that he might not get a chance to play his way into the lineup when O'Keefe came on. When the swing began to get squared away, Everett then just needed more reps to become sharp and focused.
While confident that Everett had the talent to win at the college level, O'Keefe became increasingly convinced it was going to happen when he saw an improvement in his wedge game the last few months of the spring season.
Says O'Keefe: "He's a good young man who has proven that hard work pays off."
Indeed, better late than never.