News
Tom Watson's St. Andrews good-bye is all the more impressive given the fight his wife wages back home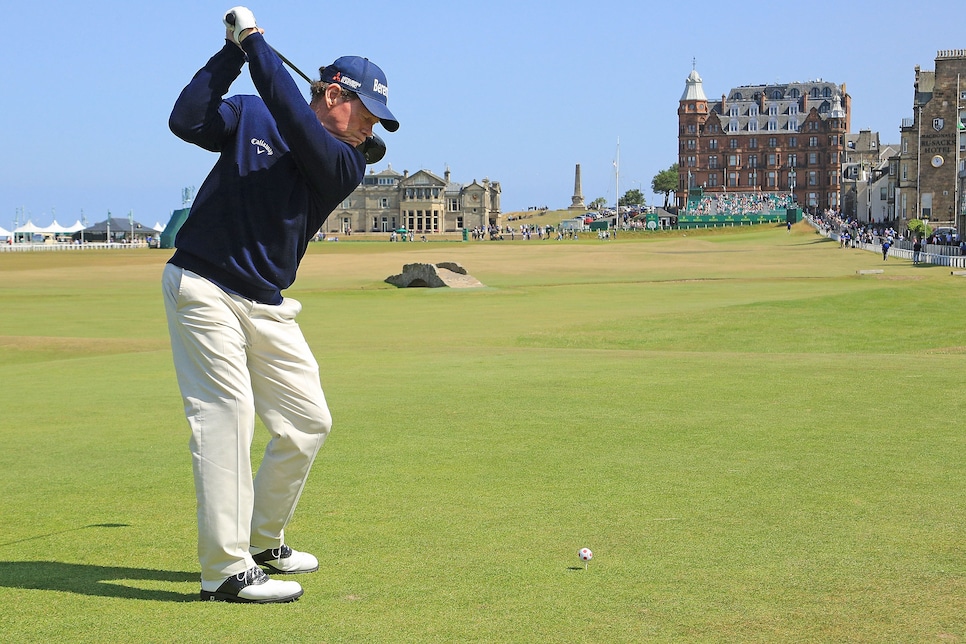 Photo By: Phil Inglis/Getty Images
For a few brief moments on Saturday morning, the truly impossible seemed possible. It wasn't just that Tom Watson was leading the Senior British Open a little more than five weeks prior to his 69th birthday. It was the circumstances under which he had the lead.
Watson has played very little golf this year; the Senior Open was his fifth event of 2018 and he hadn't played anywhere since April. The reason for his absence was simple—and sad: His wife, Hilary, has been battling cancer. There was no way he was leaving her side during chemo and radiation treatments that began last fall. Only during respites in her treatment—at her urging—did he play.
A few weeks ago, Hilary Watson completed yet another painful round of chemo, this time in Houston. Still, she wanted her husband to play at St. Andrews, a golf course and a place he loves. It was at St. Andrews three years ago that Watson said farewell to the Open Championship—an event he won five times.
Remarkably, Watson opened the Senior Open (which he's won three times) by shooting 69 on Thursday, missing shooting his age by one shot. Then, on Friday, he DID shoot his age—68—and found himself two shots out of the lead after 36 holes.
Watson went out in 33 on Saturday and actually held the lead at 10 under par. For all golf media's yammering six days earlier when Tiger Woods briefly led a few miles away at Carnoustie, this would have been a story for the ages—not just because of Watson's age, but because of the hell he and Hilary have been through since last October, when she was first diagnosed with pancreatic cancer.
Sadly, it didn't last. Watson began to fade on the back nine Saturday and then struggled to a 77 on Sunday, leaving him in a tie for 21st place—11 shots behind winner Miguel Angel Jimenez. "I just hit it in too many bunkers today," he said on Sunday. "You find the bunkers around here, the old lady will get you."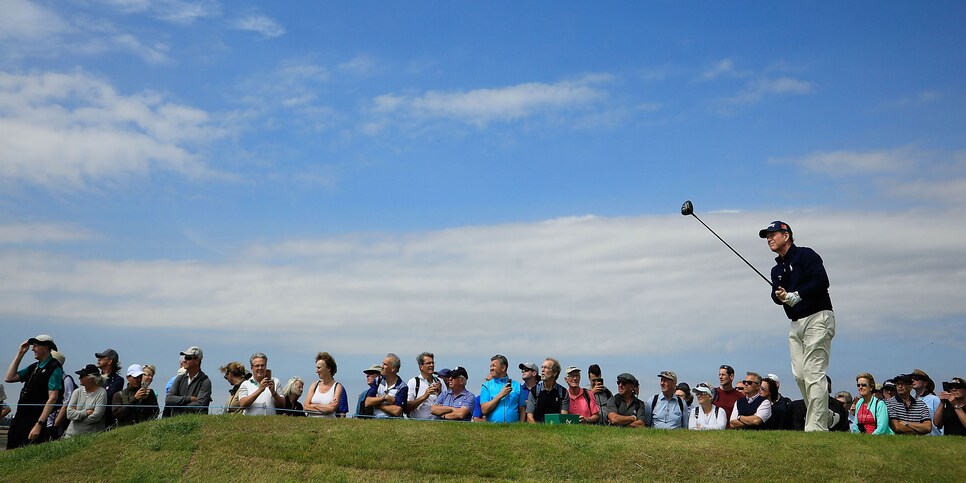 The old lady Watson was referring to, of course, is St. Andrews. To him, the great golf courses are living, breathing things that he loves to duel with. Once, when talking about Oakmont, the place where he should have won the PGA in 1978 and could have won the U.S. Open in 1994, Watson said, "Oakmont has been a friend."
If St. Andrews is golf's elegant old lady, then Watson is the sport's grand old man. He has been defying age barriers for years now: Most recently, he was the oldest man to ever break par for 18 holes at the Masters, when he shot 71 in the first round in 2015. A year earlier, he made the cut at the Open Championship—not the Senior Open, the real one—at age 64. In 2010, at 60, he made the cut at both the Masters (T-18) and the U.S. Open (T-29). He won the Senior PGA Championship in 2011 at 61.
But his most memorable defeat of Father Time took place nine years ago at Turnberry, when he literally came within inches—or a bad bounce, depending on your point of view—from winning his sixth Open Championship, just a few weeks before turning 60. Anyone who follows golf remembers that weekend. Watson would have been the oldest man to win any major—regular or senior—had he won.
He led Stewart Cink by one coming to the 18th hole that day and his tee shot found the fairway. From there, he took an 8-iron and, with the ball in the air remembers thinking, "Oh my God, I've done it."
He had hit the ball exactly the way he wanted to. But links-golf luck came into play at the worst possible moment. The ball landed on a hard spot, took a huge hop and went over the green. Watson tried to putt from there and went seven feet past the hole, giving him a putt in the range that had bedeviled him for years: four to eight feet. He missed, and Cink easily won the four-hole playoff.
When members of the media walked into the interview room after the awards ceremony, they all looked so glum that Watson said, "Hey, this isn't a funeral you know. It's a golf tournament."
Watson watched his best friend in life, Bruce Edwards, die painfully and horribly after being stricken by ALS. He watched his brother Ridge deal with the tragedy of losing a son in a car accident. And now he is watching Hilary try to fight off cancer. He knows the difference between a golf tournament and real tragedy. When he returned home from Turnberry, he admits he was haunted briefly by memories of the links hop on 18 and the missed putt.
"But I was so completely overwhelmed by all the people who reached out to me afterwards," he said. "There were so many letters and e-mails sent to my office and others directly to me that it took me weeks to even think about getting through them. None of them talked about my not winning, they talked about my competing, my having a chance to win. It meant the world to me. I never had a second to feel sorry for myself even if I had wanted to."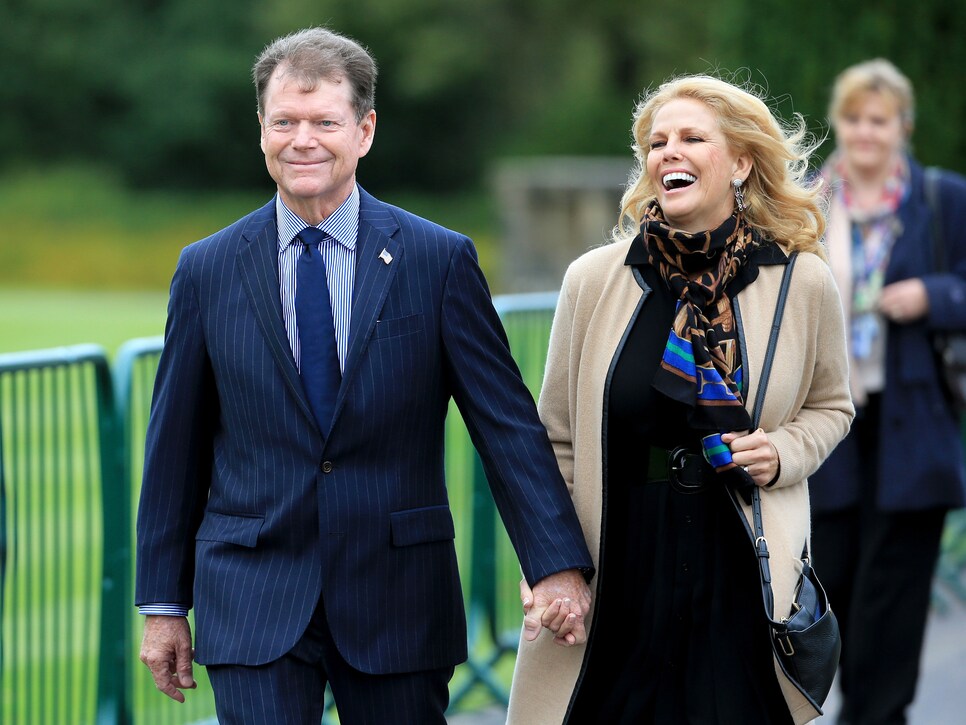 David Cannon/Getty Images
Watson won't feel sorry for himself flying home from Scotland. He'll wish the last 27 holes at St. Andrews had turned out differently—he wouldn't be human if he didn't. But he showed himself and the world that—amazingly—he's still got some gas left in the tank that first began to take the golf world by storm 43 years ago when he won the Open at Carnoustie, a few miles up the coast from St. Andrews.
Watson has no need to add to his legacy: the eight major titles; the six senior majors; the 70 professional wins around the world not to mention the millions of dollars he has raised for ALS research since Edwards' death.
But when he plays the way he did for 45 holes at St. Andrews—still somehow defying Father Time one more time—he reminds us all how inspiring golf and golfers can be at their best.
Regardless of where he finished, Watson gave us all one more thrill this past weekend. Now, he will return to the work that is the most important thing in his life right now: helping Hilary beat cancer.
Theirs is a truly inspiring story.