News
Brandel Chamblee rips into another player with his harsh analysis: himself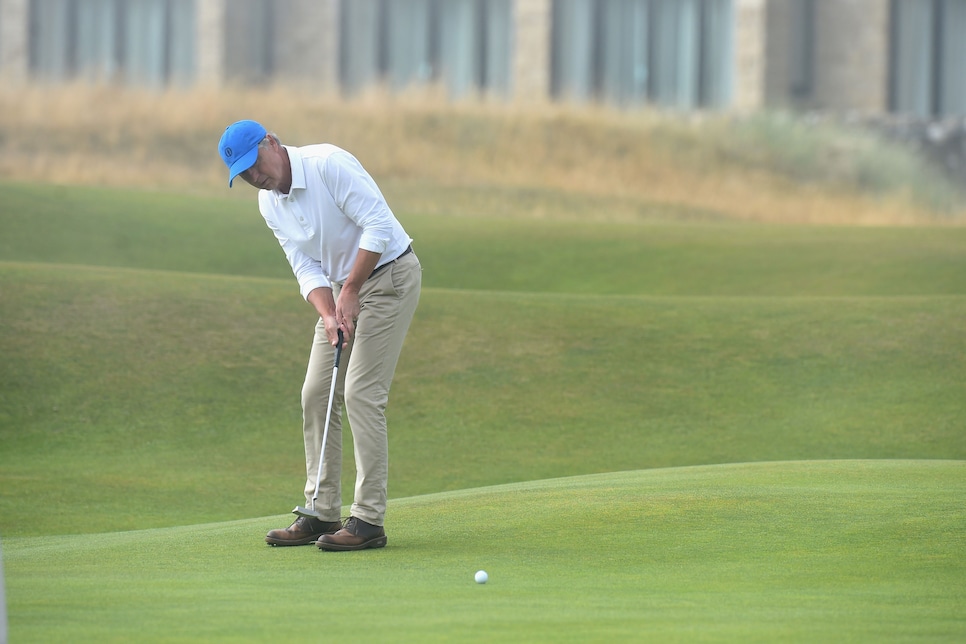 Tony Marshall/Getty Images
ST. ANDREWS, Scotland — Brandel Chamblee won't be playing the Old Course at St. Andrews this weekend. After adding a second-round 75 to his opening 77 in the Senior British Open, the Golf Channel pundit is off to East Lothian where his goal is to get in 18 holes at North Berwick. Once there, he'll be hoping to swing and putt a bit better than he did at the Home of Golf. Despite claiming to have, at times, hit the ball "fabulous," the 56-year-old former PGA Tour pro failed to make a birdie during his second circuit and comfortably missed the halfway cut.
"It was tougher than I thought it would be," Chamblee admitted. "Yesterday I wasn't sharp hitting the ball, and I putted atrociously. Today, I was pretty sharp hitting the ball, but I found my way into a couple of pot bunkers. And continued to putt like a buffoon."
As he is sometimes accused of being from his perch in the television booth, Chamblee was being a little hard on his subject. Given how little competitive golf he has played since his retirement from the tour at the end of 2002, his level of performance was hardly surprising. But this was a golfer talking, not an announcer.
"I didn't enjoy the experience," he continued. "You only ever enjoy golf when you play well. It is misery when you don't play well. I'm a competitive person. I came in here thinking I could have a chance if I played well. But all my golf did was make me want to go practice."
There were some lighter moments. As you'd expect, Chamblee's presence inside the ropes provoked a mixture of praise—he qualified comfortably with a 69 at nearby Scotscraig—and good-natured banter. Colin Montgomerie softened-up Chamblee by telling him how impressed he had been by his qualifying score. Cue the tongue-in-cheek zinger: "But do you realize how many players wanted you to shoot 90 and/or break a rule and suffer a disqualification?"
"I'd like to say that having the players watching me wasn't in my mind on the course," said Chamblee with a smile. "But I'd be lying. Whatever notoriety I have in the game right now is not because of my golf. It's because I talk for a living. So everybody was watching. And I'm not quite as good as I used to be. Kirk Triplett asked me if I had any idea how good my qualifying round was. I was telling him I didn't but he was like, 'no, no, no. I'm sure you will tell them.'"
All in all then, it seems like Chamblee left the Old Course feeling something akin to ambivalence. He admitted to having tears in his eyes playing the 18th—where he hit the pin with his approach shot—for perhaps the last time in competition, but the frustration with his performance was equally obvious.
"The last two days I have never ever played golf like that," he sighed. "I've played plenty of bad golf, but never bad golf like that. I've never made so many ridiculous mistakes. I know that's what you're expected to do when you haven't played much. But it's not what I expected me to do. If I were commentating I would think a lot of the shots I hit make perfect sense. But as a player I know better."