News
Miguel Angel Jimenez emerges victorious—and emotional—on a rainy Sunday at the Old Course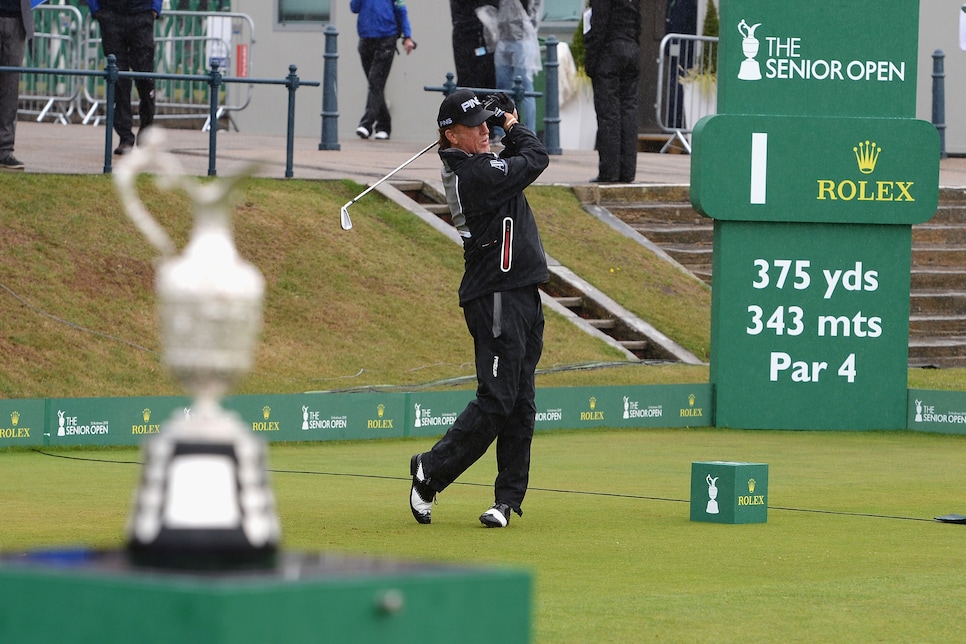 Tony Marshall/Getty Images
ST. ANDREWS, Scotland — He was a little less than convincing towards the end of his final round, but Miguel Angel Jimenez did just enough over the closing holes to hold off defending champion Bernhard Langer and claim the Senior British Open Championship at St. Andrews. The pony-tailed Spaniard, two shots clear of the rest of the field overnight, shot a three-under 69 in weather conditions that ranged from thoroughly unpleasant to relatively benign to win by one shot with a 12-under-par 276. For his trouble, he earned $314,330.
As well as being Jimenez's second senior major title of 2018, it was surely one of the most emotional victories of his career. To win on the same green where his late compatriot, Seve Ballesteros, had indulged in one of golf's most iconic celebrations was, for the 54-year-old, a clearly emotional experience.
"I didn't play too good over the last few holes," Jimenez admitted. "I didn't hit many solid shots. And I missed short putts on both the 14th and 15th. At that stage I was feeling the stress. My heart was really pumping very fast. But it is such a great thing for me to win here at St. Andrews, the Home of Golf. This is the place where everyone wants to win and the place where Seve won his second British Open. It has always been my ambition to win here. It feels like I am part of history."
As ever, Langer was generous in defeat. The man to beat every time he tees-up in a PGA Tour Champions event, he left disappointed but happy enough with the way he played during his closing 68. The three-putts he expended on the 13th green will surely live on in his memory though. The three-shot edge he gave to Jimenez was just too much to retrieve.
"Miguel played an awesome four days of golf, and he's a very well-deserved winner," Langer said. "I was pretty happy overall. It wasn't easy in some of the conditions that we had."
It could have been worse. As things turned out, the leading groups got by far the best of the conditions. At its worst, the wind and rain sweeping over the ancient links transformed the back nine into a procession of virtual par 5s. Despite the late improvement in the conditions, the 72-man field was a collective 136 over par.
And finally—probably literally—playing perhaps his final round over the only Scottish course on the Open rota where he did not claim the claret jug, Tom Watson closed with a disappointing round of 77. Only three strokes back at the start of Sunday, the 68-year-old fell into a tie for 21st place. None of which seemed to matter to the hardy souls braving the conditions. Many gathered to wave goodbye to one of the greatest links players of all-time.
"As ever, the fans were really very good to me," said Watson, a three-time Senior British Open winner. "I gave it right back to them. I appreciate what they do for me. This is a unique setting in golf, probably the most unique. You come into the town on the last hole and finish amongst all the buildings with the people hanging over the rail up there. There's no other place like it."