News
Tom Hoge gets another shot at the spotlight and four other takeaways from Friday at the Wyndham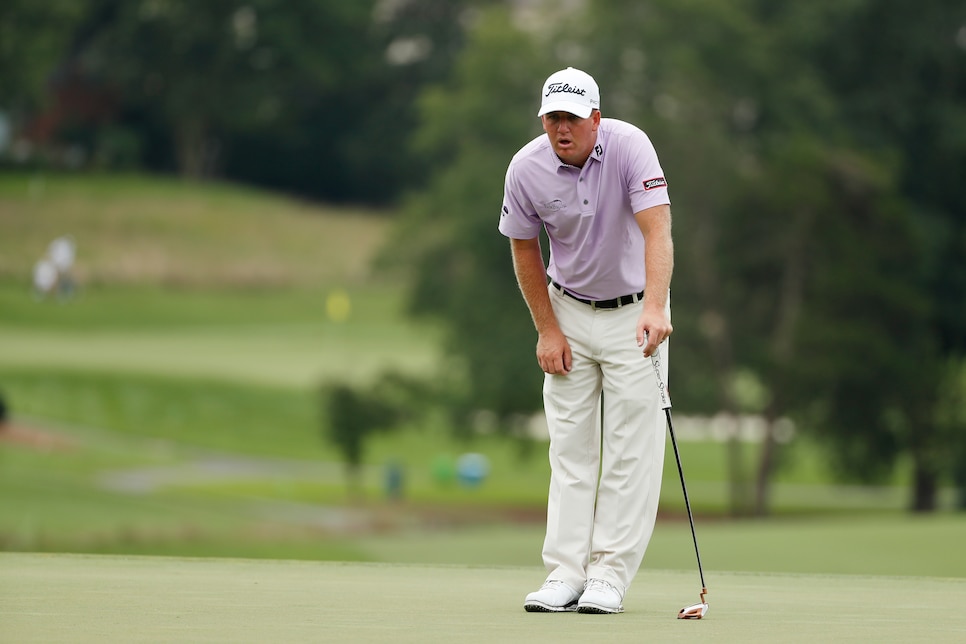 Tom Hoge shares the lead heading into the weekend at the Wyndham Championship, which brings to mind a humorous exchange from the one time Tiger Woods played the event five years ago and was paired with the 31-year-old.
Reporter: Tiger, this is probably unfair but have you ever heard of Tom Hoge? Do you know who he is? Would you recognize him?
"No, I wouldn't," Woods said. "What is it, or him? I don't know."
Hoagie. Hoge. They're pronounced the same. Laughter ensued. Tiger knows who he is now, of course. And now Hoge will have a chance for his first PGA Tour win after a 68 Friday that leaves him tied for the lead with Si Woo Kim, Billy Horschel and Talor Gooch at Sedgefield Country Club.
Here are four more observations from Friday's action at the Wyndham Championship.
Shane Lowry's buddies trip might have to wait
Shane Lowry's second-round 63 couldn't have come at a better time—or worse time—depending on the perspective.
At nine under through two rounds, the Irishman is just a stroke off the lead. He also came into this week 131st in the FedEx Cup standings, with only the top 125 in the season-long points race moving on to next week's playoffs at TPC Boston.
No worries, everyone who started the season with a PGA Tour card is secure through next season because of the COVID-19 pandemic, plus Lowry's Open victory carries a five-year exemption anyway. But on the outside of the playoffs coming into this week, Lowry, who will stay in the U.S. through the U.S. Open in September at Winged Foot, planned to head to the northeast for some relaxtion.
"I've actually got a little trip planned with some friends in Rhode Island next week if I don't make the playoffs," Lowry said. "Not that it's a win-win, but at least I have something to look forward to if that doesn't happen. We will play some golf but not much."
After an eagle and six birdies on Friday, it looks like competition will be in his plans after all. Lowry is just 21 points behind Charl Schwartzel, who came into the week 125th in the standings, meaning that barring an epic collapse this weekend Lowry will be bound for TPC Boston instead.
Jordan Spieth's roller-coaster round
With playing status already secured for everyone next season, much of the drama that usually surrounds the regular-season finale is absent.
Thankfully there's Jordan Spieth to fill the void.
The 27-year-old three-time major champ's roller-coaster play remains one of the more fascinating stories in golf. One hole he's down, the next he's up and on it goes like a summer day at Six Flags.
That was once again the case on Friday.
After Spieth opened with an even-par 70 the adventures began in the second round with a sloppy bogey on the second hole. Then he rattled off five birdies in an eight-hole stretch before disaster struck again.
On the par-4 14th—the hardest hole on the course—Spieth pulled his tee shot left and out of bounds. If there was a silver lining, it's that he made a testy six-footer to save double bogey. Then he bounced back with a birdie at the par-5 15th and parred his way in for a 67 to make the cut on the number.
Spieth might not look close to the player he was when he last won three years ago, when he last won, but he'll at least get a couple more reps this weekend, which couldn't hurt. We think.
And then he was gone. Unlike Spieth, Brooks Koepka won't be sticking around for the weekend.
Since his now-infamous Saturday night comments about Dustin Johnson and the rest of the contendrs going into the final round of the PGA Championship, Koepka has not broken par, with a final-round 74 at TPC Harding Park followed by rounds of 72 and 70 to miss the cut at Sedgefield.
Karma? Perhaps. The golf gods work in mysterious ways.
It should also be noted, though, that this week marked Koepka's sixth in a row. Not ideal for someone with a balky left knee. It should also be pointed out that he contended in two of those tournaments along the way. This week wasn't to be, though, mostly because of a balky putter.
Every shot (and second) counts, no really, it does
Rafael Cabrera-Bello came into this week 133rd in the FedEx Cup standings, meaning that he needs a solid performance this week to qualify for the playoffs, which begin next week. After all, you can't win the Cup (or any of the available bonus cash) if you don't play, so every stroke and score really does matter for those hovering near the bubble.
Talk about a break. Had another few seconds passed before it did, and it still fell in the hole, it's likely that the 36-year-old Spaniard would have been hit with a one-stroke penalty.
"It was just one of those one-in-a-thousand scenarios that luckily for me I end up with a birdie," Cabrera-Bello said.
And one that might come in handy on Sunday night.