News
Brooks Koepka on his friendship with Dustin Johnson: 'You guys make your own stories'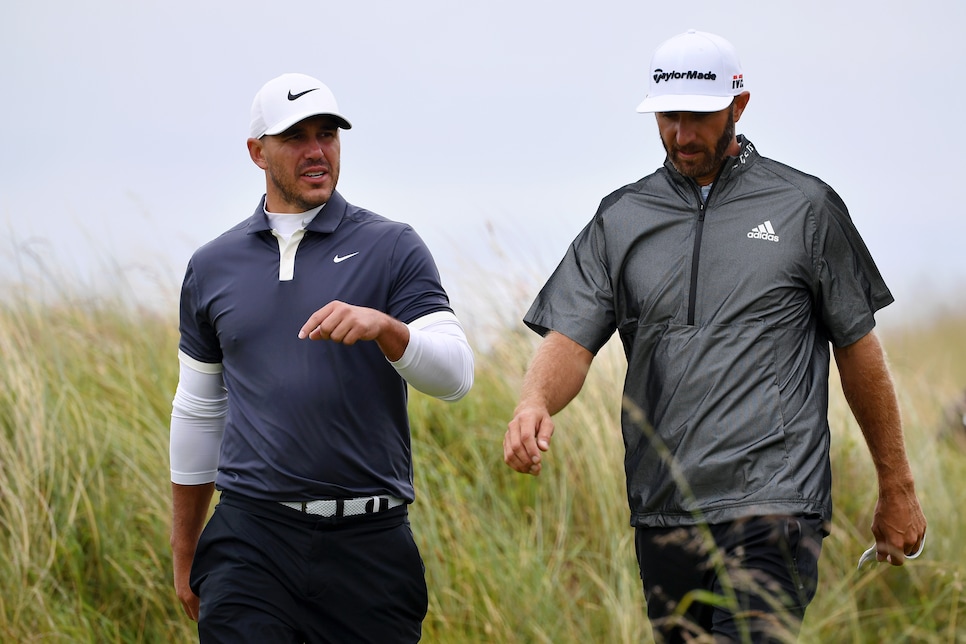 Brooks Koepka seems keen on making one thing clear: He and Dustin Johnson were never as close as the media made them seem.
Koepka, who raised eyebrows when he took thinly veiled shots at Johnson ahead of the final round at last week's PGA Championship, was asked about his relationship with the world No. 4 at this week's Wyndham Championship.
"Yeah, we worked out for—I worked out with Joey [Diovisalvi] for two years," Koepka told reporters on Thursday after an opening two-over 72 at Sedgefield C.C. "Yeah, I mean, I don't know. I don't know what you guys—you guys make your own stories, so I have no idea what you all do, but I think even the Jordan and Justin thing gets blown out too much. I think you guys overplay—you guys overplay a lot of things."
Koepka was referring to Jordan Spieth and Justin Thomas, who have been friends since junior golf. Thomas referred to Spieth as "one of my best friends" after the two played together in the third round of the PGA.
The Koepka-Johnson relationship has been a hot topic since last Saturday, when Koepka was asked about his prospects going into the final round at TPC Harding Park despite being two back of Johnson. "I mean, I like my chances," Koepka said. "When I've been in this position before, I've capitalized. I don't know, he's only won one." Koepka was later asked whether winning a second major is harder than winning a first, to which he replied, "If you look at the top of the leader board, yes."
His comments drew condemnation from many in the media, as well as Rory McIlroy, who offered this pointed response: "Sort of hard to knock a guy with 21 wins on the PGA Tour, which is three times what Brooks has."
Koepka proceeded to shoot four-over 74 on Sunday to finish T-29, his worst performance in a major since the 2018 Open Championship. Johnson's two-under 68 saw him finish in a tie for second.
On Wednesday, Koepka did a Q&A with Golfweek's Eamon Lynch and said he had no spoken to Johnson (or any other players) about his comments. When Lynch asked specifically whether he plans to reach out to Johnson, Koepka said, "that's not something I'm planning on doing."
Koepka and Johnson were known as the "Bash Bros" after appearing on a Golf Magazine cover together in 2018. The were also reports that the two were involved in a physical altercation after the 2018 Ryder Cup, but Koepka denied anything of the sort.
"There was no fight, no argument," Koepka said. "He's one of my best friends. I love the kid to death."