Brady golf line
A look at Tom Brady's new golf apparel line
*All products featured on Golf Digest are independently selected by our editors. However, when you buy something through our retail links, we may earn an affiliate commission.*
Brady, Tom Brady's namesake apparel brand, is expanding its primarily activewear collection into golf apparel. The NFL superstar's love for golf is widely known, and this sport-specific collection further shows his passion and investment in the game. The launch comes alongside the announcement of the next installment of the "The Match," in which Brady and Aaron Rodgers will take on Patrick Mahomes and Josh Allen in a 12-hole challenge on June 1.
RELATED: Footjoy and Garrett Leight combine forces on a collection of matching golf shoes and sunglasses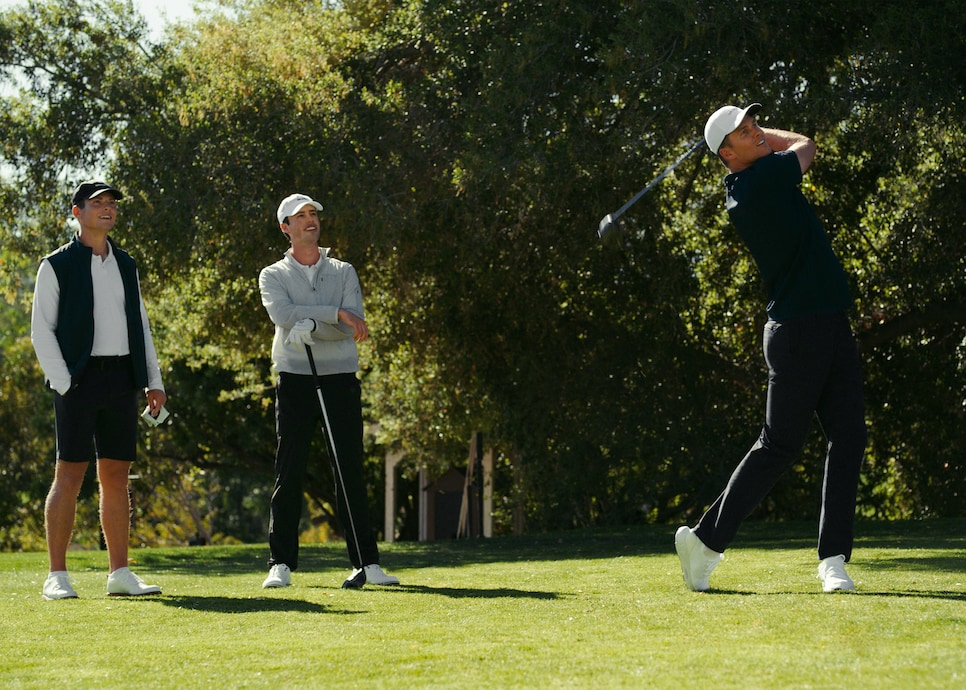 With 14 pieces, including golf shirts, pants, shorts and layering options in a range of colorful shades, the Brady golf collection is available now on BradyBrand.com. Here's a look at some of our favorite pieces from the drop.
Shirts
The line includes both short sleeve and long sleeve golf shirts, composed of both four-way stretch performance materials and more fashion-forward knit fabrics. The Engineered Knit Polo is one of the more elevated pieces in the collection, as it features a durable yet flexible knit construction and a wide rib design to add style and versatility. The style also comes in a long sleeve option, and can easily be worn off the course. The Perform Polo In Zero Hydro Yarn is another standout piece, as it includes UPF 50 technology to protect from sun exposure and uses a sustainable fabric blend made from recycled yarns.
Layering Options
As for the layering pieces in Brady's golf collection, we are loving the performance vests and jackets. With four-way stretch technology and a water-repellent finish, the Golf Vest in Zero Weight is a perfect choice for keeping your core warm during early morning rounds without sacrificing comfort or style. It comes in black, white or a mint green that will really pop over spring golf outfits. Also part of the collection, the Golf Jacket in Engineered Hybrid Knit has the feel of a bomber jacket but the construction and golf-ready technology of a performance layer. The knit sleeves and partially water-resistant design gives this piece a modern and stylish look.
Bottoms
Brady's line features two types of pants and two types of shorts: the Zero Weight and the Structured Stretch pants and shorts. The Zero Weight model comes in a trendy sage green colorway, perfect for golfers who want to add a subtle splash of color to their on-course looks. Across the board, the collection features earth tones and muted colors for a sleek, professional look.
Brady announced the collection last week with a 30-second teaser video, featuring college golf stars Cole Hammer of the University of Texas and Michael Brennan of Wake Forest. Hammer and Brennan's NIL involvement in the new line demonstrates Brady's support of the next generation of athletes.
The video campaign to celebrate Brady's latest release shows the seven-time Super Bowl champion's on-field habits come out on the golf course. The clever promotional series produced by legendary music video director Hype Williams, shows Brady shotmaking on the golf course like he would on the field, shouting plays at full volume and checking yardages on his play-call wristband.