News
Titleist fires back with 284-page countersuit against Costco ball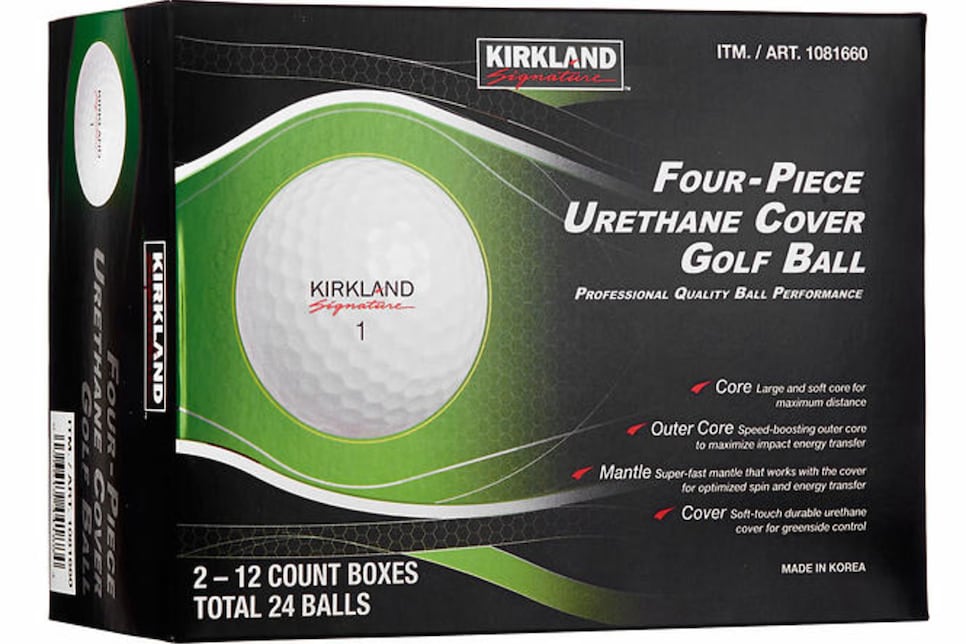 If you thought that lawsuit over the cult favorite Kirkland Signature golf ball sold at Costco and Acushnet, the parent of the game's top-selling golf balls under the Titleist brand name, was withering away into oblivion, think again.
Nearly five months after Costco, the U.S.'s largest membership-only warehouse club, filed a lawsuit in U.S. District Court seeking a declaratory judgment that its ball was not infringing on any Acushnet patents, Acushnet responded with a blanket denial of any and all Costco's claims. Then, it returned the favor with a 284-page countersuit, alleging that the Kirkland Signature ball not only infringes on 10 Acushnet-owned patents having to do with golf ball core and internal construction and dimple patterns, but that the Kirkland Signature guarantee amounts to false advertising.
The Kirkland Signature guarantee, which applies to a wide array of products offered by Costco under its Kirkland Signature house brand, states that these private label products "must be equal to or better than the national brands." According to Acushnet's countersuit, the packaging for the Kirkland Signature ball states that "Every Kirkland Signature product is guaranteed to meet or exceed the quality standards of the leading national brands."
Acushnet's countersuit does not ask for a specific dollar amount, instead calling for a jury trial over the alleged infringing patents.
For each of the infringed patents, the countersuit features the following similar language: "Acushnet Company has been, is being, and will continue to be, seriously damaged and irreparably harmed unless Costco is enjoined by this Court from the actions complained of herein, and thus Acushnet Company is without an adequate remedy at law.
"Acushnet Company is entitled to recover from Costco the damages sustained by Acushnet Company as a result of Costco's wrongful acts in an amount subject to proof at trial."
The Acushnet countersuit asks that the court declare that the Kirkland Signature ball is infringing on the 10 patents, that the court award "adequate damages" from the declared infringement and that because of Costco's "willful infringement" the damages be trebled. In addition, Acushnet is asking for three times Costco's profits from the Kirkland Signature ball.
The central issue stems from a letter sent by Acushnet to Costco in December, in which Acushnet outlined its concerns over patent infringement and false advertising claims by the Kirkland Signature ball. Acushnet's countersuit declares that Costco asked that it be given until April 6 to respond to the letter and that Costco indicated it would not sell the Kirkland Signature ball in the interim. Costco filed its suit on March 17 "to Acushnet Company's surprise," the countersuit states, and subsequently began selling the Kirkland Signature ball again.
The Kirkland Signature ball apparently sold out several times, was first removed from the company's website in January before being returned for sale in April when it quickly sold out. It has not been regularly available at Costco stores or on its website since late spring.
Coincidentally, there is now a new Kirkland Signature ball on the USGA's list of conforming balls. Called the Performance + (as opposed to the original ball's "Tour Performance" labeling), the new ball is a slightly different construction. According to the USGA's description, the Performance + features a three-piece construction with 338 dimples, while the Tour Performance is a four-piece ball with 360 dimples.
In its countersuit, Acushnet details its own testing of the construction and performance of the Kirkland Signature ball against its industry-leading Titleist Pro V1 and Pro V1x balls. In its robot testing, Acushnet describes that the Costco ball "travelled a shorter distance" at a range of driver ball speeds from average to elite players and "had less back spin" with 5-iron, 8-iron, wedge and half-wedge shots. The Acushnet testing also detailed how it found the Titleist balls to be "significantly more durable" during the company's "standard durability testing protocol."
The Acushnet countersuit also alleges that the Kirkland Signature guarantee "is likely to deceive a significant number of purchasers and potential purchasers of golf ball products into believing that the Kirkland Signature Golf Ball 'meets or exceeds the quality standards'" of the Pro V1 and Pro V1x. The countersuit makes that specific case because Acushnet believes Costco has not conducted any testing of its own comparing the Kirkland Signature ball to any Titleist golf balls.
In a case that may have implications for this matter, Costco yesterday was ordered to pay Tiffany & Co. $19.4 million for selling rings labeled "Tiffany." In her decision, U.S. District Court Judge Laura Taylor Swain wrote, "Costco's upper management ... displayed, at best, a cavalier attitude toward Costco's use of the Tiffany name in conjunction with ring sales and marketing."
According to court documents, the two parties are scheduled to hold a conference about the initial Costco lawsuit by August 17 and to provide a joint status report to U.S. District Judge Richard A. Jones by August 31.