Titleist bringing its on-course ball fitting experience to the virtual world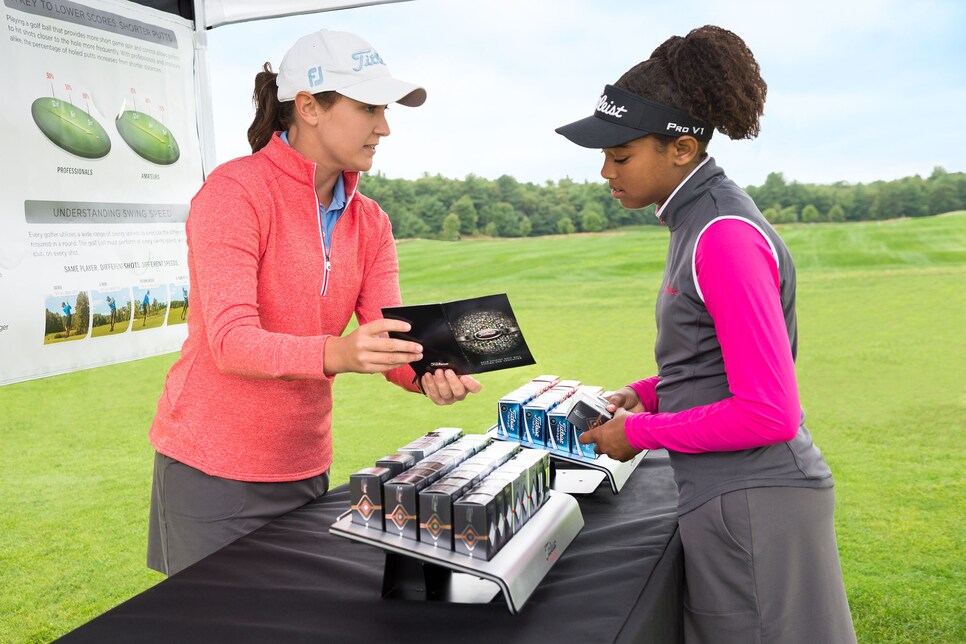 As fitting has become more the standard way of buying golf equipment, the one category that still remains something of an afterthought is the ball, the one item you use on every shot.
That obviously makes no sense (like buying a whole new wardrobe but not any shoes), and it's why ball companies are continuing to push this message, even now when going in for a custom fitting may not be so easy. (Not just because of the challenges of the pandemic, but because fitters across the country have been routinely booked sometimes weeks in advance with driver, iron and putter fittings as club sales soar this summer.) Here's a reminder that a ball fitting can be a virtual experience.
Market leader Titleist is now taking its on-course ball-fitting process to your kitchen, den, home office or backyard, depending on your wifi connection. The just-launched "virtual golf ball consultations" involve one-on-one video calls with the company's ball-fitting experts. During the half-hour session, a player experiences an interview process that's similar to what happens on the course. Key parts of the conversation are understanding personal preferences, along with an extensive analysis of a player's typical game and how those answers might best match up with Titleist's current family of seven balls (Pro V1, Pro V1x, AVX, Tour Soft, Velocity, TruFeel and the new Tour Speed). The Titleist ball selection process has a "green to tee" approach where the ball recommendations result from on-course testing through the bag with an emphasis on the scoring shots.
These non-traditional tech-driven fittings cropped up this summer with both Ping and Callaway offering club guidance online, and earlier this year, Bridgestone unveiled its VFit app to let users submit a video of their swing for an instant analysis that uses an algorithm to determine club launch conditions and the ideal golf ball recommendation based on those criteria.
Titleist's virtual fitting session results in two Titleist balls being recommended (a top pick and an alternative), and players are then encouraged to put the tandem and their current ball through a preference "scorecard" trial. That evaluation starts with short game shots, moves to full shots with short irons and then continues through the bag, finishing with the driver and finally a question on the feel preference. According to Michael Rich, Titleist's senior manager of golf ball fitting and education, the ball that the player prefers more often across the scenarios is the best choice, although the short game shots and short iron shots should be weighted the highest.
"Whether we're working with a golfer in person or online, it's ultimately up to them to take our recommendations to the course and test the golf balls side-by-side on a variety of different shots, especially into and around the green," he said.
The benefit of a golf ball fitting goes beyond the exercise of analyzing a player's game and coming up with a recommendation. It's what happens next that matters most, said Jack Sparling, one of Titleist's ball fitting experts who conducts the virtual ball consultations.
"One of the biggest things we always talk about is 'Once you find a ball you love, be consistent and play it all the time,'" he said. "Knowing that when I have 170 yards in and I flush it, this is what the ball is going to do. For instance, you can have a ball with a different kind of spin profile, and that same swing might be half a club shorter or longer with a different ball, and if it's longer, maybe it doesn't give you the performance you need around the green. That's where we can have indecision creep into our minds and it impacts our confidence.
"In the end, that consistency in your choice makes it easier to see that this is what this ball is doing for my golf game."