News
New Titleist Tour Speed is something completely different and yet distinctly the same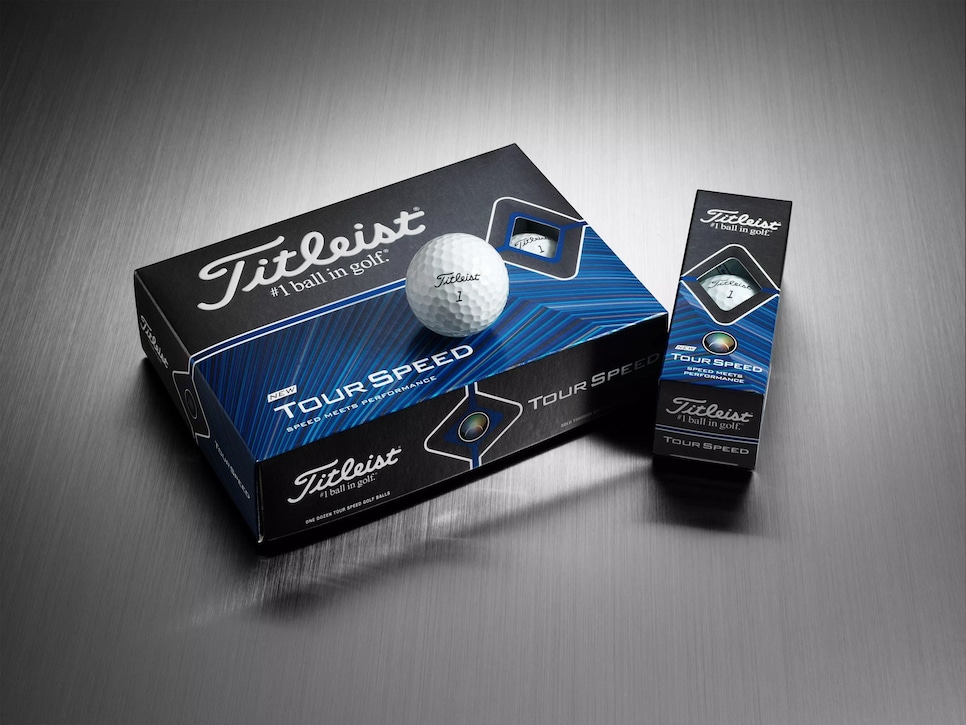 When Titleist launched an experimental research project last fall that also happened to be a ball you could buy, the internet pulled a hammy trying to figure out what it might be. Now, we get the answer, and it's something the company that's been making Titleist golf balls for 85 years has never done before.
But in a way, the experimental ball that was the EXP·01 yielded a new ball that typifies what Titleist balls seem to always have been: a product engineered for a specific type of player's needs. That product is the new Tour Speed, the first Titleist ball ever to feature a thermoplastic urethane [TPU] cover. It's aimed at golfers looking for distance with a healthy dose of the tour ball greenside spin that ionomer [Surlyn] balls just can't produce. Tour Speed also is targeting a price point a notch closer to affordability compared to the balls the best players in the world have been using.
Titleist's urethane cover balls, the dominant Pro V1 family and the AVX, utilize a thermoset cast urethane cover. Over the years, Titleist engineers have strongly made the case that cast urethane, and specifically its own version of cast urethane, offers the best combination of playability, spin and feel for short game shots. Thermoplastic urethane is a more affordable alternative, but developing it for the Tour Speed wasn't simply a cost-cutting exercise. According to Titleist golf ball product manager Michael Fish, "Our R&D and Ops team tested hundreds of TPU formulations and additive combinations to make sure this was the right one for our standards. The reason it took as many years for us to get to a place where we felt comfortable bringing it to market is because they did find quality issues with a lot of TPUs, whether it was the performance or even just the appearance.
"But it's not just the TPU, it's the entire construction of the golf ball."
That deep digging [the company says it has 42 percent of all golf ball patents issued since 2012 and it added a special wing to its ball-making operations in New Bedford, Mass. just to produce the TPU cover on the Tour Speed] was focused on finding a way to make a ball that answered multiple performance attributes, starting with distance but with spin a close second.
"We spent a lot of time talking with golfers that played products in this space," Fish said. "We look at this golfer as kind of the savvy selector. They know they want the performance of a golf ball that's really good, they just want to spend say ten dollars less."
The TPU process allows that affordability but it also allows for a distinct distance proposition, Fish said. That comes from a three-piece construction that features a new mantle, or casing layer, that uses the company's most resilient ionomer, and a core that works with the mantle to produce ball speed and lower spin for better distance with the longer clubs. That formulation grew from the EXP·01 but Tour Speed isn't simply EXP·01 with a different sidestamp. Tour Speed reflects tweaks in all aspects, including the 346 quadrilateral dipyramid dimple design and of course the cover formulation.
"Those changes don't happen without a ton of work, and much of that came out of the test market with EXP·01," he said. Fish also said extensive short-game testing of unmarked balls at the company's research facility with its 100-yard-long green and the supervision of Titleist' veteran tour rep Fordie Pitts indicated how important that performance aspect was in the design.
Tour Speed is set to arrive in stores Aug. 7 [$40 a dozen].