News
Tiger's latest swing video proves he's alive … and not much else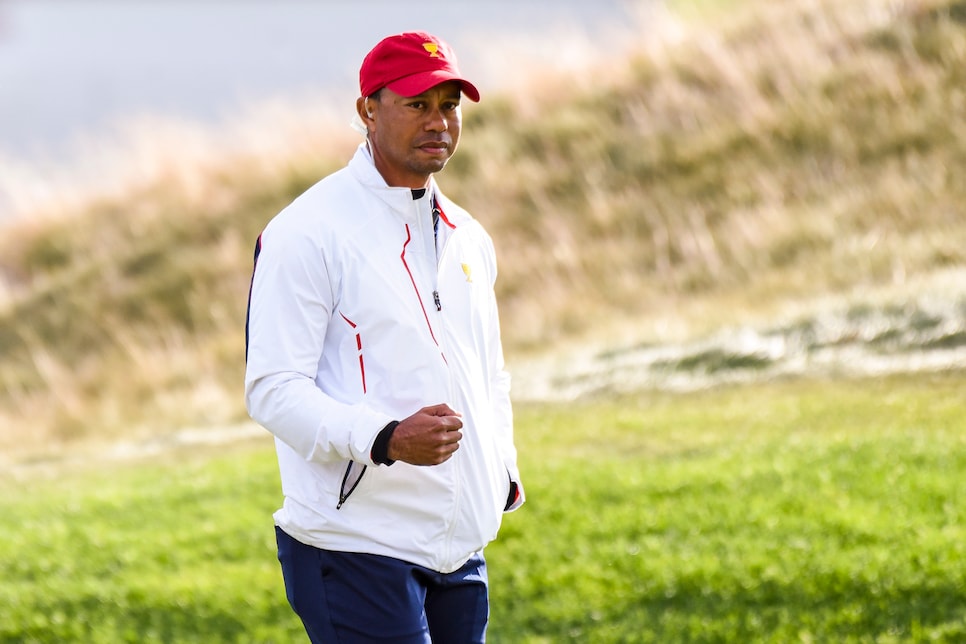 He posted proof of life—giving the golf world a small (and calculated) indication that his comeback from spinal fusion surgery is still a comeback, and he's taken the next step.
The consistent consensus among a half dozen top teachers was that Woods looks better than before—when he showed off some shaky wedge shots in his previous comeback attempt. But he's "just tapping it," as one said, and showing none of the dynamic motion and differentiation between his upper and lower body it will take to produce even mediocre PGA Tour swing speed.
Analyze the gentle, no-torque swing if you want, but its current technical parameters don't reveal any answers to the fundamental questions: Can Woods' body hold up enough to produce a a swing that will let him continue as a viable player? And does he have enough desire left for the climb in front of him?
"Nobody knows what's in his mind, but this is what ought to be," says Golf Digest 50 Best Teacher Brian Manzella. "Who should I compare myself to now, and can I hit it like that guy? He can't be Dustin Johnson. He can't be Rory McIlroy. That's gone. He has to look at the shortest hitter who won a major this year, and ask himself if it's possible to be that guy. Can he be Jordan Spieth? I think Tiger can be at 110 or 115 miles per hour with the driver after that surgery. Can he compete at that? Will that be satisfying for him? Is he going to be OK standing on the tee getting outdriven by Justin Thomas by 60 or 80 yards? He's the only one who can answer that."
Right now, Woods' main hurdle is getting to the point physically where he's able to practice enough to get back to tour level--something that is made more complicated by his injury history. "The swing he uses is going to have to be easier on his back, because he's going to have to hit a lot of balls to get to where he needs to be" says Jim McLean, another 50 Best Teacher. "The last thing somebody with Tiger's back issues can do is make a swing where his head stays in one place, or where he tries to use a single pivot. He has to do more of what he used to do—go back into his right side and go into a straight, balanced finish. If he keeps his head down and stays in his tilt, that's just a killer on his back."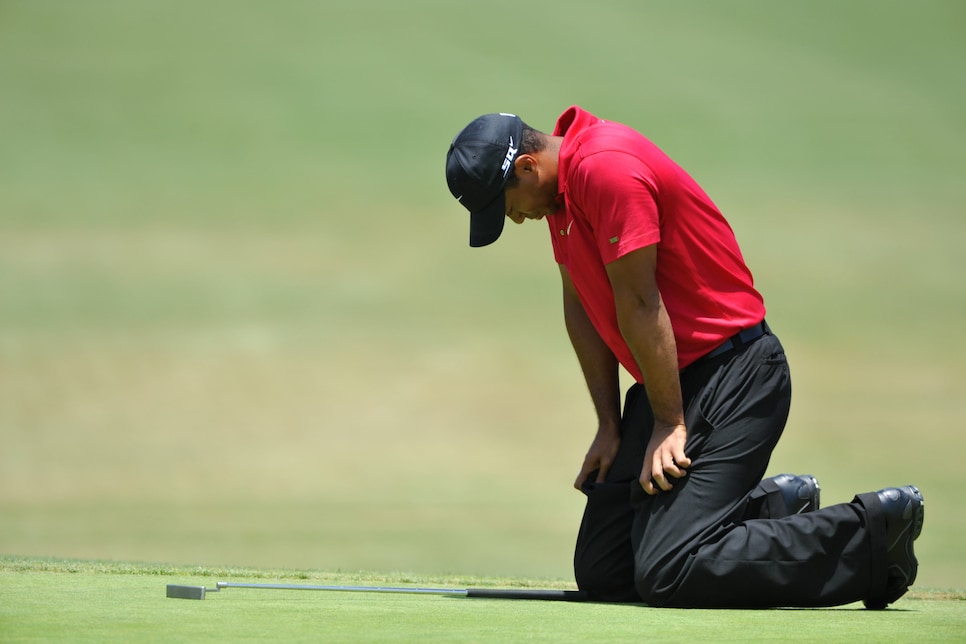 The next challenge will be identifying the benchmarks that indicate real progression in his game. "Will his body and his game let him go out and ride in a cart and shoot 66 from the tips at Medalist with nobody watching?" says Manzella. "Let's say it does. What's the next step? Would he be willing to go play in some money games, or go try the equivalent of AA curve balls in golf's minor leagues? He should, but I don't think he will. If his body lets him, he's going to go try it on tour. That's a big jump."
If and when Woods returns to PGA Tour golf, it seems inevitable that he'll be relying more on guile than power. "He's going to have to totally change who he is as a golfer," says top Alabama teacher Tony Ruggiero, who works with Smylie Kaufman and Lucas Glover on the PGA Tour. "He was so much longer than everybody else, and he worked so much harder. Now he's not the longest."
Woods has for years been able to joke about the "young guns" blowing him away off the tee, but McLean believes the banter is designed to cover up some painful blows to the ego. "I saw the same thing when Jack Nicklaus played with a young Ernie Els. He said he now knew what it was like when people played with him for the first time all those years ago," says McLean, who will open his new headquarters at the Biltmore in Coral Gables, Fla., in January. "Tiger has played a lot of different ways, but from the time he was a little kid, he's always had speed. There's more to the game than just hitting the ball, and the big advantage he has is that he knows how to play the game like the great champions do. But he's never going to have that speed back. If he can just play OK instead of playing at the highest level, is that going to be acceptable to him?"
Of course, what really goes on inside Tiger Woods' head has always been the biggest mystery. If he can come back as a taller, more muscular version of Zach Johnson, will contending at a British Open set at a friendly venue be satisfying enough? Making the FedEx Cup playoffs? Nobody knows, and everybody is waiting to see where he sets the bar.
"Tiger Woods doesn't want to be a ceremonial golfer," Manzella says. "He has to be thinking about this from the perspective of, 'How do I do something that's going to be fun for me?' Can he get his game and expectations in line?" Ruggiero has the same take. "He has all the money in the world. He has kids. He has businesses. Can he put the time and energy in? Does he want to? For golf, I hope he does, and I'm rooting for him. But would it really be surprising if he doesn't?"