News
Count Rory McIlroy among those concerned by hearing Tiger might not return to competitive golf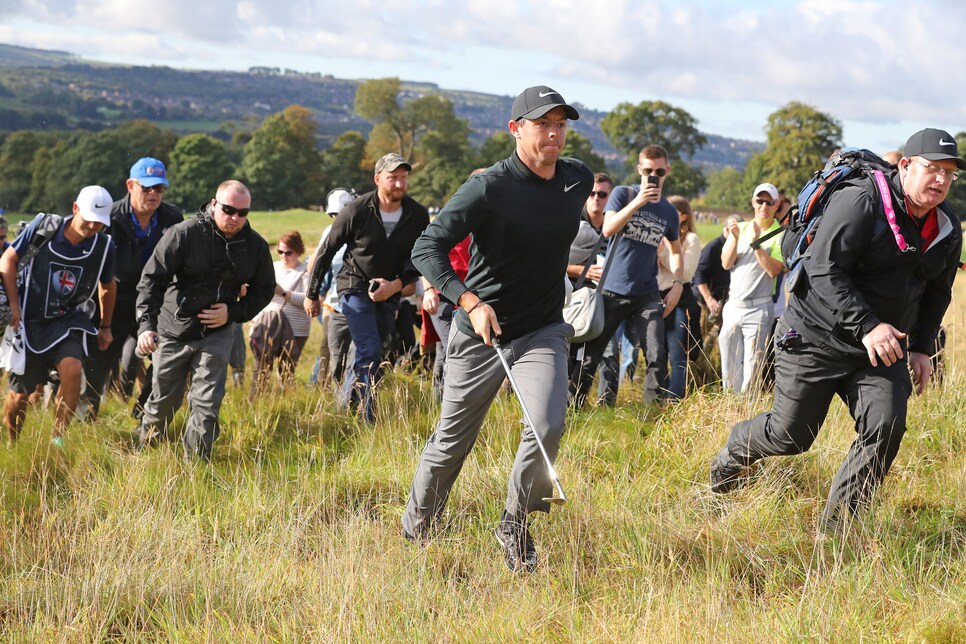 Owen Humphreys - PA Images
NEWCASTLE-UPON-TYNE, England — In the first round of his second-to-last tournament of the year, Rory McIlroy shot a three-under 67 and, to most observers, a wee bit underwhelmed by the whole affair. Four birdies and a single dropped shot were the highlights and lowlights of his morning on the Close House course hosting the British Masters and it had all clearly been routine more than rip-roaring.
"It was a tidy round, but you have to do something really bad on this golf course to make it look untidy," said McIlroy, who stood four strokes back of first-round leader George Coeztee. "The fairways are wide. It's not too penal. And it's so soft out there. I played OK. I didn't do anything great other than make a couple of putts. It's definitely a course where you can go low.
"Having only a couple of events to go this year is actually not a bad way to feel," he continued. "I'm not really looking ahead at anything. All I've got to concentrate on is the round I'm playing. It's a nice position to be in. I'm not under any pressure to perform, which is probably why I've shot a decent score."
Then someone asked about Tiger Woods and the speculation that the great man may never again play competitive golf. Reared on the exploits of the man who won 14 Grand Slam events between 1997 and 2008, McIlroy is an acknowledged expert on all things Woods. Suddenly, his apparent ennui was transformed into a new-found enthusiasm, and he had plenty to say.
"Only Tiger knows if he can do it [play again]," said the Northern Irishman. "And if he doesn't know, who does? He's taking things very slowly. I've spent a bit of time with him over the last few months, and he's waiting on his doctors to tell him when he can do things again. He's taking their advice and isn't being quite as stubborn as he was back in the day.
"If he doesn't play again he is still the greatest player I have ever seen. He probably played the greatest golf that anyone in my lifetime has seen. I never really saw Jack Nicklaus play. He has a better record. But I don't know if he played better golf. So if this is it, Tiger doesn't have anything to prove to anyone. Not to me. Not to us. Not to himself. He can walk away from the game with his head held extremely high.
"He's done wonders for this game. I don't think there is a single figure in golf who has dome more for golf in terms of bringing more groups into the game. Different ethnicities. Different age groups. He made golf cool back in the '90s when it really needed an injection of something. He's a legend of the game, and if this is it we should all just applaud what a great career he has had."