News
Rory McIlroy's 2018 schedule—and his plans to prepare for the year—are really, REALLY ambitious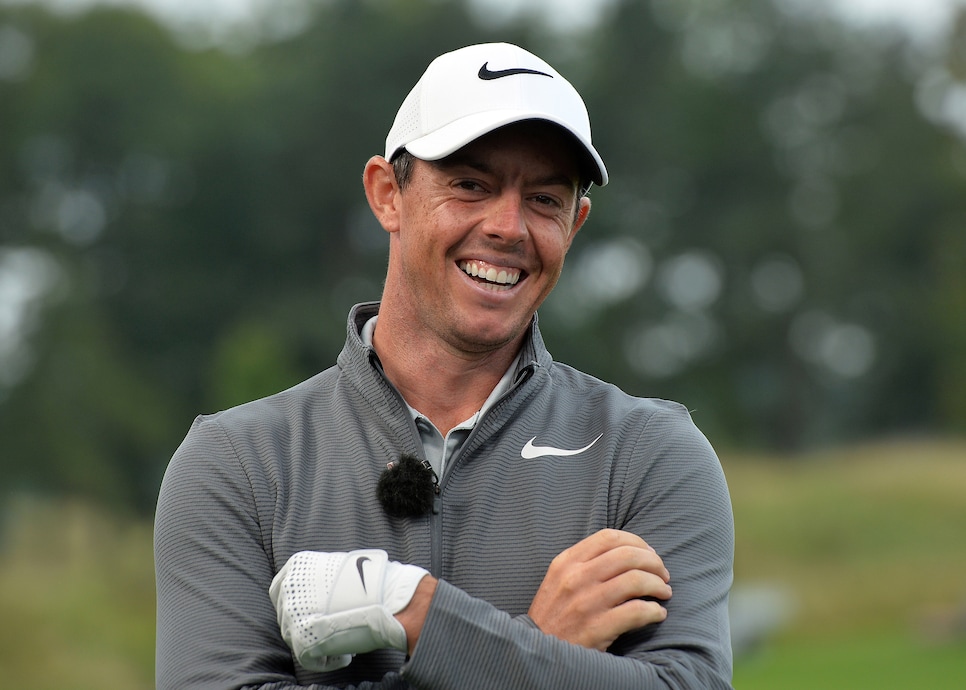 Mark Runnacles/Getty Images
NEWCASTLE UPON TYNE, England — There's been a lot going on in golf lately. But, unusually, not much has involved Rory McIlroy. Or at least not much that's been going right. Having come up short of the elite group who qualified for last week's Tour Championship, he fell two weeks ago to No. 8 in the world, the lowest he's been since 2014.
After bowing out of the FedEx Cup Playoffs early, McIlroy unexpectedly added this week's British Masters to his schedule. From there he'll go to Scotland for the Dunhill Links Championship the following week. And after that, the 28-year-old Northern Irishman sounds ready to shut it down for 2017. "Most likely," we won't see him again until the Abu Dhabi Championship in January.    Which is not to say that McIlroy does not have big plans for the future. Next year, having rested the pesky rib injury that has hampered his ability to play and practice over the last few months, he intends to play at least 26 events up to the Ryder Cup in France, eight of those before the Masters next April. And that is just the start of what the four-time major champion hopes will be something of a new era in an already illustrious career.
"If someone had told me at The Belfry 10 years ago [where he made his pro debut in the 2007 British Masters] that you're going to do, X, Y and Z and I've done whatever, I would have been really happy," he said. "I would have been ecstatic, over the moon.
"But because of the experiences I've had in those 10 years and the golfer that I've become, these next three months could give me the foundation to have the next 10 years be even better than the 10 years I've just had. That turns a great career into one of the greatest careers. So that's why I think these next few months are really important. I'm looking forward to it."   Also part of the proposed McIlroy transformation is a fresh look at his physical condition and diet, something he acknowledged had lapsed more than once over the last 18 months or so. Lightheartedly admitting to having married a "great baker" and a lifelong "interest in food," McIlroy identified his "weaknesses" as "red wine, dark chocolate, or at least too much of it, burgers, fries…and everything really."   "I would be the first one to say my diet probably hasn't been the best this year," he said. "It has not been the best over the past year and a half, probably. When you travel a lot, it's hard to get into a routine where you eat right. You're always eating out at restaurants and sometimes you don't make the best choices. Like a dog, whatever you put in front of me, it's going to be eaten, whether I want it or not. If it's there, I'll have it. So I need to be a bit more disciplined."
RELATED: European Tour, Thomas Pieters to host knockout event in 2018   As a first step on that road, McIlroy is undergoing a complete physical next month in Manchester, England, where he will undergo what he called, "testing."   "I'm going to do loads of different stuff, a full health type of thing," he said. "Get blood done. Get some food allergy testing done. There's been a couple of things this year where my joints have been inflamed or I just haven't had the right energy levels. So I want to use this time to delve deeper, to see where I can get better and be more disciplined.   "So I'll be doing all that as well as a rehab program for four weeks in Dubai. Then I'll head over to the States for a couple of weeks and continue to practice and do stuff over there. Really just use these weeks and this time that I have to improve my game, improve my health and be able to come out next year in a much better place than I was this year."    There was just time for one wee look back at what has been a disappointing and winless season—the first of McIlroy's career. If he has one big regret it is that he came back too quickly from his injury after the Players Championship. Instead of playing at Erin Hills in the U.S. Open, he might have been better to wait until the Open Championship the following month.   "I don't think I gave myself adequate time," he admitted. "If I had to do this year all over again, the only thing I would change is not coming back for the U.S. Open. I came back a few weeks too early. Because I didn't give myself that extra two or three weeks; it made all the difference in terms of how I felt past that point. I should have said, OK, I really want to be right for the Open Championship. But I didn't want to miss a major. That was the big thing."