News
Tiger Woods says there's 'definitely' a chance he never returns to playing competitive golf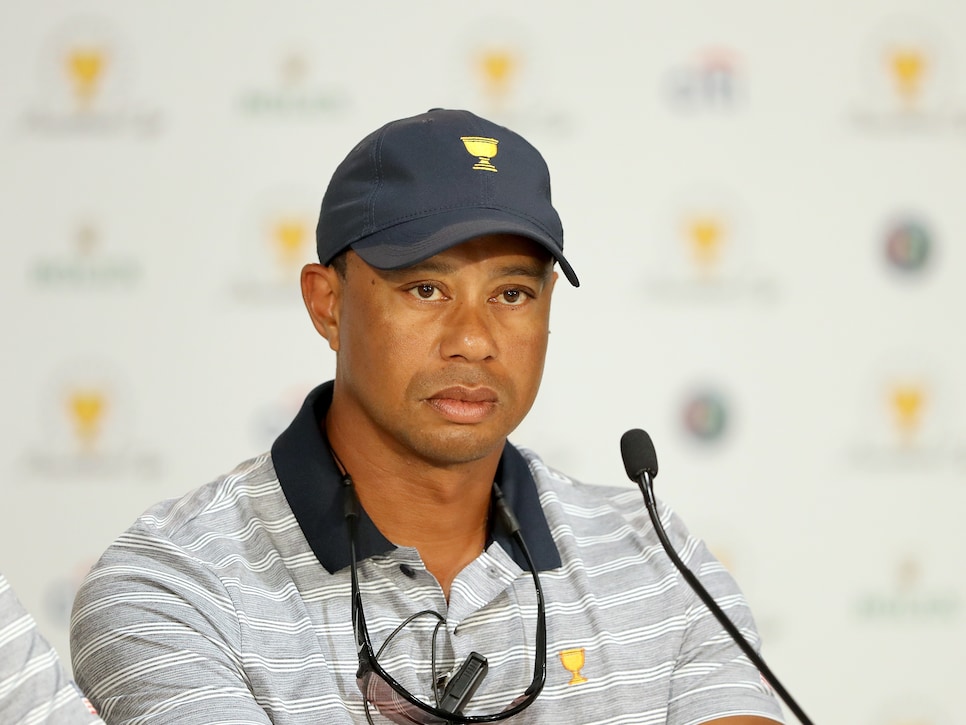 JERSEY CITY, N.J. -- Eight Presidents Cup assistant captains took the podium on Wednesday afternoon in the media center at Liberty National Golf Club, but only one of those men didn't spend most of the 25-minute press conference twiddling his thumbs. Not surprisingly, it was Tiger Woods who answered question. After question. After follow-up question. In all, the 14-time major champ unofficially received 11 of 16 inquiries from the assembled media and one of those five other questions was directed to Woods' fellow U.S. assistants about Woods. Yet there wasn't much to glean from Woods' comments — until his last response.
Could you see a scenario where you could not come back to competitive golf?
It was a reasonable question for a soon-to-be 42-year-old man who is recovering from a fourth back surgery and who has nothing left to prove on a golf course. And yet, it also seemed ridiculous. Tiger Woods, arguably the fiercest competitor his sport has ever seen, would never concede this quickly that his playing career might be over. Nah, he's going to declare he's still eyeing Jack Nicklaus' record of 18 majors, or maybe even just laugh off the question.
"Yeah, definitely," Woods said. "I don't know what my future holds for me. As I've told you guys, I'm hitting 60-yard shots."
And … that was it. Woods stared straight ahead, and as a PGA Tour official ended the proceedings, golf's biggest star sat back in his seat and pulled out his phone. Wait a minute. "Yeah, definitely"? "I don't know what my future holds for me"? Say it ain't so, Tiger.
On the bright side for Tiger's fans, his statement wasn't as dower as that press conference from the 2015 Hero Challenge when he said he didn't know where the light at the end of the tunnel was. Before his final response on Wednesday, Woods cracked a joke about those 60-yard shots he recently started practicing: "I'm hitting it really straight." At different times, he declared, "I'm feeling great," "the pain's gone," and "I'm very optimistic." And he also revealed a simple motivation for why he would attempt yet another comeback.
"I think it's fun," Woods said. "You know, I've been competing in golf tournaments since I was, what, 4 years old. From pitch, putt and drive to playing major championships, it's always been fun to me."
Woods is also clearly having fun serving in the role of an assistant captain like he did at last year's Ryder Cup. And on Tuesday, he certainly looked like someone with an itch to hit shots himself, grabbing clubs out of different players' bags and taking little half swings. But on Wednesday, he had no news regarding the next step of a possible return.
"I've been out of the game for a while," Woods said. "First thing's first: Get my health organized. Make sure the pain goes away. Then, basically, just as I said, just keep waiting for what my surgeon says. I've given you guys the updates on what I can do as I progress, and that's all I'm doing. I'm still training. I'm getting stronger. But I certainly don't have my golf muscles trained because obviously I'm not doing anything golf related."
"There were some intrepid times; not just for this golf tournament but for life going forward," he said.
But while fans are certainly glad to see Woods back at a golf tournament this week, they're still hoping to see him back—eventually—playing in events like these.
"I don't know what 100 percent means after eight surgeries, but I'll try and get as close as I can to that number, yes. But as I said, we just take it one step at a time. It's a process, and I'm in no hurry," Woods said. "As I said, I'll try to get better physically; how about that?"