The Loop
Forget the resignation in Tiger's voice when he talks about his future. Instead listen to the relief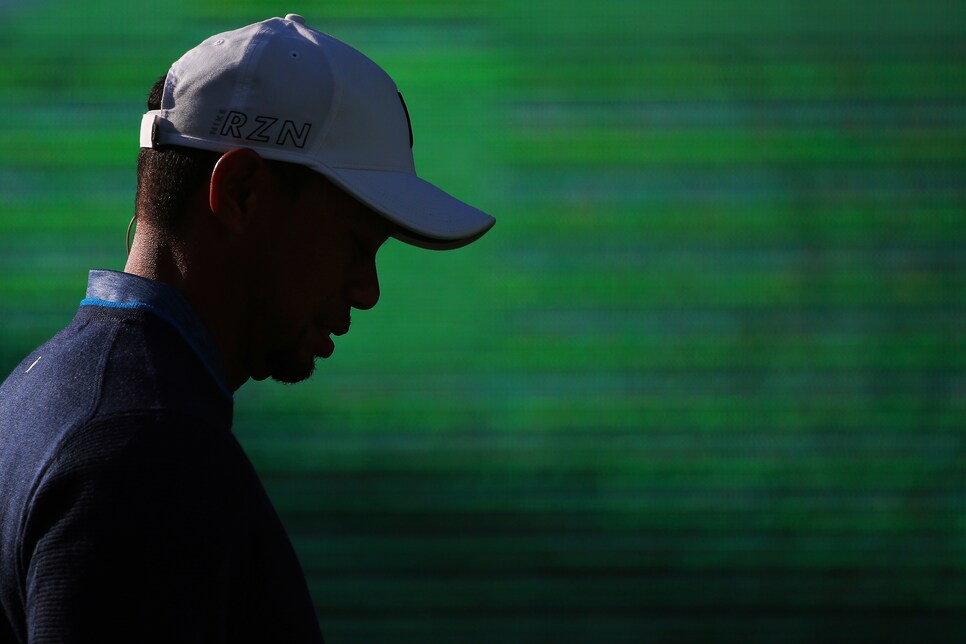 The news was grim: Tiger Woods would be sidelined indefinitely after the worst season of his life. But the man himself was calm. Certainly subdued, but also clear and articulate, perhaps even calculated. "Where is the light at the end of the tunnel?" he asked dispassionately. "I don't know."
Woods has always professed to see such light when and where no one else did, especially in the last six years. That he saw none on Tuesday in the Bahamas on the eve of his Hero World Challenge tournament, and still delivered his thoughts without outward emotion, meant something. The relentlessly intense figure whose life has been guided by mottos like "never settle" is ready to do just that.
When Woods spoke of the sum of his accomplishments—which he has begun doing more frequently in recent years—his assessment for the first time shaded toward overstatement. There's no getting around his current (final?) tally being small compared to what was so commonly projected.
"I've passed Jack on the all-time win list [79 PGA Tour titles to 73], just shy of Sam [Snead, the leader with 82]," Woods said. "I passed Sam basically a decade ago in major championships, but I'm still shy of Jack's [18]. So I've had a pretty good career for my 20s and 30s. For my 20 years out here, I think I've achieved a lot, and if that's all it entails, then I've had a pretty good run."
Such words from Woods can be taken as the final concession that the dream of 19 majors to pass Nicklaus, collectively held onto by so many golf fans, is dead. Though it should be noted that Hank Haney in his book recounted this exchange from 2007, after the coach became exasperated with his player's increasing involvement in Navy SEAL-style activities. Haney: "Man, what are you doing? Are you out of your mind? What about Nicklaus' record? Don't you care about that?" Woods: "No. I'm satisfied with what I've done in my career."
Those prime-time seeds of discontent give us a better clue of how hard it must have been to be Tiger Woods, even when he was rolling. And now, at the end of 2015—his seventh full season without a major, his last season before turning 40 later this month, and with no light at the end of the tunnel—Tiger Woods is satisfied.
Perhaps he has no choice. Woods had prefaced his historical assessment with this sentence: "I think pretty much everything beyond this will be gravy." That last word immediately incited the piercing thought that, deep down, Woods' view of what's beyond in golf terms as pretty bleak.
In a small, sunbaked interview tent that induced both perspiration and tension, Woods was amiable. He answered every question without ever bristling. He was expansive about contemporaries Kobe Bryant, Derek Jeter, Peyton Manning and Tim Duncan, all done or close to it with their professional careers after two decades. He seemed to take pleasure in putting himself among them, an athlete who nobly gave his all until his body wore out. It's a better narrative than the supremely gifted golfer on track to be the greatest ever who self-destructed.
The weight of that latter persona over the last six years has surely been immense. And on some level, Tuesday's press conference was an unburdening that left Woods looking relieved. Or at least OK with taking a break.
Honestly, a break—a long one and a real one, not one filled with training and updates and range sessions—is the wisest, best thing at this point. In the opinion of several close Woods observers with experience in the mental side of competitive golf, it's what he has most needed since Thanksgiving of 2009. Get totally away, look deeply inward, heal physically, come back with a clean slate. If his back could hold up, the ability would still be there. Who would say that a truly renewed Woods in his mid-40s couldn't do what Nicklaus did at the 1986 Masters, or even more?
But if Woods simply sees any future accomplishments as mere "gravy," his desire to fully re-enter the fray has to be questioned. It's clear he's not interested in following the Tom Brady standard of "play until you suck." It works in the short road available in football, but in the much longer one offered by golf, bad play can be an extended purgatory, one that's probably felt particularly interminable to Woods.
At least some retroactive light resulted from Woods' words, an instantly more vivid memory of how incredibly good Woods was. So good, it immediately began an era. Late on Sunday afternoon at the 1997 Masters, with Woods increasing his double-digit lead on the back nine, Ben Crenshaw took in the electric but also eerie atmosphere and captured the meaning. "It's like a passing," he said softly.
On Tuesday, it didn't take Crenshaw's elevated sensibility to have the same thought.