The Loop
Tiger Woods Watch: Live updates from Day 1 at the Farmers Insurance Open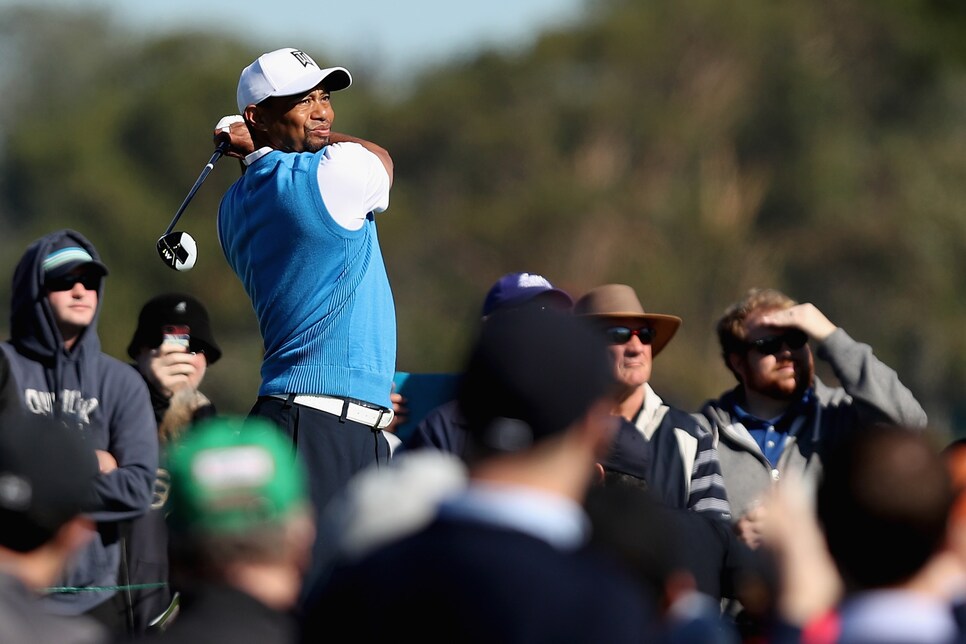 After 522 days, Tiger Woods returns to the PGA Tour on Thursday at the first round of the Farmers Insurance Open. Yeah, yeah, he played in December at the Hero World Challenge, but that was just a warmup. At Torrey Pines, there will be a full field of players, a full gallery of fans, and full-grown rough. And it's not like we needed any more excitement, but Tiger will be playing with World No. 1 Jason Day and reigning PGA Tour Player of the Year Dustin Johnson (Teeing off Torrey's South Course at 1:40 ET). With all due respect to the early part of the tour's schedule, this feels like Opening Day. So we'll treat is as such -- and we also won't tell on you if you ditch work.
And if you are stuck at a computer, we'll keep you up to date on all things Tiger as the day and (fingers crossed) week progresses with scores, highlights, reactions and reports from our man on the ground, John Strege. So sit back and enjoy.
We're still more than four hours away from Woods teeing it up, but in the meantime, get caught up on the news he's been making this week already. On Wednesday, Woods and TaylorMade announced an equipment deal. Woods will eventually play TaylorMade's clubs through the bag (other than his Scotty Cameron putter) with his Bridgestone ball, but in the meantime, he's in "no rush" to ditch his Nike clubs.
About an hour before his tee time, Woods sent out this tweet that he's ready to go!
OK, so that's really just an ad for his restaurant sent out by one of his staffers. . . Sorry, 1:40 can't get here soon enough.
And. . . we're off! Woods pushes his opening tee shot right on the par-4 1st. This after Johnson and Day also missed the fairway to the right. At least, the marquee trio will have a nice opportunity to chat on the way to their golf balls.
After drawing an awful lie in the rough, Woods missed the green right, hit a pitch to about eight feet and. . . missed his par attempt. That's an opening bogey. On the bright side, it's worse than the double bogey he started the 2008 U.S. Open with. . .
Woods missed right again on the par-4 second and found the greenside bunker with his approach. He hit a spectacular sand shot that spun back to eight feet and this time, he made the putt.
On the picturesque par-3 third, Woods found the green and two-putted for par from 46 feet. Through three holes, Woods and Johnson are 1 over to lead the marquee group. Day, after making a second consecutive bogey, is two over.
Woods made another two-putt par on No. 4, and then hit this incredible flop shot on No. 5 to set up another par save:
A disappointing par on the par-5 sixth was followed by great up-and-downs for par on 7 and 8.
As Golf Channel's Justin Ray points out, Woods hasn't been sharp on his approach shots, but great scrambling/putting have led to seven consecutive pars.
Woods made another par on the par-5 ninth to close out his front nine with a one-over 37. It could have been worse considering Woods only hit four of nine greens. Meanwhile, playing partners Jason Day and Dustin Johnson shot matching 35s.
On No. 10, Woods finally made his first birdie of the day, thanks to a nifty iron shot from the left rough. And on the par-3 11th, Woods hit a 4-iron to 12 feet. He converted that putt as well to make it back-to-back birdies, bringing him into red numbers for the first time.
Woods couldn't keep the momentum going on the difficult 12th. He hit his worst drive of the day and made bogey to fall back to even par.
The drive on No. 13 isn't much better. Woods displays a mini club-slam following the miss.
Can't do much out of the rough, Tiger's second shot doesn't go far, and his approach is nowhere near the hole. Woods three-putts, walking away with a bogey on the par 5. Woods is now one over on the day.
Trying to be safe, Woods takes a 3-wood off the tee, but fails to find the fairway. His approach is well short of the green, leaving a tough up-and-down ahead. His par putt lips out, making three straight bogeys.