News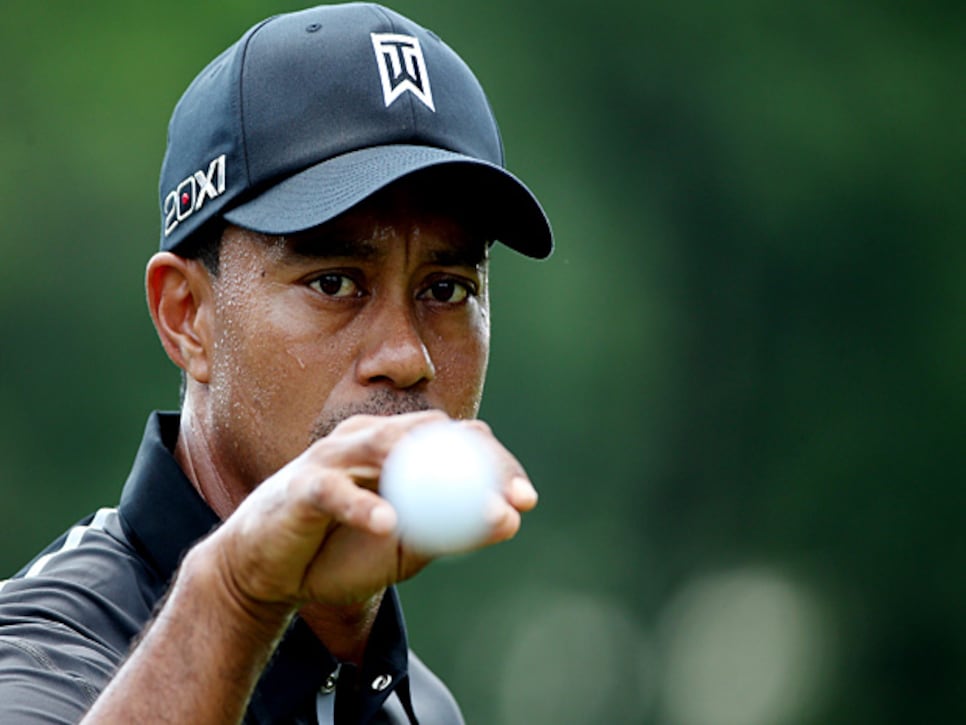 Woods is trying to end a five-year drought in majors this week at Merion.
ARDMORE, Pa. -- Anytime an athlete has multiple nicknames, you know you are in trouble. Joe DiMaggio was "The Yankee Clipper" and "Joltin' Joe." Ted Williams was "The Splendid Splinter" as well as "Teddy Baseball." And Ben Hogan was "The Hawk" on one side of the Atlantic and "The Wee Ice Mon" on the other.
And then there are the scary guys known by one word: Pele. Magic. Peyton. Ali. And Tiger. One of the fascinating aspects of Tiger Woods is that while he knows and is motivated by the history of his sport, he remains totally unsentimental about it.
The past for Tiger is in the past. It's an inanimate object viewed dispassionately from afar; a page in a history book followed by a blank one that only Woods can turn and fill. He loves being both the author and the actor of his sport's particular drama.
Woods tees it up this week on the East Course at Merion Golf Club, a place dripping in history, with a chance to add to both the legacy of the club and his own. And yet, he still sounds like he is teeing it up at any old PGA Tour stop.
But maybe that's part of what makes Woods special: he does treat every tournament the same -- as a challenge to meet and an obstacle to overcome.
"I think I just enter events to win, and that's it, whether there's a lot of people following or there's nobody out there, like how it was at AT&T Saturday last year," Woods said Tuesday at Merion, referring to the tournament round played at Congressional last year without a gallery because of storm damage.
"Not a single soul out there," he said about a round in which he shot 67 en route to victory. "It's still the same. It's still about winning the event. That's why I played as a junior, all the way through to now is just to try to kick everyone's butt. That to me is the rush. That's the fun. That's the thrill."
But what about winning at a venue where Bobby Jones completed the Grand Slam with his 1930 U.S. Amateur victory? Or where Ben Hogan capped his comeback with a U.S. Open triumph in 1950 after a near-fatal car crash 16 months earlier?
"It would be nice," says Tiger. "[But] we've got a long way to go. We haven't started yet. We're two days away from the start. We've got some work to do. Anyone who wins this week will certainly be a part of history. Just like it is with any U.S. Open or any USGA event."
If Woods wins here, he will be both adding to history -- joining Hogan, Jones, Willie Anderson and Jack Nicklaus as the only four-time winners of the U.S. Open -- and stalking it, moving within three of the record 18 professional major titles held by Nicklaus.
And while Tiger can play the amiable game when he has to -- twice on Tuesday he began responses to a reporter by saying: "That's a great question" -- he also has a cold ability to remain aloof, almost emotionless, like a distant observer calculating the odds.
hitting a 1-iron into the 72nd green at the 1950 U.S. Open at Merion, Woods, who said he doesn't own a copy of the photo, opted for reality over sentimentality.
"That was to get into a playoff," Tiger said, correctly pointing out that the shot did not win the tournament. "Got about 40 feet and still had some work to do. It's a great photo, but it would have been an alright photo if he didn't win. He still had to go out and win it the next day."
And then there was the matter of Sergio Garcia and their one-sided feud that heated up at the Players when the Spaniard accused Woods of being rude, and bust into full flames when Garcia made a "fried chicken" reference to Tiger at an awards banquet in Europe shortly later.
"It's already done," Woods said Tuesday when asked if he and Sergio had worked things out. "We've already gone through it all. It's time for the U.S. Open and we tee it up in two days."
Then, just to be clear, a reporter asked in a follow-up question if Garcia, who has apologized through the media and in a written statement, has said sorry face-to-face.
"No," Woods said. "We haven't had time for that."
That sort of sounds like the unspoken but implied next sentence is: "Nor will we ever."
It reminds me of the time some years ago when then-Augusta National GC chairman Jack Stephens was asked how talks were going with CBS about increasing the number of hours the Masters would be shown on TV.
"They are moving slowly," Stephens said.
Asked why they are moving slowly, Jack gave this delicious response:
"They are moving slowly because we don't want to do it."
So take that, Sergio. Tiger don't want to do it.
What Tiger does want to do is take the next step and end the relentless questioning about whether he is "back." He needs to win his first major in five years, when he limped his way to the 2008 U.S. Open title at Torrey Pines.
But he won't say that, or even hint at the fact that winning a major would mean more than the four PGA Tour wins he already has this year.
"It's been nice to be a part of the mix for 17 years now out here and be a part of a lot of great duels and a lot of great battles," Woods said. "And that to me is why I prepare, why I lift all those weights and put myself through all that is to be in those type of positions. It's fun."
And few can sound less mirthful about having fun than Woods. But that's part of what makes him the one-word Tiger. He's here for one reason: to win. Just like every other week -- for the last 17 years. And that's part of why he has been the greatest winner of his generation -- in any sport.