News
Tiger Woods Thursday live blog: Woods fights back to card even-par 72 at Muirfield Village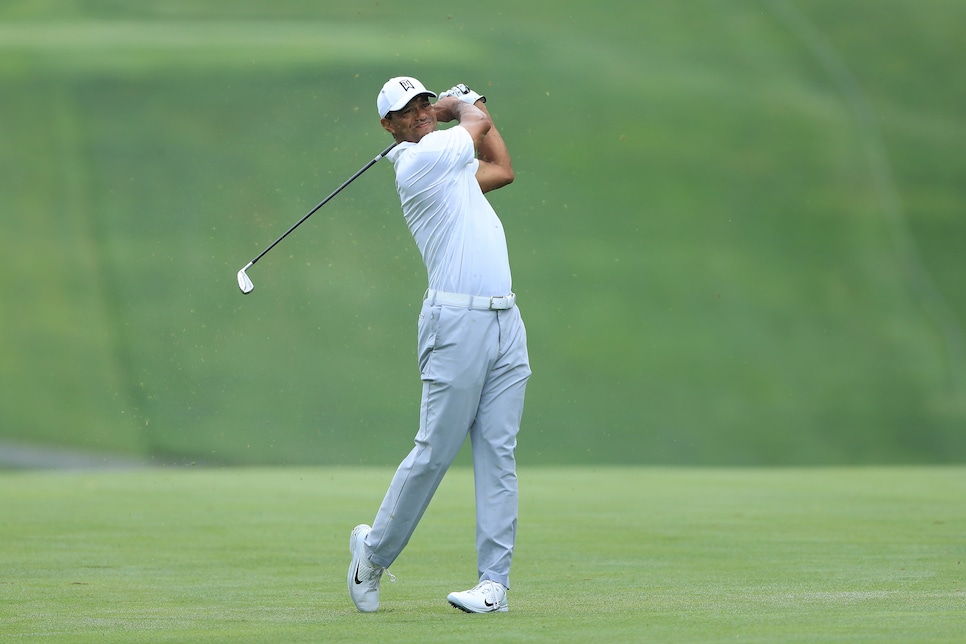 An impressive three starts in Florida earlier this season gave Tiger Woods fans hope that this latest comeback would be for real, and that a win was not only possible, but inevitable. Then, Woods had mediocre weeks at the Masters and the Wells Fargo, followed by a lifeless opening 36 holes at the Players Championship. Suddenly, it was time to re-arrange expectations for the 14-time major champion.
But Woods responded with an electric weekend performance at TPC Sawgrass, playing the weekend in 10-under par and briefly getting within a few shots of Webb Simpson's lead. Now, he resumes his comeback at the Memorial Tournament at Muirfield Village, a place he's won five times in his career, most recently in 2012 when he holed a spectacular chip at the par-3 16th and sent the Dublin, Ohio crowd into a frenzy. Based on his history at Jack's place, and his final 36 holes at the Players, one can't help but think Woods has a legitimate shot to contend this week. The oddsmakers believe he does too, as Woods is among the seven betting favorites with odds of 16-to-1, something that no one could have envisioned a year ago this week.
He'll begin his opening round at 8:26 a.m. ET alongside defending Memorial Tournament champion Jason Dufner and Justin Rose, who just earned his ninth PGA Tour victory this past week at Colonial and is also a former champion at Memorial, winning in 2010.
1:27 p.m.: Tiger's new wedges are dialed in, as he plays his 61-yard third shot just past the hole and spins it back to five feet. He rolled that one in for par and an even-par 72, which looked out of the question when he was four over through seven holes. While he's currently T-36 and seven back, it could have been much worse.
A look at his colorful scorecard: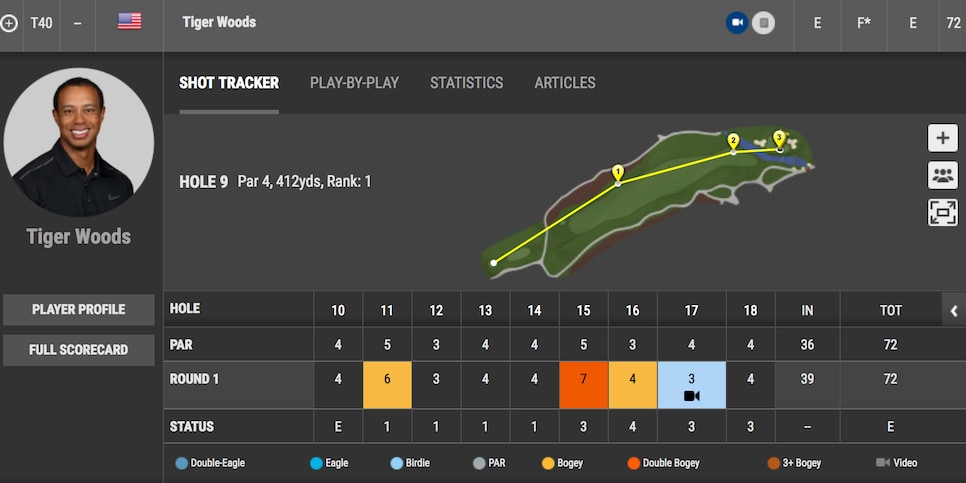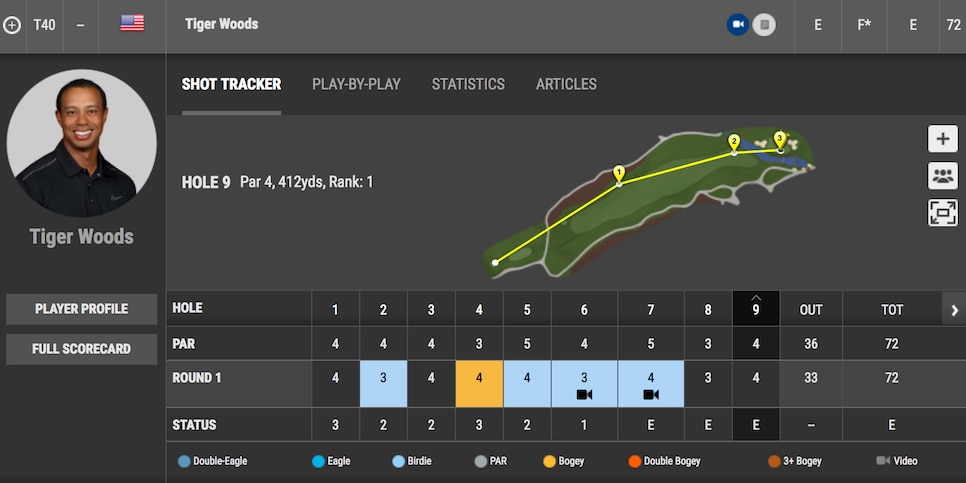 Make sure to check back on Friday as we follow Woods' second round of the Memorial Tournament. He, Dufner and Rose are set to tee off on the first hole at 1:16 p.m. ET.
1:16 p.m.: Oh dear. Woods hits an ugly snap hook at the par-4 ninth that didn't even go 200 yards. He was forced to chip out to the bottom of the fairway and now has work to do to get up and down for par from 61 yards out.
1:06 p.m.: Woods' tee shot at the par-3 eighth comes to rest about 36 feet short of the hole and his birdie effort misses on the left side. Two-putt par to stay at even with one to play.
1:00 p.m.: Perfect sand shot from Woods to tap-in range for his third straight birdie and his fourth in his last six holes. Remarkably, he's climbed all the way back to even par, and could still turn this into an under par round with two holes to go.
12:51 p.m.: Tiger actually took out the 3-wood and gave it a go, but came up short and right of the green in a bunker. He's got a ton of room to work with thanks to a back-left hole location.
12:45 p.m.: The big stick comes back out at the par-5 seventh and he hits another good one down the left side of the fairway. Where was this on the front nine? He's now made back-to-back birdies and is in ideal position to make a third in a row depending on what he decides to do with his second shot. He's got 281 yards to the flag, so expect a lay up to a yardage he likes.
12:34 p.m.: Woods pulls out the driver for the first time since his disastrous double bogey at the par-5 15th, and this time he finds the short grass. From 135 yards out, he stuffs his second to three feet. Should be a kick-in birdie to get to one over with the par-5 seventh coming up. Can never say the guy doesn't grind.
12:24 p.m.: Woods takes an iron off the tee at the par-5 fifth and crushes it 280 yards down the middle, then hits another iron from 242 yards out to the back of the green. His 51-foot eagle effort comes up well short of the hole, but he just sneaks in the birdie putt to get back to two over. Four holes left to get back to even par, which would be a small victory after his four over through seven holes start. Wherever he ends up, he'll have a lot of catching up to do, as Mexico's Abraham Ancer just posted a seven-under 65.
12:02 p.m.: Woods blows his birdie putt six feet past the hole and then misses the next to fall back to three over.
11:55 a.m.: Good tee shot right of the pin for Tiger at the par-3 fourth, leaving him about 20 feet for birdie. Would be a huge one to get before the par 5 fifth, another great opportunity for a birdie, although knowing how he's played the par 5s today, anything is possible.
11:49 a.m.: Woods finds the fairway at the third, but gets a bit unlucky with his wedge on his approach shot, which just bounced over the green and into some thick rough. He chops it out and it rolls a few feet past the hole and he's able to save a par.
11:36 a.m.: Woods holes the birdie at the second to get back to two over. He's eight back, but showing some fight down the stretch. Another good chance at birdie coming up at the short par-4 third.
11:28 a.m.: Woods has the 3-wood rolling on Thursday, as he rips another one 292 yards down the center of the fairway at the par-4 second. He sticks 152-yard approach shot to seven feet, setting up a prime look at birdie to get back to two over.
11:18 a.m.: Woods pulls his approach shot left of the pin, but it just hangs on to the fringe about 25 feet from the hole and he gets it up and down for par.
11:08 a.m.: Tiger stripes another 3-wood off the first tee, this one 297 yards and down the center of the fairway again. Looks like the driver has been put in timeout, and for good reason. He'll have 174 yards to the green on his second.
11:00 a.m.: Woods splits the 18th fairway with a 299-yard 3-wood and his 180-yard approach shots finds the green about 14 feet left of the pin. Facing another left-to-right putt he again misses it on the low side and taps in for par and a three-over 39, which currently has him in a tie for 56th, nine back of Beau Hossler. Needs to go crazy on the front nine just to feel good heading into Friday.
10:40 a.m.: Boom! Tiger drains the 10-footer for birdie and gets back to three over, which gets him out of dead last place. It's a start.
10:35 a.m.: Woods finds a fairway (!) at the 17th with the 3-wood, then hits his 177-yard approach shot about 10 feet past the hole. If he wants to save this round, now would be a good place to start.
10:24 a.m.: Welp, Woods puts his bunker shot to six feet and his putt lips out in cruel fashion. Another bogey to fall to four over.
10:17 a.m.: Woods overcooks one left at the 16th, finding yet another greenside bunker. Looks like a pretty straightforward up and down, but that's easier said than done. Desperately needs to save par here.
10:12 a.m.: Woods hits a decent bunker shot to about eight feet and misses the putt right of the hole and walks away with a double bogey. He's now three over on his round, with both blemishes coming at the par 5s. Now he heads to the difficult closing stretch of the back nine, starting with the 200-yard par-3 16th.
10:03 a.m.: Woods plays his fourth shot from 236 yards away and it comes up short and right of the green in a bunker. He'll need to get up and down just to save a bogey on another gettable par 5. Not ideal.
9:59 a.m.: According to Tiger Tracker, Woods' drive is OB...
9:55 a.m.: For the first time today, Woods pulls out the driver at 15, and we now know why he kept it in the bag on 10, 11, and 13. His drive sails miles to the right and he slams his club into the turf. After reloading he finds the fairway. We'll see if he can find the first, although he might not want too. The par 5 struggles continue.
9:48 a.m.: Another low side miss on a left-to-right birdie putt for Woods, who remains at one over as he heads to the par-5 15th, where he hopes to take advantage of a birdie opportunity.
9:42 a.m.: Woods lays well back off the tee at the short par-4 14th, leaving him 147 yards in from the middle of the fairway. From there he knocks one 19 feet below the pin and will have a decent look at birdie to get back to even par.
9:33 a.m.: Two-putt par for Tiger at the 13th to stay at one over, currently four off Beau Hossler and Henrik Stenson's lead.
9:27 a.m.: Woods' drive finds another fairway bunker with a huge lip in front of him, but once again he lifts one high and on to the green from 147 yards out. After getting a little backspin, he'll have a 28-footer for birdie.
9:14 a.m.: Woods' slick birdie putt sneaks by the left edge and he settles for par. He's one over through three holes.
9:09 a.m.: Tiger's tee shot at the 12th was a good one, coming to rest 12 feet from the pin. Good chance to get one back.
9:03 a.m.: Instead of taking advantage of the 11th, Woods is lucky to drop only one shot and take his bogey. After taking an iron off the tee that found the thick rough, he chipped out and then went for the green from 270 yards, coming up well short in the creek. From there he took a drop and was able to get up and down to avoid a damaging double. Now comes the tricky par-3 12th.
8:41 a.m.: Woods' birdie putt tracked the whole way, but came up just a foot short. Two-putt par to start, and now he heads to the reachable par-5 11th.
8:37 a.m.: Needing to lift one high over the face of the bunker, Woods hits a good one from 159 yards on to the center of the green. He'll have 42 feet left for his birdie.
8:26 a.m.: Woods starts his opening round on the back nine Thursday, and he pulls out 3-wood and it doesn't quite fade like he wanted, ending up in a bunker down the left-hand side of the fairway.