News
Tiger Woods Thursday live blog: Woods birdies the last to finish with first-round 70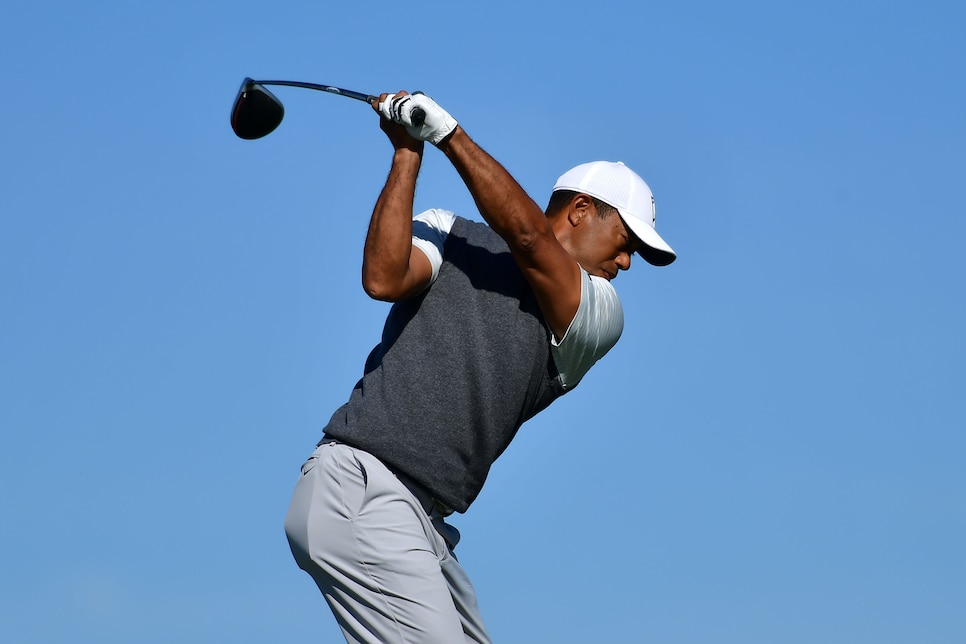 So yeah, you could say Tiger fans are ready to roll. Just imagine what will happen when he makes his first birdie on Thursday.
Speaking of birdies, Woods has made a few over the years at Torrey Pines, where he'll be making his 2019 debut in the Farmers Insurance Open. Woods has won here eight times in his career, seven of those coming in this event, and once in the U.S. Open, his most recent major championship victory. His most recent victory at Torrey, however, came in 2013, one of his five wins that season.
The last we saw of Woods, he didn't look like his late-summer self at the Hero World Challenge, finishing in second-to-last as he struggled to avoid making bogeys throughout the week. Prior to that, Woods also played poorly in "The Match" against Phil Mickelson, though he did make it interesting down the stretch with some late-round heroics. We'll see if some much-needed rest over the holidays has Woods back in good form when he tees off on the South Course on Thursday at 10:40 a.m. local time, 1:40 p.m. ET. The 14-time major champion is paired with Tony Finau and Xander Schauffele, who will each be playing with Woods in a competitive round for the first time in their careers.
Follow all the action from Woods' 2019 debut right here in our live blog.
6:50 p.m.: It took a few hops, but Woods' birdie effort eventually found the bottom of the cup for a much-needed closing birdie. That gave him a two-under 70, keeping him in the mix heading into tomorrow when he faces the easier North Course.
He'll likely need something in the 66-68 range to keep pace with Rahm, Justin Rose and the other big names on top of the leader board, including Jordan Spieth, who may have finally righted the ship on Thursday with a seven-under 65. He tees off Friday on the North at 12:30 p.m. ET. Check back tomorrow right here at golfdigest.com for our Friday live blog.
6:42 p.m.: After a layup to 119 yards, Woods hits a wedge to the back left part of the green and spins it back towards the pin. He'll have just outside of 10 feet left to post a two-under 70.
6:34 p.m.: Another fade off the tee for Woods goes too far right, settling in the rough and making the 18th a three-shot hole. That's never stopped him from making birdie here before, as we know.
6:30 p.m.: Woods' approach was all over the flag but just a hair long, leaving him a lightning quick, downhill 19-footer for birdie. He hit a good putt, but played a bit too much break and tapped in for par. Woods heads to the par-5 18th at one under.
6:19 p.m.: Woods hits his best tee shot in a couple holes at the 17th, ripping a 3-wood right down the center of the fairway. Could be the first time since the 13th he has a legitimate look at birdie if he's able to knock it close.
6:15 p.m.: Tiger makes his third bogey of the day at the par-3 16th, dropping him nine shots off of Rahm's lead.
6:09 p.m.: No hole-in-one scare this year for Woods as his tee shot finds the right bunker. From there he splashes one out that rolls about eight or nine feet past the hole. Big par putt coming up.
5:57 p.m.: Tiger nearly holes the chip for birdie, lipping out and tapping in for par. That would have been a nice little steal there. Great par save though. He'll head to the par-3 16th, where he nearly made an ace a year ago in the first round.
5:54 p.m.: Woods misses the fairway again off the tee, his ball coming to rest in the right rough and behind a tree. He tried to chase one up the 15th green but it never got there, and now he'll have a testy up and down to stay at two under.
5:41 p.m.: Strong two-putt par from deep for Tiger. We'll see if he can finish this thing off and maybe grab one more birdie on the way in to stay within shouting distance of Jon Rahm, who posted a 10-under 62 on the North Course.
5:35 p.m.: Tiger's drive finds the right rough at the 14th, but he was able to muscle it on to the green, where he'll have over 60 feet left for birdie.
5:24 p.m.: As he has so often in his career, Tiger rolls in a downhill, right to left birdie putt at the 13th, producing a huge roar from the crowd. He's now three under on the par 5s for the day, an area he struggled in mightily a year ago. Woods is back at two under.
5:22 p.m.: Woods laid up to about 100 yards, then hit a wedge over the flag but too far. His ball landed in the first cut on the back of the green and spun back a bit, but he has a long birdie putt coming up.
5:09 p.m.: If you want to hit 13 in two, it's critical to find the fairway off the tee. Woods does just that at the par 5, a hole he's has some success at over the years. Needs a birdie here.
5:00 p.m.: Woods got a little ambitious with a 5-wood from the rough, and it paid off as his ball rolled up about 50 yards short of the green in the fairway. From there he clipped a wedge to about six feet, but missed the putt left of the hole. Back to one under.
4:48 p.m.: Oh boy. Woods makes his worst swing of the day at the 12th, hooking one well left of the fairway. After begging his ball not to hit the cart path, it listened, instead nestling in a thick lie in the rough that he'll probably just have to chunk out and hope for the best. Would be a huge momentum killer to make a bogey here, especially with the par-5 13th coming up where he could really get it rolling.
4:42 p.m.: Tiger cleans up his birdie, but not before playing partner Tony Finau one-upped him with one of the most ridiculous, high-degree-of-difficulty wedge shots you'll see all week. Finau missed the green well left, leaving him with an impossible, downhill angle to the green that he would have done well to just get on the dance floor. Instead, he hit one high and landed it in the rough just short of the green and it rolled out to tap-in range. Impressive shot from Finau, who sits at three under through 11. Xander Schauffele is at two under, so these two clearly aren't succumbing to any added Tiger pressure in their first round with the 14-time major winner.
4:32 p.m.: Woods takes direct aim at the flag at the par-3 11th, sticking it to kick-in range to get to two under. Big-time shot.
4:19 p.m.: Tiger's putt was never high enough, rolling just past on the low side. Two-putt par keeps him at one under on the day.
4:16 p.m.: Woods plays his approach at the 10th a little further left than he probably planned, but it still spins back off the slope and leaves him with a somewhat makable birdie putt.
4:09 p.m.: Pure roll from Tiger on his birdie putt as it bangs right in the center of the cup.
After bogeying the second, and looking like he wasn't going to make anything with the putter early, Woods did well to turn in one-under 35 on the South Course. Anything under par on this course would be a great way to start the week. Not an action-packed front nine by any means, but Woods looked pretty good. He also just hit another fairway at the par-4 10th, this time with a 3-wood.
4:01 p.m.: From 187, Woods stripes a seven iron into the ninth green, putting inside 12 feet. This would a heck of a birdie after that second shot from the rough.
3:58 p.m.: After missing the fairway at No. 9, all Tiger could do was chunk a low runner out of a nasty lie in the right rough.
3:51 p.m.: Woods keeps the flagstick in on the long birdie try, and puts it to tap-in range. No way of knowing if it actually helped, but the putt had perfect pace. He did take it out for the tap-in, for what it's worth. On to the 608-yard par-5 ninth.
3:47 p.m.: Tiger's tee shot at the par-3 eighth hangs out to the right but finds the green. He'll have over 40 feet left for birdie, and would probably sign for a two-putt par and a chance to turn in an under par front nine at the par-5 ninth.
3:40 p.m.: Woods opts to play a bump and run shot with a short iron rather than putt, and he stubbed it a little and came up a few feet short. He was able to roll in the par putt though, keeping him at even par through seven holes.
3:35 p.m.: From 173 yards Woods goes hunting for a back right pin location and it just runs through the green. Still an excellent shot and he'll likely use the flat stick from the first cut to try and make his second birdie in a row.
3:26 p.m.: Woods splits the fairway yet again with the big stick at No. 7. The fade is working quite nicely on Thursday.
3:23 p.m.: Boom! Tiger finally gets on the board at the par-5 sixth, rolling in his first birdie of 2019 from the fringe. He's back to even par as he heads to the difficult par-4 seventh on the South Course.
3:20 p.m.: Facing a tricky downhill lie from the sand, Woods clipped it nicely, scaring the hole, but it ran well past and just off the green. Still, he has a decent look at birdie, though he doesn't seemed too thrilled about it.
3:15 p.m.: Woods finds the fairway at No. 6, setting up a chance to hit the green in two. He attempted to cut a 3-wood into the green but it leaked too far right on him, ending up in a greenside bunker. Now he needs to get up and down just to get back to level par.
2:58 p.m.: Tiger's second from the fairway bunker was a good one, landing well past the flag and the catching the slope and feeding back to 18 feet. Once again though, he missed his birdie putt. Big chance coming up for Woods at the par-5 fifth, where he desperately needs his first birdie.
2:51 p.m.: Woods misses he second fairway of the day at the par-4 fifth, and this time he finds a fairway bunker. Going to be a difficult second shot in, and Woods can't afford another bogey as Jon Rahm has already reached seven under on his round.
2:44 p.m.: Oof. Another miss left of the hole for Tiger at the fourth to stay at one over through four. Driver looks good, irons look good. Putter, not so much.
2:37 p.m.: Woods' approach at the par-4 fourth takes a nice hop and kicks left towards the pin. He'll have 12 feet left for birdie. Feels like it's time for a little jolt of energy in this round.
2:31 p.m.: Stripe show at the fourth for Woods, who immediately went for the tee grab post impact. So far, so good with the driver.
2:26 p.m.: Woods' birdie putt was left all the way. Missed opportunity there as he remains one over through three holes.
2:22 p.m.: After a lengthy wait on the tee at the picturesque par-3 third on the South Course, Woods finally gets to hit and he stuffs one to around 10 feet. Good chance to get that bogey back right away here.
2:07 p.m.: Tiger's bunker shot wasn't his best, leaving him around 12 feet to save his par. Woods hit a great putt, but once again it just slipped past the right edge. Just like that, Woods falls to one over through two holes.
2:02 p.m.: Approach shot finds the bunker and he'll be shortsided. First test of 2019 coming up. This is not a hole you want to bogey.
2 p.m.: Woods overcuts his drive at the second and it finds the rough, but he'll only have 108 yards left into the green.
1:53 p.m.: Solid birdie effort from Tiger, but it just slips by the right edge. Almost started 2019 with a bang. Still, fairway, green, two putts will do.
1:50 p.m.: Woods takes the safe route on his approach, landing it well right of the back left pin location. Should have a good look at birdie inside 25 feet.
1:42 p.m.: If Woods' first tee ball is a sign of things to come in 2019, it's going to be a BIG year. Tiger pipes one off the first tee on the South Course, a welcome sight on a hole he has battled with his whole career. Should have a short iron in to the green from the short stuff.
1:38 p.m.: Two minutes away. Let's check in on the scene at the first tee:
1:15 p.m.: For those jonesing for TW, here his warmup session. How on earth is he tucked away in the corner like that? Guy should have a reserved spot at Torrey at this point: