News
Tiger Woods posts opening round four-under 68 at Bay Hill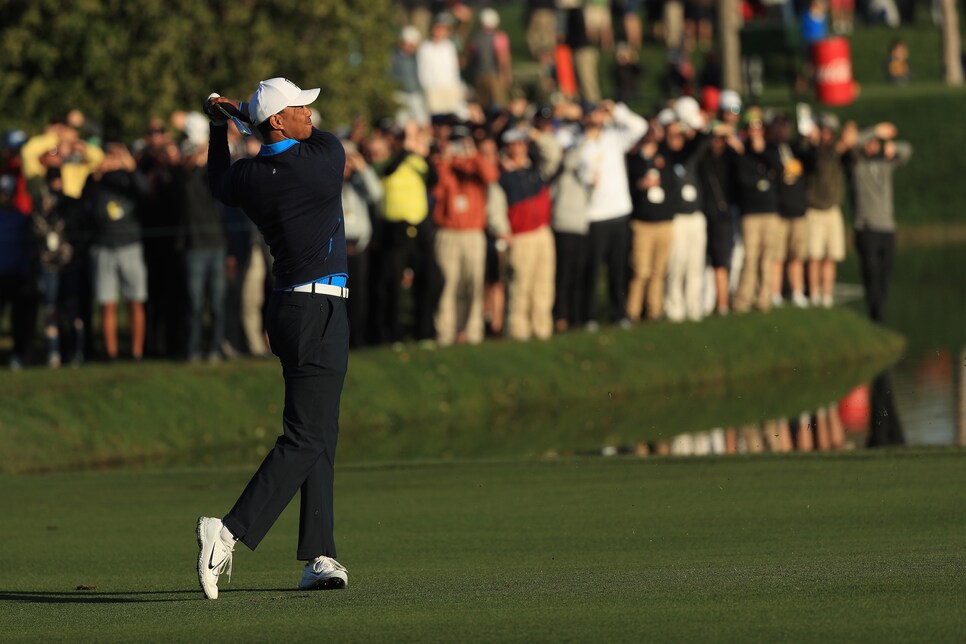 With all due respect to Marc Leishman, Tiger Woods is the true defending champ at the Arnold Palmer Invitational. Woods has won the event eight times, including his last two trips in 2012 and 2013. And now Woods is BACK. At Bay Hill, at least. And he's back to being the Vegas favorite in a golf tournament anywhere since 2014. Coming off a runner-up finish at the Valspar Championship, Tiger looks to keep his latest comeback on an upswing when he tees off the 10th hole with Jason Day and Hideki Matsuyama at 8:23 am. And we'll track Tiger every step of the way with hole-by-hole updates, highlights, and reaction. So keep it right here. (All times ET)
1:22 Woods' drive on his final hole of the day just trickles into the rough, leaving him a tough approach from 180 yards out. From there he found a greenside bunker and hit his third 11 feet past the hole. In vintage Tiger fashion he holed the par for a huge save to finish off a four-under 68.
As it stands he's one back of Jimmy Walker, who just finished up a five-under 67.
How about this stat for Woods, who has had some struggles so far this year on par 5s:
Good sign. Check back tomorrow for more live updates from Woods' second round. He'll tee off alongside Day and Matsuyama on Friday at 1:08 p.m. ET.
1:00 Woods stripes a 3-wood 300 yards down the middle of the fairway at No. 8 and follows with 162-yard approach shot to 24 feet. This time his birdie bid comes up short. Two-putt par to stay at four under, tied for the lead.
12:43 Woods was disgusted with his tee shot at the par-3 seventh, and for good reason, as his ball ended up abut 71 feet from the hole and just off the green. But after stalking it from both sides, Woods BURIES it for birdie. He is now the solo leader at four under.
12:32 After smoking a drive at No. 6, Woods flares one out to the right on his approach, a much better leave then hitting one left into the water. With a tricky pin position Woods still manages to stuff one to three feet on his third and hole the birdie. Back to three under on the day, good enough for a share of the lead with Brandon Harkins, Justin Rose and Zach Johnson.
12:17 Pretty routine par for Woods at No. 5. Fairway, iron shot just off the back edge of the green and two putts to stay at two under. Onto the par-5 sixth, another good chance to get one back.
11:56 Woods gets one right back at No. 4 after finding the fairway off the tee and just missing the green with a 3-wood. Up-and-down for birdie to get back to two under.
11:42 Woods' lightning-quick bogey effort trickles past, and he cleans up the double, dropping to one under. First blemish of the round, but a par 5 coming up to try and get one back.
11:38 Woods gets in big trouble at No. 3, blasting his drive out of bounds to the right under a fence. After going back to the tee and hitting it right again, he cuts one around a tree and puts it on the green, leaving him 26 feet for bogey. What a save this would be.
11:20 Woods uses some more short game magic to make par on No. 2 (his 11th hole of the day). This time from a bunker, Woods knocks one to tap-in range to remain at three under, one back of Brandon Harkins. Woods entered this week ranked 21st in strokes gained: around-the-green, but he'll climb much higher if he keeps this up.
11:05 Woods does well to leave his approach just short of the green on No. 1 following a miss right with a 3-wood off the tee. He hits a deft pitch over a bunker to three feet and saves par.
10:50 Woods finally finds a fairway with a wood, but is disappointed when his approach flies 25 feet over the flagstick on the par-4 18th. He narrowly curls in his birdie putt and settles for par and an opening three-under-par 33. Woods is currently tied for first with Billy Hurley III.
10:20 Woods misses way right with the driver, but gets a fantastic break when his ball skips down the cart path. He's left with only 156 yards left for his second into the par-5 16th and he finds the green. From there, he rams his eagle putt past the hole, but makes the seven-foot comebacker to get to three under. Tiger is currently tied with one of his Ryder/Presidents Cup proteges, Patrick Reed, who he tied with for second place at last week's Valspar Championship.
10:00 Another non-iron off the tee, another wild miss for Woods. This time, his 3-wood finds the right rough near a patch of trees on the par-4 15th, but Woods is able to knock his approach up around the green (despite clipping a tree) and get up and down -- draining a slick five-footer -- for a par to stay at two under.
9:45 Woods hits a beautiful shot to 10 feet on the 215-yard, par-3 14th, but misses his chance at a third consecutive birdie on the low side. Still, Tiger Woods is tied for the lead. And this seems totally normal all of a sudden. Amazing.
9:30 Woods hits iron off the tee again on the short par-4 13th and then hits a dangerous approach that hangs on the fringe above a water hazard. From there, he rolls in a 20-footer for birdie to get to two under and tied for the early (EARLY) lead. Wow. This is becoming pretty standard pretty fast. . .
9:15 After hacking back to the fairway from thick rough, Woods hits his third shot from 123 yards to 10 feet and converts for his first birdie of the day. Have a look:
Both Day and Matsuyama also birdie the par 5.
9:03 Woods pulls the SMOKE WAGON for the first time on No. 12 and. . . pulls it into the gallery left. It's a par 5, though, so he shouldn't be in too bad of shape.
8:56 Another iron off the tee for Woods bounds past Day's iron and even Matsuyama's 3-wood on the par-4 11th. Woods plays safe to a back-right pin and two-putts for another par.
8:40 After hitting his approach to 25 feet -- and tossing the divot back to caddie Joe LaCava (teamwork!) -- Woods grazes the edge with his birdie attempt. One hole, one par. Playing partner Jason Day isn't as fortunate, walking off with a bogey after a three-putt.
8:26 Tiger takes an iron off the tee -- something that caused a bit of a stir on his final hole at Innisbrook -- and finds the fairway on the par-4 10th. We're off and running.
8:15 We're minutes away from Tiger teeing off. What a day in sports when you factor in the NCAA Tourney kicking off a few hours later. Not that you needed to get more fired up, but just in case you're feeling a little groggy, check out this clip of Woods winning all eight of his titles at Bay Hill:
8:00 Looks like if Tiger is wearing a blade collar today, we're not going to see it much. It's chilly this morning in the Orlando area.
7:47 Tiger shows up on the range:
Oh yeah, and Hideki Matsuyama. The Japanese star is making his first start since withdrawing with a wrist injury before the second round of the Waste Management Phoenix Open seven weeks ago.