News
Tiger Woods Sunday live blog: Tiger finishes with one-under 70, comes up just short at Valspar Championship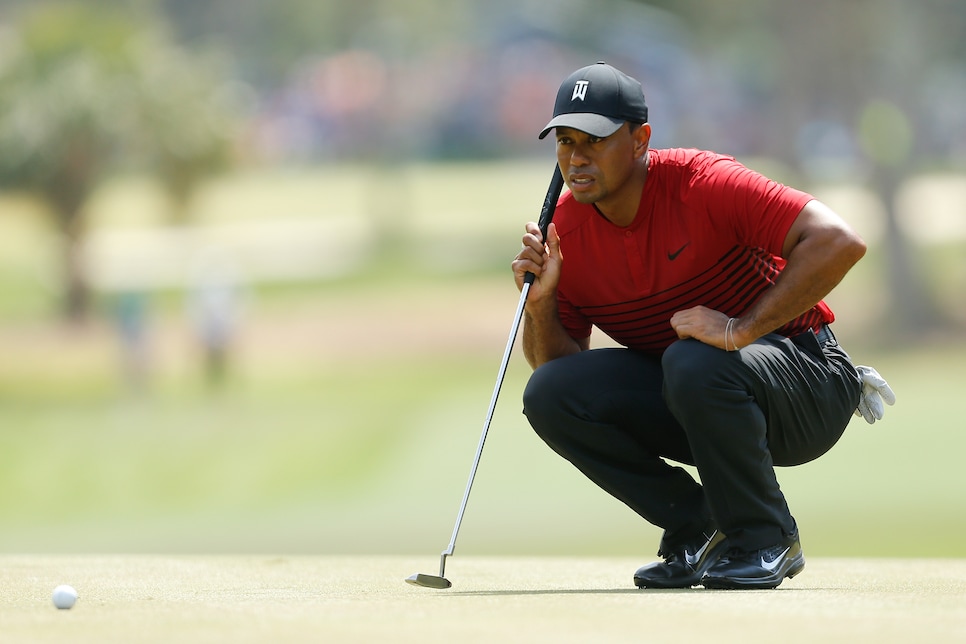 When Tiger Woods withdrew from the Dubai Desert Classic last February, there was reason to believe not only that he'd never win again, but that he may never play again. Just over a year later, Woods heads into the final round of the Valspar Championship one back of leader Corey Conners, 18 holes away from an 80th PGA Tour victory and an incredible redemption story.
To get to this position, Woods has put together by far the best three rounds of his comeback, 70-68-67, which puts him at eight under for the tournament and in the penultimate group alongside Brandt Snedeker for the second straight day. He's been far from perfect, but he's flashed brilliance in every facet of his game, most notably around the green, where he ranks third in the field in strokes gained. Perhaps the best example of this came on Saturday at the par-4 ninth, where Woods holed out a testy chip shot for birdie to turn in three-under 33.
The atmosphere in Tampa has been electric throughout the week, and promises to be as loud as ever on Sunday if Woods can mount one more vintage charge. Follow along here for all the updates. Woods and Snedeker are set to tee off at 1:50 p.m. EST.
5:53 PM: Tiger smacked it, but it still came up short. Tough putt. Woods finishes with a one under 70, putting him at nine under 275 in a tie with Patrick Reed. Paul Casey gets his first win since 2009, and just his second on tour. Exciting week, and a good sign of things to come. Woods will be in the field next week at Bay Hill, where he looks to win for a ninth time.
5:45 PM: Woods finds the green, but he'll have a lengthy uphill putt for birdie to get into a playoff. Where have we seen this before?
5:43 PM: Tiger plays conservative with an iron off the tee, laying way back and leaving himself 185 yards in. Up at the green, Reed's birdie putt rolls all the way back to his feet and he misses the par as well. Casey is all alone at 10 under.
5:37 PM: OH MY GOODNESS! Tiger drains it from 43 feet! We're not done! Incredible putt to get to nine under, one back of Reed, who just found the green at the 18th but has an awkward birdie putt coming up. He and Casey are at 10 under.
5:32 PM: Woods finds the green at the 17th, well past the hole. Going to have a long, right-to-left downhill putt for birdie. One last chance.
5:27 PM: Another miss, but at least he this one got past the hole! Two back, two to play.
5:24 PM: Unlucky break off the tee at the 16th for Woods, as his ball rolls just up against the rough. He hit a very good shot from the lie though, but couldn't get it to stop, rolling well past the hole and leaving another long birdie look. Going to need something magical to happen.
5:14 PM: Woods misses the green at the par-3 15th, and then nearly chips in for birdie, teasing the crowd. Like most of his putts today, it came up just short. Needs two birdies on his last three holes, at least. Anything is possible, right?
5:08 PM: A deflating par for Woods after leaving his eagle putt well short and missing the second one for birdie. Meanwhile, Patrick Reed is mounting a late-round charge, tying Casey for the lead at 10 under with a birdie earlier at the 14th. If he gets to 11 under, it's hard to see a scenario where Tiger can force a playoff. Time is running out.
5:00 PM: After smoking a 326-yard drive, Woods rips a 2-iron onto the front of the green at the par-5 14th. Pin is all the way back, leaving him a looooong look for eagle. Two-putt birdie will do just fine.
4:48 PM: Woods rolls it nicely, but it just misses on the right edge. This is getting hard to watch, but he'll have another good chance at birdie at the par-5 14th.
4:43 PM: Woods hits a sky-high tee shot to 15 feet at the par-3 13th. Big, BIG opportunity here.
4:38 PM: Guess what!? He missed. Frustration setting in for Woods, but he's still made eight straight pars since dropping his only shot of the day, and is still within two shots. Up at the 18th Casey finishes up his par and gets into the clubhouse at 10 under. Tiger needs at least two birdies on his final six holes, and maybe more. Rose and Patrick Reed are at nine under, still with plenty of holes to play.
4:31 PM: Woods keeps with the theme of the day at the par-4 12th, splitting the fairway with an iron and then following with a mediocre approach shot, leaving him with a 30-footer for birdie. Really could use this one. Also, water is wet.
4:22 PM: Woods misses badly on his third shot, ending up in the rough left of the green. From there he nearly jars a chip, settling for another par. At least he's avoiding bogeys, but it's officially time to step on the gas. Still just two back of Casey, who just found the green at the par-3 17th.
4:15 PM: Woods' drive at the par-5 11th finds a fairway bunker, forcing him to lay up back into the fairway. Should have a wedge in from around 100 yards.
4:06 PM: Short again on the birdie try from 23 feet. Desperately needs to capitalize at the par-5 11th.
4:02 PM: Woods finds another fairway and another green, but it wasn't the best approach shot he'll hit today. Long birdie look coming up.
3:54 PM: Tiger goes with a low-running chip and it just rolls past the right edge. He finishes the par putt to turn in even par 36. Gettable stretch coming up with the par-10th, par-5 11th and short par-4 12th. Meanwhile, Casey cleans up his par at the 14th to stay at 10 under.
3:48PM: Like Saturday, Woods pulls his driver left at the par-4 ninth, but hits a wild recovery shot from behind a tree on his second, cutting a wedge just over the pin. His ball rolled just off the back of the green. Would be a great time for another chip-in birdie ...
3:40 PM: Oh. So. Close. Woods walks in his birdie putt prematurely and it lips out. Cruel, cruel stuff. Feels like a dagger, but he's still got plenty of holes.
3:33 PM: Woods strikes one of his best shots of the round at the par-3 eighth, a high draw that comes to rest inside 15 feet. Another good look at birdie coming up. Too soon to say must-make? It might be considering Casey just moved to 10 under with his third straight birdie at the par-3 13th. The Englishman is six under on his round.
3:28 PM: Tiger's birdie effort never had enough, coming up a few inches short. Tap-in par to stay at eight under through seven holes.
3:25 PM: Woods continues to be smart off the tee, ripping an iron 257 yards down the middle at the par-4 seventh. From 141 yards out his approach was all over the flag, spinning back to the front of the green where he'll have a 13-footer for birdie to tie Rose and Paul Casey for the lead at nine under. Needs one to drop soon with a lot of guys making their move. Sergio Garcia, Patrick Reed are both at eight under now with Woods.
3:15 PM: After rolling his birdie look well past the hole, Woods saves par from 10 feet. Sigh of relief. Still no three putts this week. Vintage.
3:10 PM: Another fairway, another green for Tiger at the par-4 sixth, but he's got 50 feet left for birdie.
3:00 PM: Woods gets aggressive with his 12-foot birdie try, and it rolls out four feet past the cup. No problem on the comebacker this time though. Even on the day, eight under for the tournament, one back.
2:56 PM: Pretty solid shot out of the bunker for Woods, leaving him under the hole with a makeable birdie putt under the hole to grab a share of the lead.
2:53 PM: Woods' drive at the par-5 fifth gets a great kick into the fairway, rolling out to 311 yards. He pulled 3-wood out for his second, and his back foot slipped on the downswing. His ball ended up in a greenside bunker, where he'll have a difficult challenge to get up-and-down for birdie.
2:44 PM: After coming up just short of the green with his tee shot, Woods chipped one about five feet past the hole at the par-3 fourth, leaving him a nervy comeback putt. He missed, and walks away with bogey. Back to eight under, one back of Rose.
2:31 PM: Two-putt par for Woods. Still tied at nine under with Rose.
2:28 PM: Tiger's tee shot at the third just rolls into the first cut, and he finds the center green from 202 yards out with a nicely shaped draw to a front left pin. Good look at birdie coming up to take the solo lead.
2:19 PM: Woods' 52-foot birdie attempt came up five feet short, and he just snuck the next one in for par. On to the par-4 third. Woods is tied for the lead with Justin Rose at nine under.
2:12 PM: Woods finds another fairway at the second, but his ball ends up in a divot. He was still able to put his approach on the green, but he's got a long look at birdie.
2:06 PM: Woods strokes a pure putt for eagle from 42 feet that just slides by on the right side. Two-putt birdie to get to nine under, currently tied for the lead.
1:59 PM: Silky swing on his second from 222 yards out at the par-5 first. Legitimate look at eagle coming up.
1:51 PM: We are off and RUNNING. Woods splits the fairway with a 3-wood. Couldn't ask for a better start.
1:40 PM: Star-studded gallery in Tampa:
1:07 PM: We are 33 minutes away from the first tee. Woods has begun his warm-up, and word from Innisbrook is that the shirt is a vibrant red on Sunday.