News
Tiger Woods starts the Hero World Challenge with a flat 73, eight off the lead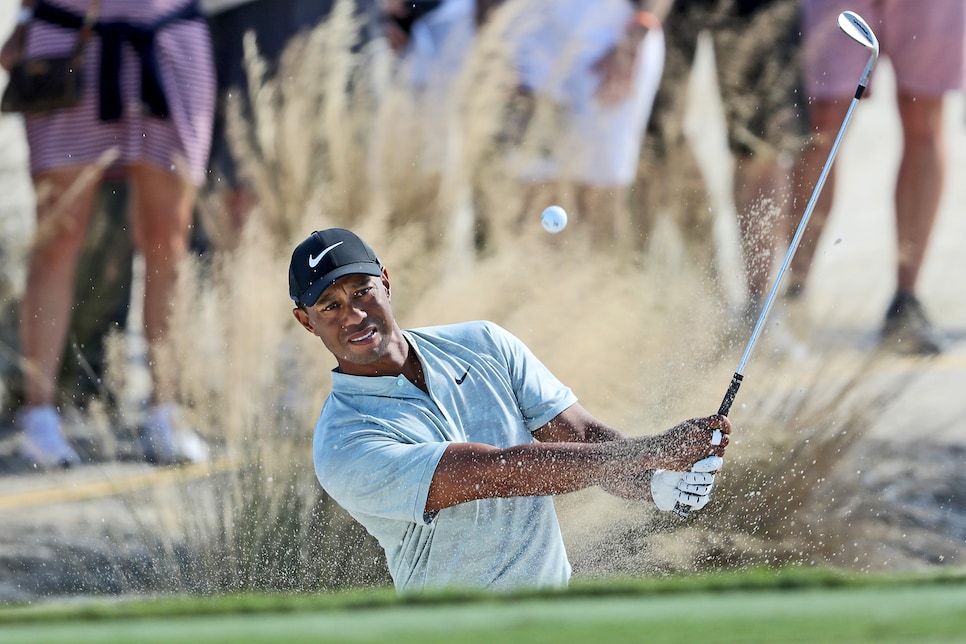 NASSAU, The Bahamas — Most people come back from Las Vegas with a hangover. Tiger Woods did, too, but it wasn't from too much partying. Looking worn and a step slow from too much golf and a persistent cough, he sleepwalked his way through a one-over 73—next to last on a day when breezy Albany was gettable at the Hero World Challenge.
Woods made bogeys on the first and fifth holes, but had gotten it back to even par by the par-3 12th when he stubbed a chip into the water hazard and made triple. He ground out two more birdies, but still trailed first-round leaders Patrick Reed and Patrick Cantlay by eight. The energy level was the polar opposite from his triumphant first-round 69 at Hero last year—when he was playing for the first time since spinal fusion surgery.
"Today was the easiest it's going to be the entire week. I didn't take advantage of these pretty benign conditions," he said. "I didn't quite feel comfortable with my game today even though I drove it great."
The driver was one of the few bright spots in the otherwise grey day. Woods hit 10 fairways with a driver setup that he went to just after the PGA Championship. "I went back to my old shaft and added a bunch of loft—another degree and a half from where I was," he said about his TaylorMade M3 with a Mitsubishi Diamana White 70TX shaft. "I don't hit the ball anywhere near as far as I did earlier in the year or in the summer, but it's spinnier and the ball is in play. I'm shaping the ball both ways, it's not going as far. I don't have the hot ones like I used to."
Insert your favorite old man joke here, but adding to the flu-like malaise he caught the day after The Match, Woods visibly struggled with his feet during the round, taking a wrap off his foot on the back nine and walking gingerly up the steep temporary stairs to the scoring shack. "My ankles have been sore for months...just wear and tear," he said. "I've just been run down and tired and trying to catch up with it."
At least he can sleep in a bit tomorrow. Even though he's first out with Hideki Matsuyama, one of the luxuries of an 18-man field (and being the tournament host) is that the first time isn't until 11:15.