News
Tiger Woods shakes off stumble, sets table for the spectacular at Tour Championship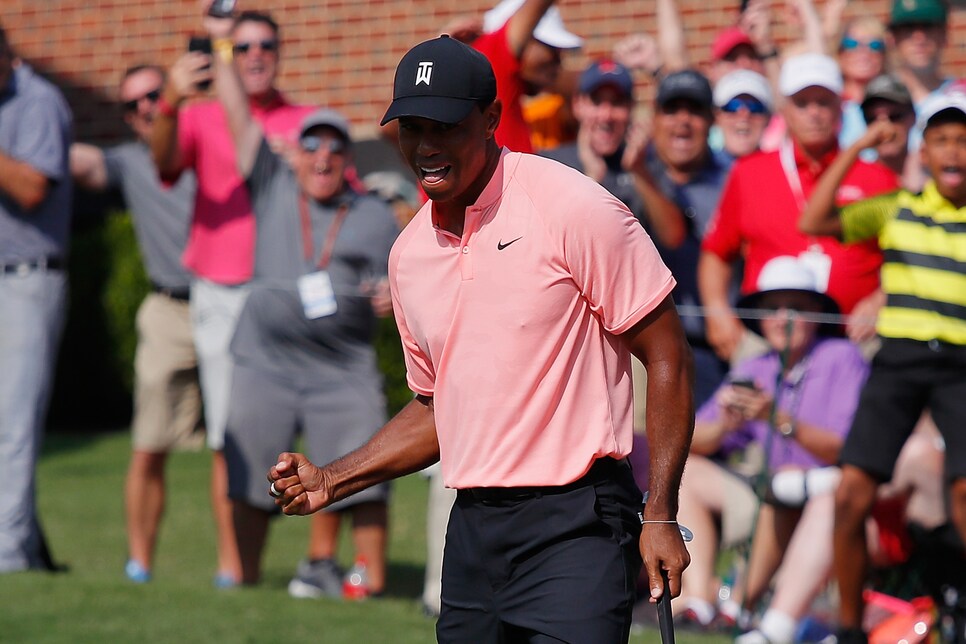 ATLANTA—It was not an auspicious start. The warm-up wasn't smooth, a fair share of drivers sailing over the left-field fence that separates the East Lake range from the 16th hole. The irons were a little thin, and he wasn't dropping many putts on the practice green. There were a few grabs towards his back, the infamous part of his frame that kept him sidelined for so long. That someone forgot to tell the golf gods to turn on the A/C—a couple degrees from an Atlanta record high, apparently—wasn't helping matters, the print of his shirt already unrecognizable from sweat when he arrived to the tee.
So when Tiger Woods three-jacked from 30 feet on the first hole, it felt like the opening salvo to a song-and-dance we've seen too many times before.
"It wasn't exactly the start I was looking for," Woods admitted afterwards.
You know the one. Where Woods struggles out of the gate, grinding out a score that leaves him far back of the lead and sends him in scramble mode to make the cut. A Saturday surge is sprinkled in, just to get your hopes up, followed by a commendable final round that comes up just short. That sounds like a wild extrapolation of a missed six-footer par putt, but it's a story that was plastered on the faces of the gallery Thursday afternoon.
But not on the only face that mattered.
Woods bounced back from the first-hole stumble, keeping his card clean while racking up four birdies and an eagle to grab a share of the first-round lead at the Tour Championship.
"I hit so many quality shots all day, whether it was tee to green or it was putts," Woods said. "I didn't really mis-hit a single shot today."
Not an exaggeration. He hit 10 of 14 fairways and missed just four greens. For a 42-year-old who's often been at odds with his "feels," they were simpatico on this southern-fried afternoon. A sentiment particularly true when his accuracy wasn't.
"More than anything, I missed it all on the correct sides," Woods said. "Even the fairways I missed, all were on the correct sides. I had nice angles. The shots I missed were on the greens, all had beautiful angles. All in all, I had a lot of control today."
Even his putting, the component of his game that's plagued him as of late, so much so that he's tried three different flat sticks this summer before returning to old reliable Newport 2, delivered.
"The only hard part was getting my speed on the greens," Woods said. "I missed every putt, blew it through the hole. I had five, six feet coming back, and once I figured out the pace of these things, it was all good."
Which makes sense: Tiger hasn't played the course in five years. Still isn't used to the nines being flipped, in fact.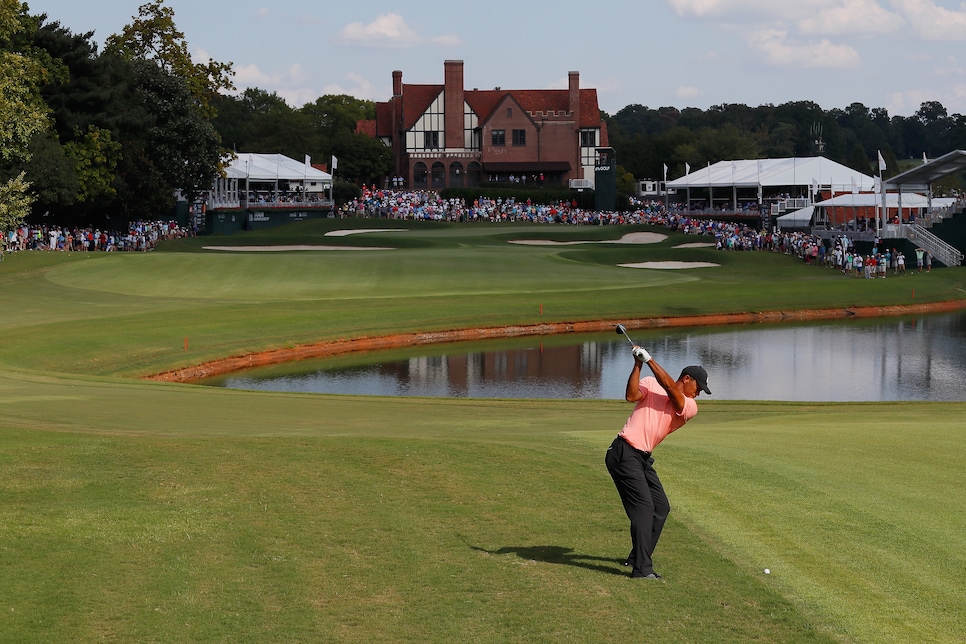 Speaking of flipped, Woods' got things going in the right direction on No. 5. A smoked drive of 330 yards left a wedge in, but he couldn't get it within proximity. As he and other players remarked on Thursday, the hardened ground at East Lake makes it tough to get second shots tight.
"It's hard to get the ball close because there's a lot of chase to them, and you've got to allow for run," Woods stated.
But his Newport, that spurned lover, came to the rescue, sinking a 26-footer for his first birdie of the day. A momentum he kept going on the ensuing par-5 sixth, with the putter again delivering, this time from 15 feet. From there he kept things steady, highlighted by a sand save at the ninth. He reached two under on the day thanks to a bolt to four feet on the 12th, and repeated his second-shot magic at the 14th, putting an approach from 200 yards to six feet. Woods was now one back of leader Rickie Fowler.
He played the next three without incident, and proceeded to hit a 320-yard drive—looks like the back is holding up just fine—on the closing par-5 to leave 250 and change. Woods went with a 5-wood, and chased after it with the conviction of a man with 14 majors.
"Once it hit its peak, I knew it was good," Woods said.
It was, leaving 28 feet for eagle. What remained was an obstacle, however, the line breaking mighty hard to Tiger's right close to the hole. "It took forever for that putt to start breaking, grain coming down off the left," he said. "But once it snagged it, it was going straight right."
And also right into the hole. The crowd, large and encouraging but relatively muted by Tiger standards for most of the day, exploded when Woods' eagle attempt dropped, and the score board quickly reiterated what the roars cried out: Tiger Woods, co-leader. Something, even in this marvelous campaign, was too damn good to be true.
Before the excitement train gets too far down the track, a big reminder that it's Thursday. Granted, Thursdays have given Woods fits this season—he entered this week 81st in Round 1 scoring—but a Thursday, nevertheless. Also worth noting the leader board is a who's who of the sport. There's Fowler, tied for the lead. The World No. 1, Justin Rose, who is right behind, seems to post top 5s by stepping out of bed. Rory McIlroy, winner of this event two Septembers ago, is two back, as are fellow Ryder Cuppers Justin Thomas and Tony Finau. Jon Rahm, Jason Day, Paul Casey, Tommy Fleetwood are in shouting distance. So is likely Player of the Year Brooks Koepka, who will take offense to his name appearing so late in this article.
In short, this rodeo has barely started.
"The guys aren't going to be running away with this," Woods said of his forecast. "The golf course is just too difficult and too hard."
But, considering the tenor at the onset of Thursday, it's a start Woods will gladly take.