Editor's Note: This article first appeared in Fire Pit Collective, a Golf Digest content partner.
ATLANTA — On Wednesday morning at the Tour Championship, Jay Monahan and Rory McIlroy journeyed to the press room in back-to-back appearances to trumpet some of the most sweeping changes in the history of the modern PGA Tour. One demonstrated a galvanizing fortitude and leadership, putting the game on his shoulders. The other is the commissioner of the PGA Tour.
In this tense, fraught moment for the sport, the wee lad from Northern Ireland has become a towering figure. But McIlroy has not been going at it alone. In fairness to Monahan, he displayed an impressive nimbleness in remaking the Tour just eight days after a closed-door, players-only meeting gave him the mandate for change, and he brought the right resolute tone to his presser. However, his rightful title should now be co-commissioner, alongside McIlroy and another figure who loomed large in absentia: Tiger Woods.
In these eight days that have shook professional golf, Rory and Tiger have further emerged as the faces and voices of the Tour, evoking the activism of Jack and Arnie when the Tour was born of rebellion in 1968 as the players broke away from the rigid bureaucracy of the PGA of America. There is more than a passing resemblance between these linked pairs of legends. Nicklaus and Palmer were born a decade apart, while Woods is 13 years McIlroy's senior. On the golf course, Jack was tactical and Arnie daring, just as Tiger is a plodding strategist compared to the freewheeling Rory. The personable Palmer connected intensely with the fans in the same way McIlroy does, while Nicklaus and Woods have always been more remote figures. But this battle for the soul of golf has stirred something deep within Tiger.
A week ago he jetted to the first FedEx Cup playoff event, in which he wasn't competing, to convene a meeting with 22 of the biggest names on Tour. Trudging onto the tarmac in Wilmington, Del., Woods had the air of a disappointed dad cutting short lunch with friends to return home and scold his quarreling children. Once he was in the room, the other players felt the weight of his presence. "Any time I see Tiger I feel a little electricity," Max Homa says. "It's always weird to be in a room with Tiger Woods. I don't think I'll get over that one."
McIlroy dusted Woods at the 2012 Honda Classic to reach World No. 1 for the first time, at 22, and they have circled each other ever since. Rory is now Tiger's peer in every way but even he is not immune to the cult of personality. "It's funny, I never in a million years thought that I would be in this position in particular, and in this position doing this stuff with Tiger Woods," McIlroy said during his state-of-the-Tour press conference. "I said to him the other day, I remember the first golf shot I ever saw him hit live. It was the 5th hole at [the World Golf Championship at] Mount Juliet with my dad, and I watched him hit a drive off the 5th tee and a long iron into the middle of the green, a par-5. Tiger was my idol ever since I watched him play the 1996 U.S. Amateur. He has been an idol and a hero of mine over the years, and I feel pretty lucky that I've gotten to know him more intimately than some. And he is so passionate about what we're doing. He realizes that the PGA Tour gave him a platform to build his brand and let him be who he is, and he has tremendous respect about the people that have come before us. Having his influence and having his counsel, not just myself but all of the players on the PGA Tour, he's a great advocate to have, and it's awesome to be doing these things with him. I have to pinch myself pretty much every day that I'm in this position."
Yet Woods needs McIlroy, and he knows it. Tiger is rarely on Tour these days, and the younger players barely know him. Rory is more accessible to his peers and more personable. (There is also a subset of fans who will never forgive Woods for his scandals and transgressions; meanwhile, the squeaky-clean McIlroy is universally beloved and respected.) Tiger recruited Rory to be a partner in a new venture that was announced on Wednesday, TGL (Tech-infused Golf Leagues), which will bring together teams of Tour players for Monday exhibitions played on indoor simulators in front of a live audience. Sounds kooky, sure, but its larger significance is that it signals a friendly alliance between Woods and McIlroy in a way that Tiger could never forge with his prickly contemporary Phil Mickelson. (Anyone remember their now-fizzled made-for-TV franchise of manó-y-manó matches?) Tiger and Rory have spent the last two years putting together TGL. Co-founder Mike McCarley has observed them closely and says this about the dynamic: "There is a mutual respect there. Tiger values Rory, and he listens to him. He certainly doesn't treat him like a little brother. Maybe a nephew."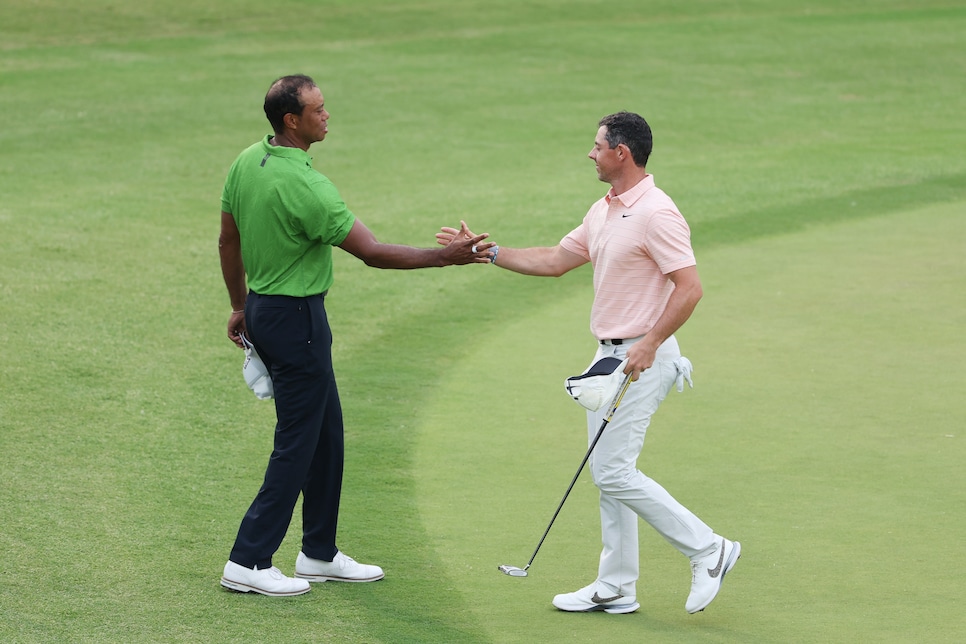 The mind-melding of Woods and McIlroy went to another level in recent weeks as they held a series of exploratory conversations with the Raine Group, a venue capitalist firm that has had a hand in various blockbuster sports deals, including the $4 billion sale of the Ultimate Fighting Championship league. Tiger and Rory have been investigating the benefits of the Tour renouncing its non-profit status and privatizing, which would lead to an eight-figure tax bill but allow for billions of dollars in outside investment. It is the kind of big, bold thinking that may be required to fend off the continued encroachment of LIV Golf. The Tour is paying for its newly announced slate of mega-tournaments with cash reserves—Phil was right!—and by squeezing existing sponsors for extra millions. Neither source is inexhaustible. On Wednesday, Monahan affirmed that he wants the Tour to maintain its 501(c)6 status but signaled an openness to creative work-arounds, saying, "Can you create for-profit subsidiaries? Are there other things you can do to create value as you go forward for the members? Yes."
The jousting between these rival tours is far from over. Next week more PGA Tour members will jump ship, and LIV's potentially game-changing antitrust lawsuit continues to grind through the court system. But the Tour, which has been on the defensive ever since LIV launched in the spring, has finally made some big, bold moves. Of course, McIlroy was front and center, even as he hailed Woods's work in the shadows. "One of the greatest feelings in the world is when your idol becomes your friend," says Tony Finau, "and I know Rory is feeling that now. I think it's a cool relationship that is benefiting all of us."
Homa took that sentiment one step further, saying, "It's very, very, very powerful to have them both leading the way. I think it is a huge testament to Rory. What is he, 35? [Actually, 33.] He's got a young kid. He's got a lot better things to probably do with his time, but he's fighting so hard to make the PGA Tour as good as it can possibly be. Watching the guys you look up to, who aren't that much older than you, doing these big endeavors is pretty impressive in my opinion. I think Tiger could do OK on this on his own, but I would say having Rory on your side is not exactly a bad thing. Everybody could use a Rory in their life."