All over but the shouting
The Inanity Index: Tiger Woods is back (sort of) and Greg Norman goes behind enemy lines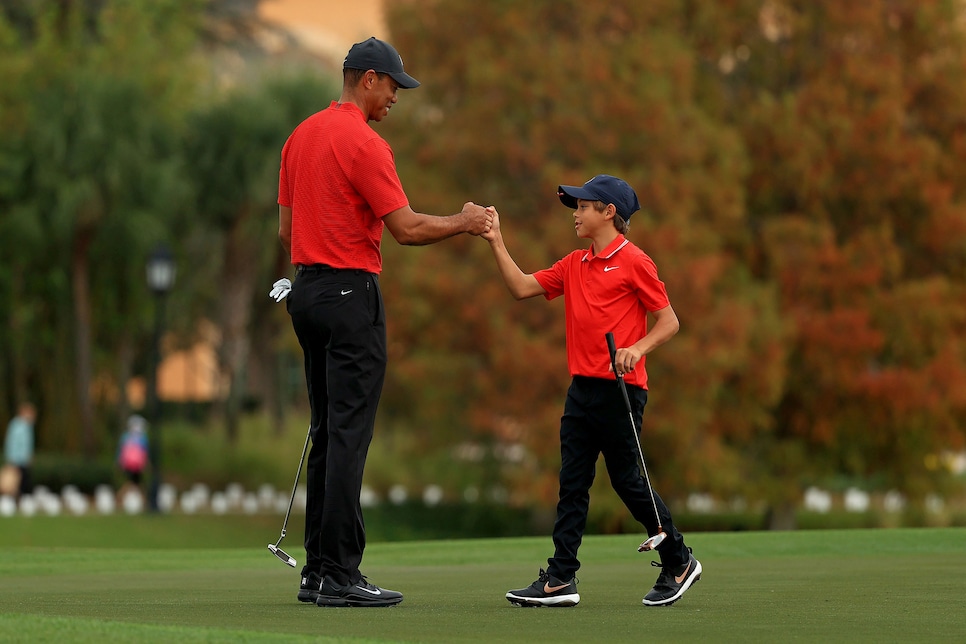 This is the one month of the year pro golf is supposed to hibernate. The PGA Tour takes a "holiday" break at Thanksgiving, and the sport recedes into the background until we meet again in the new year in Hawaii. Not this year, as the game has been thrust front and center in the sports world in the month of December. Or more accurately, one person will keep golf in the sports discussion and provide a full cord to keep the golf content fires burning.
We're now three-plus weeks in from the moment Tiger Woods re-surfaced with a simple swing video posted to Twitter. In the intervening days, he's done his first public interview since his car crash in February, held his first press conference, presided over his annual Hero World Challenge, taking plenty of full cuts in view of the media, and now, committed to play next week's PNC Championship with his son Charlie. We still don't know if he's "back" as a professional golfer, but he's certainly back for consumption as a public figure, and this month will be a windfall for pro golf's silly season. So with Tiger dominating an already quiet part of the golf year, he dominates this edition of the Inanity Index.
A reminder of how this works here in our nascent days: The Inanity Index will consider stories, amusements, and controversies on a 0 to 5 scale, with 5 being the most inane and well—let's face it—straight-up inconsequential if we want to be honest with ourselves about all that occupies our time shouting and laughing at each other in the golf corner of the world. As in golf, if you're a serious person here, you're aiming for the low number.
Return of the Mac Daddy Santa
For better and worse, not much about Tiger Woods has felt relatable since he was a toddler. This is the case when you consume Tiger tales via the unauthorized books and documentaries, and also the mythmaking agitprop. It all feels like someone existing on another plane, and not exclusively a better one. It's true of his golf, his off-course life, his youngest days as a phenom, his invincible peak days, and his sunset days covered in scars, corporeal and elsewhere. Almost nothing about this human's life experience and what has happened to him, by his own hand and from the external crush of superstardom, feels normal.
This is why the glimpses of Tiger-as-dad in recent years have felt so extraordinary. This is not cause to smother you with more of the father-and-son treacle that pervades golf's self-aggrandizement syndrome. But getting to observe Tiger in this role has been special. There are glimpses of relatability, and an endearment that typically felt so far out of reach. It's relatable in that we see him as a dad. Not a dad exactly like you—you didn't throw a Masters Champions dinner "quarantine style" with your family to mark the anniversary of your 15th major during the earliest weeks of the pandemic. But he's still a parent, trying to spend time with his kids doing what they love.
Tiger will play the PNC Championship next week because his son Charlie loves it and wants to do it. He pestered his dad last year to play. Tiger may have a blast playing it and want to do it, too, but they're not playing unless Charlie is into the game himself and wants to do it.
So here we touch another tentacle of relatability: why is Tiger playing golf next week, and maybe at all anymore? Some people play golf to get outside with friends or family and enjoy beverages. Others play for exercise. Some play for a competitive thrill. It's a range, and varies from round to round.
For as long as we've known Tiger, the motivation for his playing golf was competition, winning. It bordered on comical in recent years when a broken-down Woods ranked in some high three-digit spot in the OWGR would maintain his decades-long deadpan line that he was only at an event to win it. It's why he played, and the role the game played in his life—fulfill occupational goals, break records, win, dominate as a professional.
The motivation for his golf now? To be able to get out there with his kids. That might be all you play for as a parent or child. But this is Tiger Woods, the most competitive zealot in the sport's history. It's a stunning and sudden motivational turn, hastened by injuries from a car crash that he says will never make him a full-time tour pro again. What's driving Tiger to play golf is that he can spend time with his kid, connect with his kid, enjoy the experience of it with his kid, and also, maybe show off for his kid occasionally on tour. That's special. The PNC event may be low stakes but this shift in his golfing life certainly rates 0 out of 5 on the Inanity Index.
With the PNC commitment, the headlines were off and running: Tiger Woods is back. Tiger Woods is making his official return.
Is he though? That he is taking full swings and will play any round of golf, in public view or not, is remarkable given the crash and injuries earlier this year. Tiger used the term hit-and-giggle last week, likely making reference to this parent-child event that's a scramble, 36 holes, and will allow him to take a cart. Few other hit-and-giggles will generate the kind of interest and ratings and impressions bonanza as this one.
It's a return to golf (non-caps edition), an astonishing one, even by Tiger standards. And it will only kick into overdrive the hype around when we'll see him next and sketches of what his schedule will be going forward. And that may be a fun game to play, even if it's inane.
The reality of the vast 20th-century content machine is that it must never stop. Predictions must be made, best bets provided, and takes baked to a crisp. The content machine dedicated to all things Tiger is by far the largest in golf, and one of the largest in sports. Given his health, one of the largest gears in that machine the past decade has been dedicated to "When will Tiger Woods play next?" A mix of reporting, educated guessing, wild guessing, and all-out fantasy would flow each time there was some uncertainty about Tiger's return to golf or the PGA Tour.
In certain years or with certain injuries, this exercise felt like fairly educated guesswork. Now? It seems almost senseless. Tiger, an expert at using a lot of words to say very little, has actually given us a lot to chew on these last few weeks. It's not definitive, or perhaps clarifying in the way that you'd like when it comes to the state of his golf game and his future schedule. But it's been meaty when it comes to the ways in which Tiger seeks fulfillment now, and what he wants for himself as a golfer in the future. There was also contentment in the conciliatory and realistic limits he's put on the rest of his golfing life, rather than resignation or angst.
Tiger told Golf Digest that he should have a future where he can "participate in the game of golf" but that he will never play the tour full time again or be able to climb to the top of the mountain. He added at the Hero World Challenge that he will "play a round here or there, a little hit and giggle" but did not know when he would be able to play at the tour level.
He only made a public appearance last week because he had to—the time on the calendar came for his Hero World Challenge, and he was well enough to at least make the appearance and speak. But that act of just appearing, in conjunction with a one-swing wedge video, and now the PNC announcement, have set off the avalanche of speculation. Is he in for the Masters? What about his own event at Riviera? There would be some great symbolism and ceremony to return at the 150th Open at St. Andrews, wouldn't there?
The exercise seems particularly fraught this time around, given Woods also told Golf Digest that "I have so far to go … I'm not even at the halfway point." But the content machine must run, and you can spend a day or two consuming nothing but guesswork on when and where Tiger will play next.
Sometimes it's nice to eat empty calories or look at a seven-round mock draft for three years from now. I'm not suggesting the guessing game is harmful in some way or that you shouldn't engage. I'm not discouraging the practice. But this is the Inanity Index and at this point, guessing Tiger's return date for 2022 is inane, a full 5 out of 5, to be sure.
Punt to the police report
Speaking of the content machines, a debate raged on whether Tiger owed an explanation, or was at least required to answer on what happened on the day of that horrific car crash in February.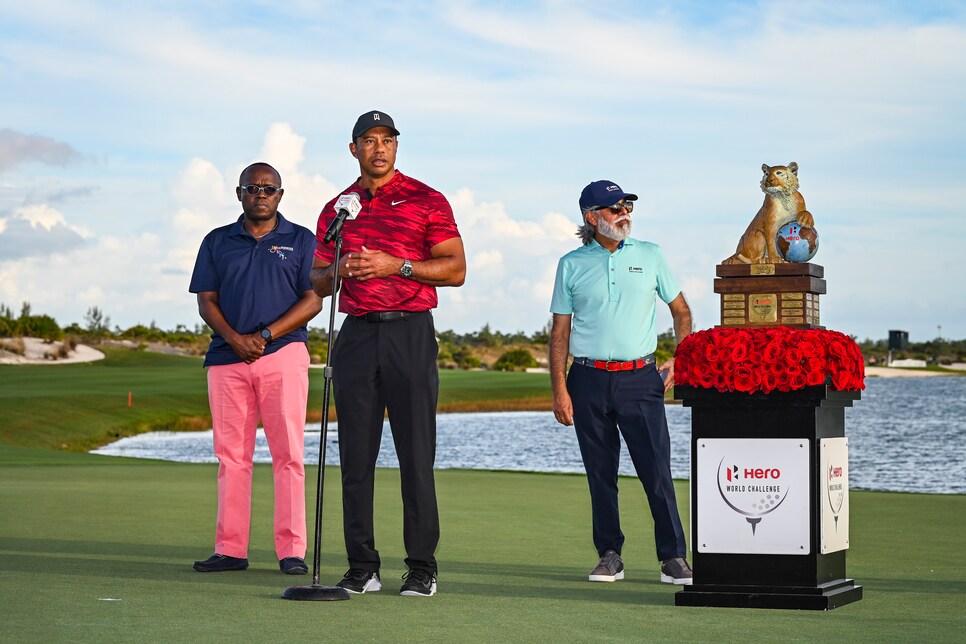 In his venerable 1996 profile of Tiger Woods, Sports Illustrated's Gary Smith wrote of the coming "epic encounter" between "the machine" and the prodigy. "The machine will win because it has no mind," Smith wrote. "It flattens even as it lifts, trivializes even as it exalts, spreads a man so wide and thin that he becomes margarine soon enough."
As we've hopefully established so far, Tiger is owed privacy, as much one can have at his level of global fame. But the machine does not owe him deference, certainly not on this. The questions are fair and should have been asked. Tiger does not (and will not) have to answer the questions with any great substance. He punted the question away to the police report on first instance, and then rambled with a non-sequitur after an incisive question from Dylan Dethier on whether he felt the circumstances of the crash were just his "business and not the rest of ours."
The police report, which he deferred to, does not tell the story. Tiger is unwilling to add to that, which he's empowered to do. But that does not mean the questions are unfair or an invasion of privacy. The shouting in the debate over whether he should even be asked became a bit obnoxious, as it often does on social media (we'll make it a 1 out of 5 for this reason), but it certainly wasn't inane given the subject matter.
Imagine if Lincoln Riley was still using the Oklahoma private jet and expense account to recruit for USC this week. This hypothetical is not too far off from the awkward-bordering-on-unbelievable set of circumstances at the QBE Shootout this week.
That's the modern, brand-diluted name of the event formerly known as the Shark Shootout, and the Shark, of course, is Greg Norman. The Aussie is the host and de facto master of ceremonies, bouncing around the Naples course that he designed, shaking hands and holding court. It's his event, and also technically a PGA Tour event, though not one with official FedEx Cup points during this "offseason stretch." The Tour's officials are on hand to facilitate operations and communications. It's on their website under the official schedule. It will receive some level of coverage by the Tour's own media apparatus. It's got the PGA Tour's seal of approval, and support with operational manpower and promotion.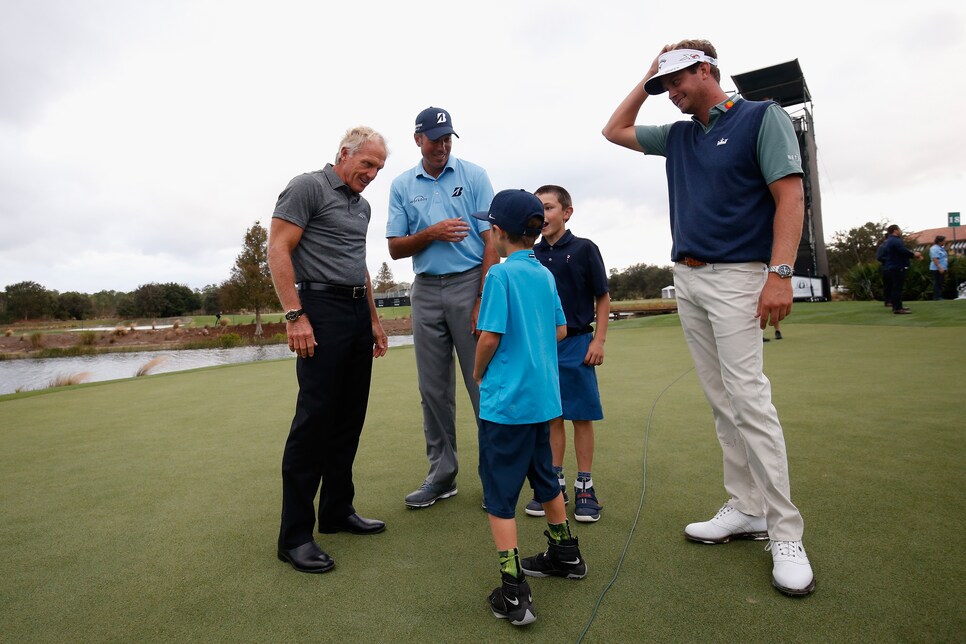 And this is all unbelievable because the Shark is also now the very-public face of the Saudi-backed effort to destroy the PGA Tour co-hosting with him this week.
These are somewhat recent developments, what with Liv Golf Investments announcing their existence publicly in the last week of October, but … how is the tour letting this thing still go off under their name?! Just pull the plug on your support! Is the Shark going to reciprocate that kind of support when he's chatting up the players in his field this week? Make him host it with his new friends. Forget the contractual details, or the charitable fallout if such-and-such commitment is pulled. Blow-it-up and rectify or pick up the pieces later. Is this one-week arranged marriage between overt enemies massively consequential to the future of either? Probably not. But it's still madness, juicy, absurd, extremely awkward, and an amusing 4 out of 5 on the Inanity Index. Will tour officials have one hand on the plug to his microphone during his press conference?