RYDER CUP
Tiger Woods is 'very much a part of Team USA' and will be for 2023 Ryder Cup, says U.S. captain Zach Johnson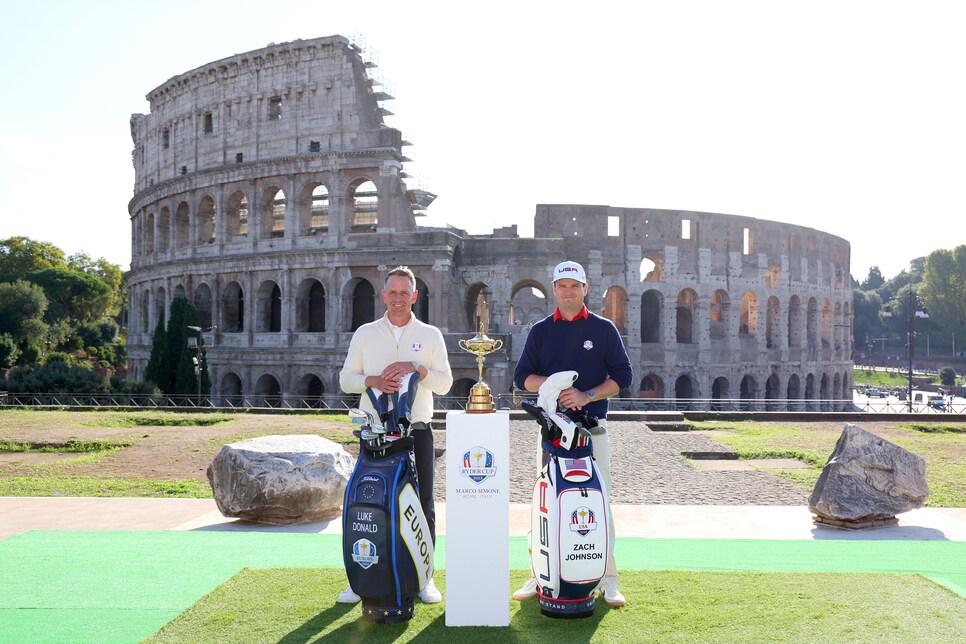 Ryder Cup captains Luke Donald and Zach Johnson pose with the Ryder Cup at the Colosseum in Rome.
Andrew Redington
It only took two questions before 2023 U.S. Ryder Cup captain Zach Johnson was asked if Tiger Woods will play a part of his squad next year when the matches head to Rome.
The question was expected, and the answer was simple.
"I can't put this mildly—he loves the Ryder Cup," Johnson said Tuesday as part of a news conference in Rome with European Ryder Cup captain Luke Donald. "He has made it a priority of his, and certainly Team USA. He wants to be a part of it as best he can. Obviously, he's gone through some things as of late that make it difficult, whether it's travel or what have you."
Johnson was an assistant captain at last month's Presidents Cup and saw how U.S. captain Davis Love III kept in touch with Woods, who was watching on television from his South Florida home. Love said that Woods was heavily involved and helped him and the team with strategy and pairings, serving as a de facto assistant.
Next year at Marco Simone Golf & Country Club, where the matches will be held Sept. 29-Oct. 1, Johnson can see Woods being a part of his team in a similar way if he's unable to travel, or even being there in person if his health allows. Woods only played in three events this year—the Masters, PGA Championship and Open Championship—and is still recovering from a car crash in early 2021 that required surgery.
"Tiger, over the last seven, eight years, we've just gotten closer and closer," Johnson said. "I consider him a dear friend. I can't tell you right now. I don't know where—if he will be here next year but he will be a part of this team in some capacity.
"He's very much a part of Team USA. I don't know what's going to happen next September, but you can rest assured that he will be in constant communication with our team."
Woods has played on eight Ryder Cup teams and nine Presidents Cup teams, the last coming in 2019 at Royal Melbourne where he was a playing captain for the U.S. squad that closely clipped the Internationals in Australia.