News
Tiger Woods' nightmarish history on Torrey Pines' first hole continues with stunning four-putt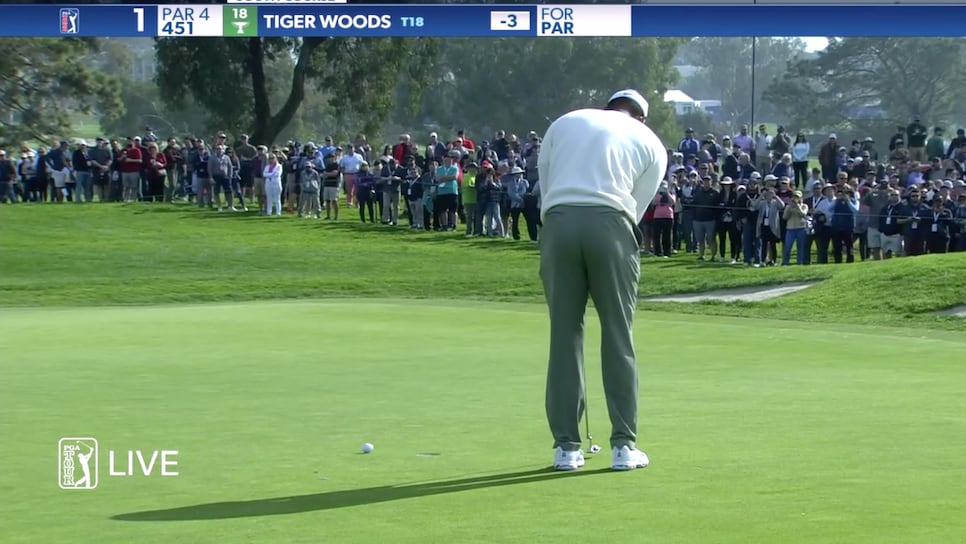 For all of Tiger Woods' success at Torrey Pines, the South Course's opening hole has given him fits. But while the Big Cat posting a big number on the 456-yard par 4 isn't too surprising, the way in which he did on Friday certainly was.
Woods striped a drive to start his second round at the Farmers Insurance Open then hit a short-iron right at the flagstick. Although, he misjudged the distance a tad, Woods was left with about 20 feet up hill for his birdie putt. That's when things got crazy.
A bad misread or a pull—or both—left him a good two feet left of the cup for par. Clearly not overly concerned, Woods didn't mark his golf ball, but blasted what seemed like a gimme through the hole. Now faced with about six feet for bogey, Tiger took his time … and missed again. He tapped in for a four-putt double bogey to drop back to one under after a solid 69 on Torrey Pines' North Course on Thursday.
But none of those doubles involved a four-putt. In fact, according to 15th Hole's Justin Ray, this is Woods' first four-putt in his 19th appearance at the Farmers Insurance Open. And it's his first four-putt anywhere since the third round of last year's WGC-Mexico Championship.
In addition to that epic victory at the 2008 U.S. Open, Woods has won the PGA Tour's annual stop at Torrey Pines a record seven times. This unexpected speed bump, however, leaves him with a lot of work to do if he's going to add to that total.