Class of 2022
Tiger Woods' Hall of Fame induction celebrates his past while he holds out hope for the future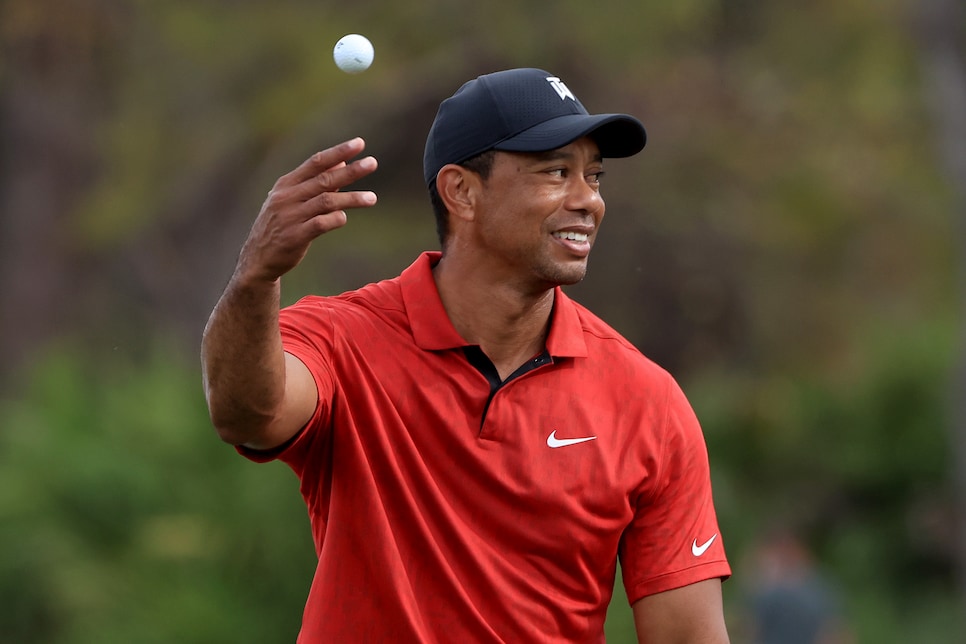 PONTE VEDRA BEACH — Collin Morikawa was fresh out the womb back in April 1997, when Tiger Woods became Tiger Woods. Two months old, to be exact. Woods has presided over golf for the entirety of Morikawa's life. Asking him what impact Tiger has had on his golf life is a bit like asking a child what impact his mother has had on him. Still, Morikawa has heard the question hundreds of times by now. He heard it after he won the WGC-Workday Championship at the Concession five days after Woods flipped an SUV, and he heard it again Tuesday, one day before Woods will be enshrined in the World Golf Hall of Fame. His answer was the same both times.
Sometimes there's just nothing else to say. Woods isn't merely an inspiration to the generation of professional golfers who came of age during his dominance—for them, he and the sport are one entity. Tiger Woods is golf, and golf is Tiger Woods. It is oddly fitting that the week of Woods' induction coincides with the first time in history that the top five players in the Official World Golf Rankings are all younger than 30.
"What can I say about Tiger that we haven't said already?" asks Jon Rahm, whose tenuous grip on No. 1 is under threat this week from four other Tiger disciples: Morikawa, Viktor Hovland, Scottie Scheffler and Patrick Cantlay.
Tiger Woods reflects on his Hall of Fame induction
The 15-time major champion discusses the unique dynamic of entering the Hall with his competitive career still not complete.
"He inspired a whole generation. Besides entertaining all of us for 20 years and doing unbelievable things, he inspired the generation of players that you're seeing today. You have at the top of the world a lot of 20-some-year-olds and early 30-year-olds that grew up watching him and trying to copy him, and I think that's why the level of the game is as high as it is right now. You know, aside from everything that he did, I think it's a testament to what he was able to accomplish and how many people he was able to inspire."
Tour pros speak of Woods with utter reverence. He is the man who inspired them to be better, yes, but also the reason a 30th-place finish at this week's Players Championship comes with a $137,000 check.
"I always say, all of us that are playing here this week have to thank Tiger for where the game is and where the tour is," Rory McIlroy said.
But they speak of him mostly in past tense, the way they talk about Jack Nicklaus or Arnold Palmer. He did that. He was this. Those men will never play another round where their score means something. Tiger will. Where he'll shoot them, when and what the scores might be remain a mystery. None of the players know and neither does Woods. It's a strange dynamic—Wednesday night's ceremony will celebrate a career, because that's the whole point of a Hall of Fame ceremony. But that career, as uncertain as it is, is not finished.
"Most sports you have to wait five years after you retire just to be eligible," Woods says. "Our sport is different. You can go into the Hall and still play and compete out here. There are players that have won out here on tour after they've gone into the Hall. It's very different.
"But it's also an acknowledgement that you've had a successful career. I feel like I have, but it feels like it's still not over yet."
Woods, 46, is eligible only due to a 2020 rule change that saw the age requirement drop from 50 to 45. That change was surely made with a night like Wednesday in mind, and his ceremony will draw a who's who of PGA Tour players—as well as those who have been in Woods' famously tight circle throughout his roller-coaster career.
"Everyone who has been close to me and supported me through childhood all the way up—I've had friends literally since childhood—family, foundation, everyone that has been close to me and involved in my life, I want them there," Woods said.
That includes his 14-year-old daughter, Sam, who will introduce her father on Wednesday. Her younger brother, Charlie, has relished the spotlight the past two years playing alongside Tiger at the PNC Challenge. Sam prefers soccer, and Woods is a constant fixture at her games. Woods may still fancy himself a contender on tour, and he may still don the red and black on Sundays, but he is not the same professional as he was in his 20s or 30s. He once poured every ounce of his energy into golf; his body won't allow him to do that anymore, nor would he want to. Woods treasures his time at home with his kids, and his mother, Tida, who lives 15 minutes away in South Florida, frequently joins in.
"I wish my dad would've been here to see that, because he's the one who got me started in the game. But my mom's going to be there," Woods said. "She's the one who took me to all my junior tournaments in Southern California. We'd get up, go play the pee-wee league in the 11-and-under division in Riverside—that's an hour, hour and a half drive … never complained, we hopped in that Plymouth Duster and we'd head out there, she'd keep the score and give the report to my dad when I got home. That, to me, is special, to have her still around."
The Plymouth Duster has been replaced by the courtesy car, and Woods' children now occupy the back seat that Tiger himself once sat in. But Tiger is a golfer all the same, still, all these years and all these injuries later. This game is different indeed.