News
Tiger Woods fizzles in Firestone finale, and heads to the PGA Championship a bit flat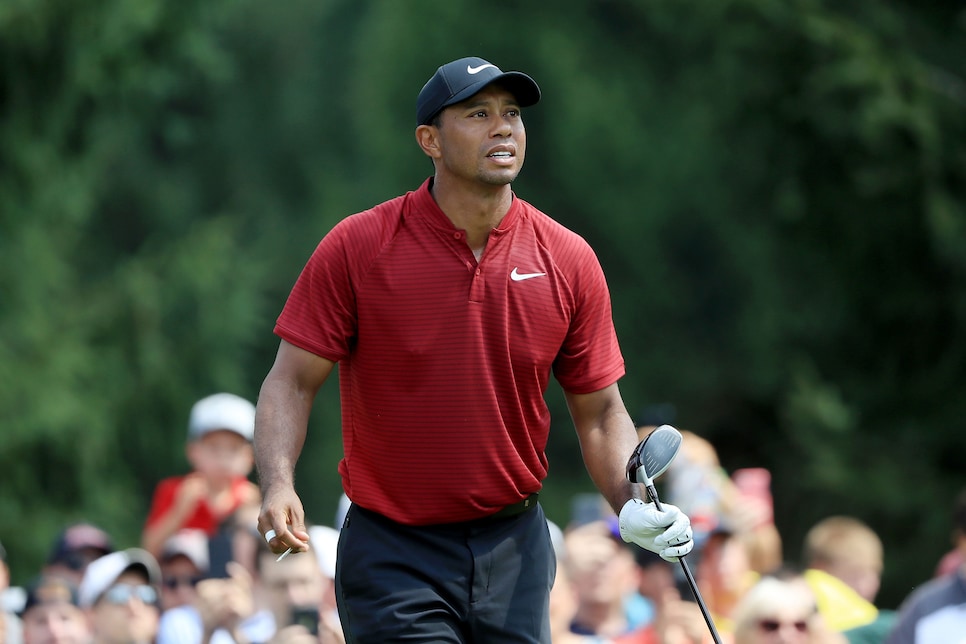 Sam Greenwood/Getty Images
AKRON, Ohio — His day at Firestone Country Club—and quite possibly his career here—ended at 3:12 p.m. EDT Sunday with one last birdie and with the chants of "Thank you, Tiger!" from an appreciative throng ringing in his ears.
It seemed like an appropriate sendoff for Tiger Woods, who all but owned the South Course with eight wins in the WGC-Bridgestone Invitational in his first 13 starts but couldn't summon the same command in his final appearance. A second straight three-over-par 73, equaling his highest score since a 77 in the final round in 2010, left Woods at even-par 280 for the week, tied for 31st place and a bit tied up in knots with the PGA Championship immediately on the horizon.
With nothing to lose, Woods, 42, tried to go on offense on another sweltering day, but his swing and his putting stroke balked. In the end, it was only the third time he did not finish under par at Firestone South, site of the last of his 79 PGA Tour titles back in 2013.
"Today I was just trying to be as aggressive as possible and fire at everything," he explained. "It was either going to be 62 or 63 or something in the mid-70s. I was just going to be aggressive and see what happens. I was so far back that I had to play a great round just to get in the top 10. Sometimes it works out, sometimes it doesn't."
There was little mystery why it didn't this time. He had his worst driving day, hitting only five of 14 fairways, and he found just 10 greens in regulation. He did convert six birdies, but they were offset by five bogeys and two double bogeys, both on the inward nine and the second one at the famed par-5 16th when he went for the green in two but struck a "terrible golf shot" with a 4-iron from 238 yards that found the front pond.
"I didn't hit the ball as clean as I wanted to," he said. "I only putted well the first day. I struggled hitting the putts hard enough this week. It looked faster than they were putting for me, and I just struggled making that adjustment. Things could have certainly gone better, but it is what it is and on to next week."
Before he could think about next week, he had one final hole to play. His drive on the par-4 18th found the right side of the fairway, a blast of 358 yards. It wasn't far from the spot where he struck the "shot in the dark," the 8-iron approach that landed two feet from the pin to put an exclamation point on his 11-stroke victory in 2000. Lo and behold, the cup was in the same location Sunday. He dropped his approach 12 feet behind the hole and sank the putt. He raised his putter more as a salute to the cheering crowd than to the converted stroke.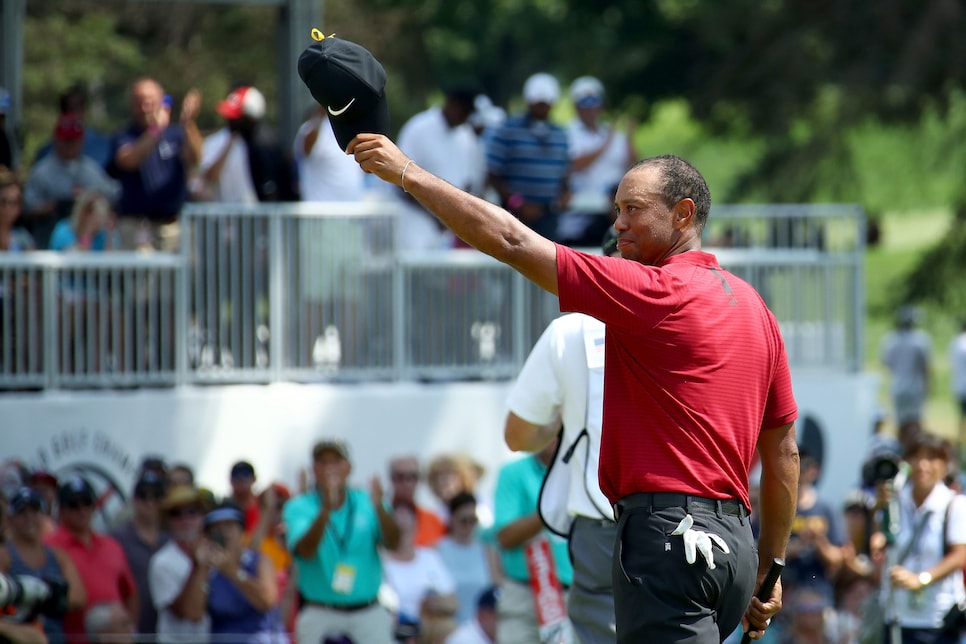 Gregory Shamus/Getty Images
"Yeah, how about that, huh?" he responded, when asked if he recognized that hole location. "I've made a few birdies there. It was a good way to end it, at least for another eight more years."
He's referring to an appearance when he turns 50 in the PGA Tour Champions event, the Senior Players Championship, that moves into Firestone next year. Until then, he'll just have to settle for the eight wins he's collected here.