News
Fond Farewell to Firestone
As they say goodbye to Firestone, PGA Tour players and fans recall good times, great winners and iconic moments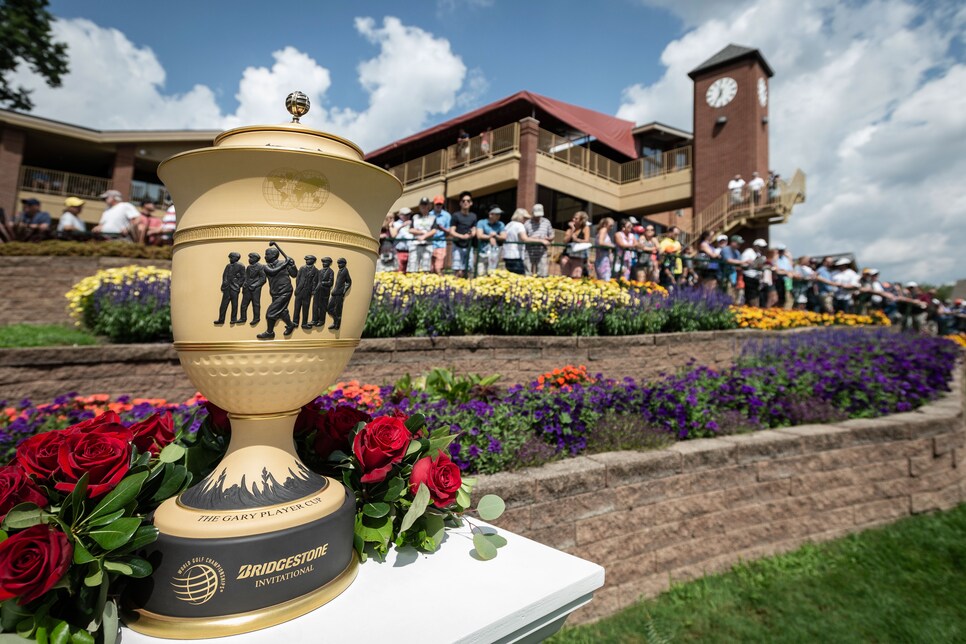 Photo By: Icon Sportswire
AKRON, Ohio — Goodbye iconic water tower. Goodbye chicken wraps and crunchy cream pies. Goodbye Arnold Palmer Bridge. Goodbye Monster.
Today's final round of the WGC-Bridgestone Invitational is the PGA Tour's farewell sojourn over the South Course at Firestone Country Club, which annually has hosted a professional golf tournament since 1954 when the Rubber City Open was elevated to an official tour event and moved to the facility that tire magnate Harvey S. Firestone built for his employees. Sure, the PGA Tour Champions will continue the tradition next year with the Senior Players Championship, but Firestone always has been a traditional home for the game's top players, whether it was hosting the PGA Championship, the American Golf Classic, the World Series of Golf or 19 editions of this WGC event.
The tournament moves to TPC Southwind in Memphis next year, sponsored by FedEx, which pours an exorbitant amount of money into the FedEx Cup and wanted a WGC event.
"It's a sentimental favorite," said Paul Casey, who has nine top-25 finishes in his previous 13 appearances in this event. "It's easy to like it here. We've made friends here. The whole community is wrapped up in it. There's a nice familiarity that's been built up through the decades here, and you can't minimize how that makes a tournament special."
Tommy Bolt won the first tournament played at Firestone, and four years later, as the reigning U.S. Open champion, he played a bit of gamesmanship on a young and unsuspecting Jack Nicklaus, who as an 18-year-old amateur was making his debut in a tour event.
"I remember Tommy putting his arm around me walking down the first hole. 'Don't you worry, Jackie boy, old Tommy will take care of you.' He was giving me the business right off the bat," Nicklaus recalled. "I missed six three-foot putts on the front nine, little short things. He got rid of me fast on that front nine. It's part of the education of a golfer."
After beginning the third round just one shot off the lead, Nicklaus slid to a 76. But he rallied with a 68 the last day to finish at seven-under 277, tied for 15th place. He would go on to win at Firestone seven times, including the 1975 PGA Championship.
"This has been a pretty special place for me," the Golden Bear said in 2013 after visiting Firestone to receive the annual Ambassador of Golf Award that year from Northern Ohio Golf Charities. "I have so many great memories of Firestone and all the years I played here. I loved coming up here. I loved playing the golf course. It suited my eye. It suited my game. I always said, 'I don't care what's going on. I'm going to get to Firestone, and I'll be able to play well there.' "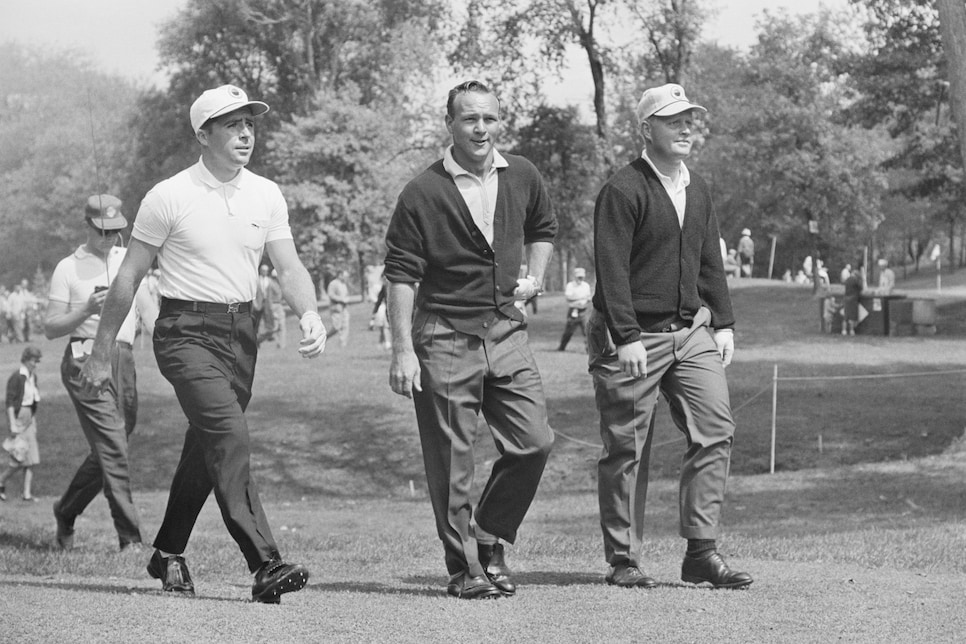 Like Nicklaus, Tiger Woods first saw Firestone when he was an amateur, playing casual rounds on the South and North Courses—the facility has 54 holes—with his father, Earl. And like Nicklaus, Woods always seemed capable of raising his game when he arrived, winning on the South Course eight times, a tour record he shares with himself (at Bay Hill and Torrey Pines) and Sam Snead (at Greensboro). The last of his 79 tour titles came on these grounds in 2013 when he equaled the course record of 61 for a second time.
"It's always been one of my favorite golf courses on the entire tour, and it's unfortunate that it is leaving," said Woods, who climbed from 696th in the world at the start of the year to 50th after the Open Championship to squeak into the field. "This has been one of the very few tournaments that is kind of a small-town atmosphere. It's a very simple, straightforward golf course, which we don't see very often anymore. This is away from the stadium golf that we seem to play a lot now on tour. As far as the future of this event, I know it has to move, and it has to go forward and off to Memphis, but it's one of the reasons why I tried so hard to get in this event, is because it does mean something special to me."
Winners at Firestone through the years have included many of the game's biggest names: Nicklaus, Woods, Arnold Palmer, Gary Player, Tom Watson, Lee Trevino, Tom Weiskopf, Nick Price, Greg Norman, Curtis Strange, Jose Maria Olazabal, Phil Mickelson, David Duval, Adam Scott, Dustin Johnson and Rory McIlroy.
It has seen the ridiculous and the sublime. "Ridiculous" was the first word Palmer used to describe the long par-5 16th hole on the South Course, created in 1959 when Robert Trent Jones redesigned Bert Way's truculent layout for the 1960 PGA Championship, won by Jay Hebert. Palmer was in the hunt until he suffered a quadruple-bogey 8 in the third round after hitting into the new pond in front of the green. Later he called it "a monster," and the name stuck. Last year, a bridge near the 16th green was dedicated in honor of the late Palmer.
Ridiculous was the 8-iron Woods used to airmail the ninth green in the second round of the '06 tournament. His ball ricocheted off the cart path, over the clubhouse roof and into a loading area, where it was picked up by a staff worker delivering crunchy cream pies. After a frantic search, Woods was allowed a free drop—the clubhouse was not deemed out of bounds—and saved par.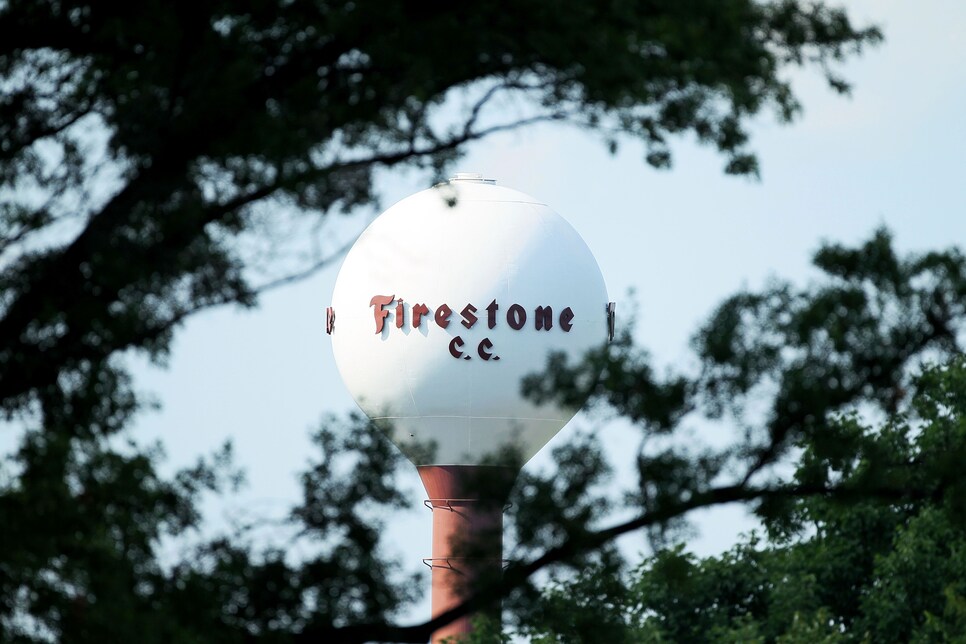 Even more ridiculous was the melee that unfolded in the 1994 edition, played on the North Course, when an impatient John Daly hit into the group in front of him the final day. One of the players ahead was club pro Jeff Roth, whose father confronted Daly after the round and ended up scuffling with him.
The sublime includes the ridiculous 262 aggregate total Olazabal posted in 1990, well before the advent of the Pro V1 and grasp of trampoline effect. (His win in '94 makes him the only man to win official events on each course.) Only Woods has bettered the mark, submitting a commanding 259 total to win by 11 strokes in 2000, punctuated by the "shot in the dark," the 8-iron he struck in the gloaming that fell out of the sky and magically appeared two feet from the hole.
"Being there in person, it was inconceivable that someone could actually hit a golf ball and hit it on the green, find the green, much less land it within a foot of the cup," CBS golf anchor Jim Nantz said recently. "Of the great shots Tiger hit all time, that would have to be on that pretty special list."
Nicklaus also authored a memorable shot at Firestone. He blasted a 9-iron over a maple tree from 137 yards to the back of the 16th green to save par in the '75 PGA. He called it "your basic miracle par," and one of the biggest gambles he ever took in a major championship. Former PGA champion Bob Rosburg, working for ABC Sports, sized up Nicklaus' prospects and uttered the words, "he's got no shot," that became his catch-phrase over his broadcasting career.
Because of Firestone's long run and the fact that it hosted multiple events some years—in 1974 there were three events on the South Course: the World Series of Golf, CBS Golf Classic and American Golf Classic—it is believed that no facility, not even Augusta National Golf Club, has been televised more.
In all, there have been 88 tournaments here. Only three tour venues have had a longer consecutive run than Firestone's 65 years—Augusta National, home of the Masters Tournament, Pebble Beach Golf Links and Colonial Country Club in Fort Worth.
CBS golf producer Lance Barrow first came to Firestone in 1976 as a runner working for broadcaster Pat Summerall, and he couldn't believe he was seeing the iconic water tower in person.
"I remember watching the CBS Golf Classic as a kid and then coming here and seeing it for real, and thinking that might be one of the great landmarks in golf," Barrow said. "I couldn't believe that I was actually here to watch them play golf. It's probably one of the most recognizable golf courses in America. Later I loved listening to guys like [producer] Frank Chirkinian and [director] Chuck Will talking about all the years they did the CBS Golf Classic. You saw Nelson, you saw Hogan, you saw Snead, Sarazen, Palmer, Nicklaus. That was cool. It was like being in a history class.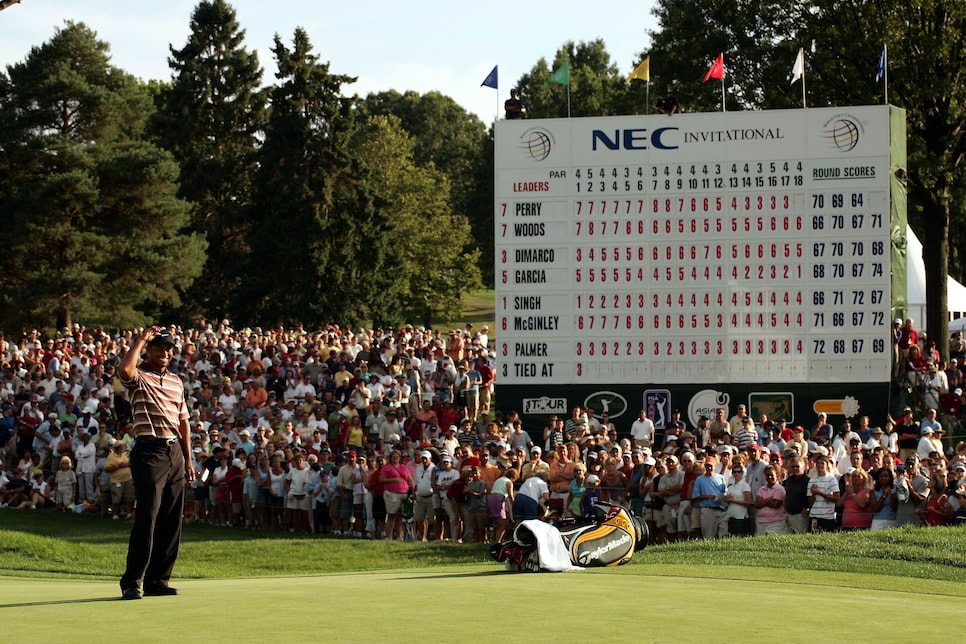 "Tournaments come and go, but this is one where you look back and say I was fortunate to do that tournament, to see the players who have played here and who won here," he added. "You come back to a place over and over and you get to know people. You invest a lot of your life in one place."
Sadness. It's a genuine reaction players express, Mickelson and McIlroy among them, when they ponder the end of a tradition at Firestone. And that's the crux of it. It's not an annual tournament. It's a tradition—perhaps not the haughty "tradition unlike any other" that Nantz says of the Masters, but a tradition rich and warm and meaningful in its own right.
"Yeah, this is our last go-around for a while," Woods said wistfully after Saturday's third round and thinking of his final walk on the sylvan property. "This is one of the great classic golf courses. Leish [Marc Leishman] and I were talking about it today—all it is is about a month away from [being able to] host whatever major championship you want. Just dry it out, maybe grow in the fairway here and there, and you have a major. That's what this golf course has been over the years and we're going to miss playing it."