News
The 1,000-mile drive that changed Tiger Woods' life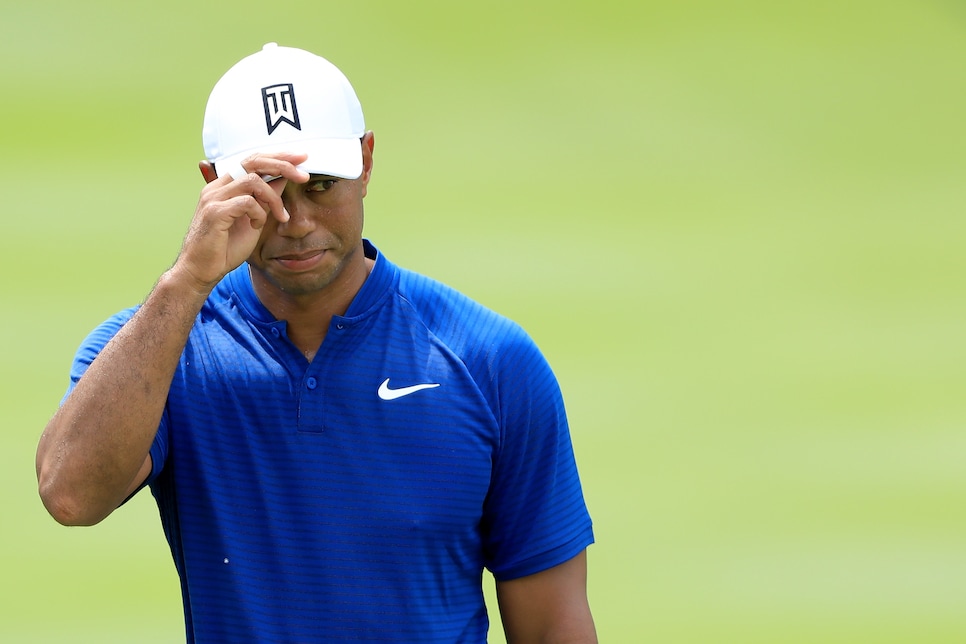 Tiger Woods wasn't sleeping because no one could. The country had been sucker-punched, and it was dazed, disoriented. So instead of enjoying the comforts of a bed before a World Golf Championship at Bellerive Country Club, Woods found himself at a gas station in the dark of night on Sept. 12, 2001, hours away from St. Louis, civilization and cell phone service. He had set off for Isleworth, his home, welcoming the 1,000-mile drive—against the horrific reality that was setting in—as a distraction.
Only it wasn't. The road, as it can often be, was cathartic. And Woods didn't like what it revealed.
"I just felt that if I was the one in one of those buildings or on one of the planes, what would be left behind?" Woods said about the experience, years later. "And I basically thought I hadn't done anything. Yeah, I can hit a golf ball wherever it may be, but that's entertainment. I hadn't done anything impacting."
Not long after he told the world "Hello" in 1996, Woods and his father Earl created the Tiger Woods Foundation. Its goal was to help youth in the United States, primarily through after-school programs and scholarships. To accomplish the mission, the foundation capitalized on what its founder did best, with Tiger hosting innumerable golf-centric clinics, events and activities. Checks were cut to various courses and organizations, aimed at introducing the game to children at a grass roots level.
There was no shortage of funds, and participation and reach was vast. Among the many athlete-fronted endeavors, Tiger's group was a success, efficiently run compared to the 74 percent of sportsperson charities that the National Committee for Responsive Philanthropy found falling short of basic non-profit standards.
At least it was to most observers. Woods saw it differently.
"We were like a circus basically," Woods told Golf Digest in 2010. "We're in for a one week and we're out." More kids were coming into contact with golf, which was great … but was it actually changing lives?
A question that was self-aware, and self-effacing, considering the context. Woods was more rock star than golfer when he arrived to the WGC-American Express Championship in 2001. He had 19 wins—five of them majors—in the last two calendar seasons, not so much shifting as shattering the sport's paradigm. To say nothing of the masses that flocked to him and revered his every move. In a culture that prized sport and celebrity, Woods had become a national icon.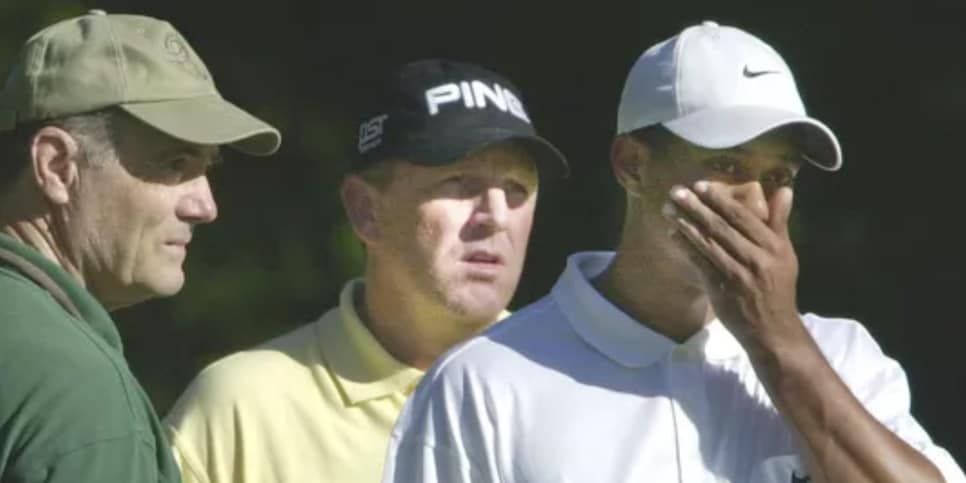 In St. Louis a day earlier for a clinic, Woods was on Bellerive's 10th hole when American Airlines Flight 11 struck the North Tower of the World Trade Center. Ten thousand fans were already on the course that Tuesday morning. They were excited, not just to see Tiger but at the tour's return to Missouri for the first time since the 1992 PGA Championship. Yet, as news spread of the attacks, they watched in silence as Woods and Mark Calcavecchia toured Bellerive's back nine.
Joe Corless, a former FBI agent who handled security for the PGA Tour, kept the group abreast of what was transpiring in Manhattan, then Washington, D.C. and a field in Pennsylvania. "[Corless] gave us a blow-by-blow," Calcavecchia told Golf Digest in 2007. "Every hole he had more bad news, one shocking revelation after another. We were just kind of out there, stunned."
Woods remembers it slightly differently, saying they were pulled off the course soon after the first plane crashed. That these versions vary is not surprising; researchers have found memories of timelines tend to compact as years pass, even during where-were-you-when events. Both, however, recall hovering around a TV in the locker room, unable to process what was plastered on the screen.
"Everybody's mouths were hanging open," Calcavecchia said. "Tiger was sitting there, and we couldn't watch any more." Woods would later note looking down at his arm and noticing goosebumps. On the advice of Corless, Woods left the course.
Woods returned to Bellerive the next day, getting in a morning round with Mike Weir, following with an hour's work at the range until PGA Tour commissioner Tim Finchem canceled the event. Players didn't argue; competing while responders battled fires and raced against time to save those buried under rubble seemed wildly inappropriate.
Knowing the tournament might be scrapped and that air travel was grounded, Woods had put together a contingency plan the day before, plotting an itinerary from St. Louis to Isleworth via car. Finchem's decision was final at 3 p.m. At 3:30, Tiger commandeered his courtesy Buick and headed for Florida.
If a solo journey of that magnitude seems daunting, it's one Woods sought. "Some people might think I'm nuts for driving halfway across the country by my myself, but it seemed like the thing to do," Woods told Golf Digest in 2001. "I just wanted to go home." The trip would require concentration, an appetizing prospect in light of everything that was happening.
Woods informed a host of loved ones of his plans, asking them to check in and keep him updated if anything else happened. And they did, especially Woods' night-owl friends on the West Coast. But this was 2001, when cellphone towers weren't as powerful or prevalent as the current grid. If you were traveling through a rural area, reception was dicey at best. Woods' route took him through pastoral landscapes in Illinois to Kentucky to Tennessee to Georgia. As he told Golf Digest, "It seemed I was in the middle of nowhere a lot."
He pulled over on just four occasions, each time for gas. Woods eschewed dinner, subsisting on protein bars and water, going to the bathroom only during fill-ups. Dressed in jeans, a t-shirt and tennis shoes, no one, as far as Woods could tell, recognized him at the pit stops. "I think everyone was lost in their own thoughts," he said.
That included Woods, who dived deep into his conscience as the road endlessly continued. As Woods has told Golf Digest and others in the 17 years since that trip, his thoughts kept returning to his foundation's work. More specifically, the lack thereof.
"We need to be doing even more," Woods told Golf Digest in 2010 about the takeaway. Golf was his craft, one that bestowed fame, riches, power. He also believed the game didn't define him, that he could be more than that. He needed to be more than that.
But what, exactly? The response was fragmented in Woods' mind. There, just not fully formed. A 14-hour car ride, with nothing but your thoughts in tow, tends to bring things into focus. By the time he pulled into home at 6 a.m. on Sept. 13, Woods had an answer.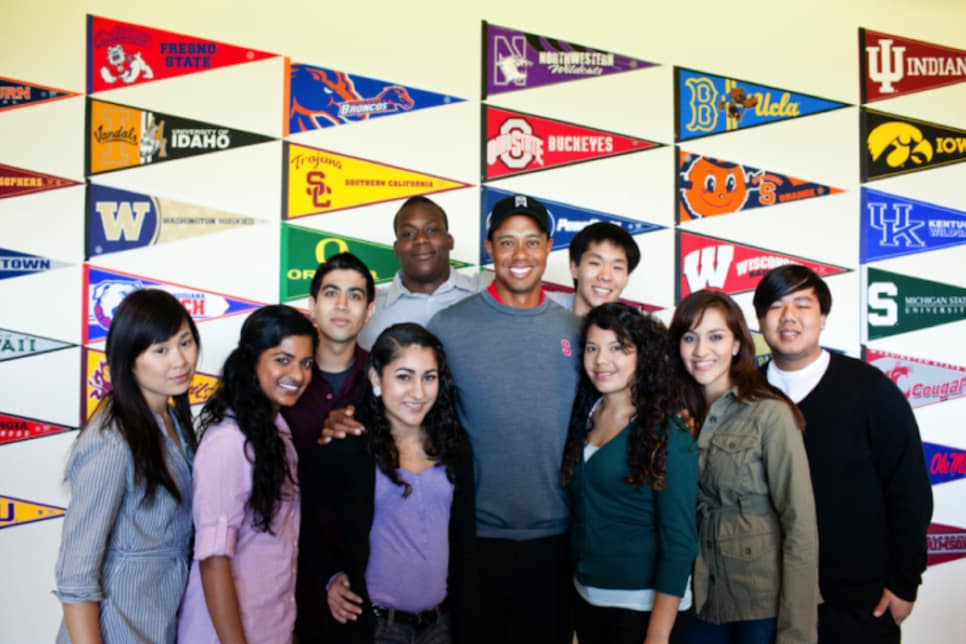 When Woods gathered his team later that year, the message was clear: His foundation was going to pivot from golf to more educational-based aspirations. He also made it known that, while he had been engaged in the charity for the past five years, his involvement would be ratcheted up.
"Everyone was pleased [with how the foundation was doing], but I don't think Tiger felt full ownership," says Dr. Kathy Bihr, vice president of programs and education at the TGR Foundation. "He took the reins of this, full control."
Tiger had already voiced his vision for a brick-and-mortar facility in Anaheim. Now he had to discover how to equip it. Woods wanted to get children thinking about their lives after high school, to seek what they were going to do. He personally talked to kids and parents in the region, as well as those in the education space, to bring that concept to fruition. To prepare them for that challenge, he decided the foundation would hone in on a STEM—science, technology, engineering, mathematics—curriculum. Better yet, he realized this shift would take the foundation's onus off him, giving it the chance to grow.
"At a fairly young age, he recognized that, prior to 9/11, [the foundation] was dependent on him," says Rick Singer, president and CEO of TGR Foundation. "And that, in many ways, encumbered what this could be. He wanted the foundation to last well after he was gone, and to do that, the way we do things needed to change.
"He and his father had been very impactful through golf, but he felt he could make such a bigger impact by directly focusing on the needs of children in at-risk neighborhoods."
The 35,000-square-foot Tiger Woods Learning Center, known today as the TGR Learning Lab, opened in 2006 as a safe haven for such kids, with programs also created to assist educators. "Tiger figured by reaching teachers, we can reach more kids," Bihr says.
In the past decade, the foundation has opened six additional learning centers, all stationed in low-income areas. More than 165,000 children have been served through the foundation's educational-based ventures, with more than $150 million in donations facilitating the programs. Close to 200 kids have earned scholarships through these spaces, and a new Discovery-based online portal has reached a half million kids in the past year.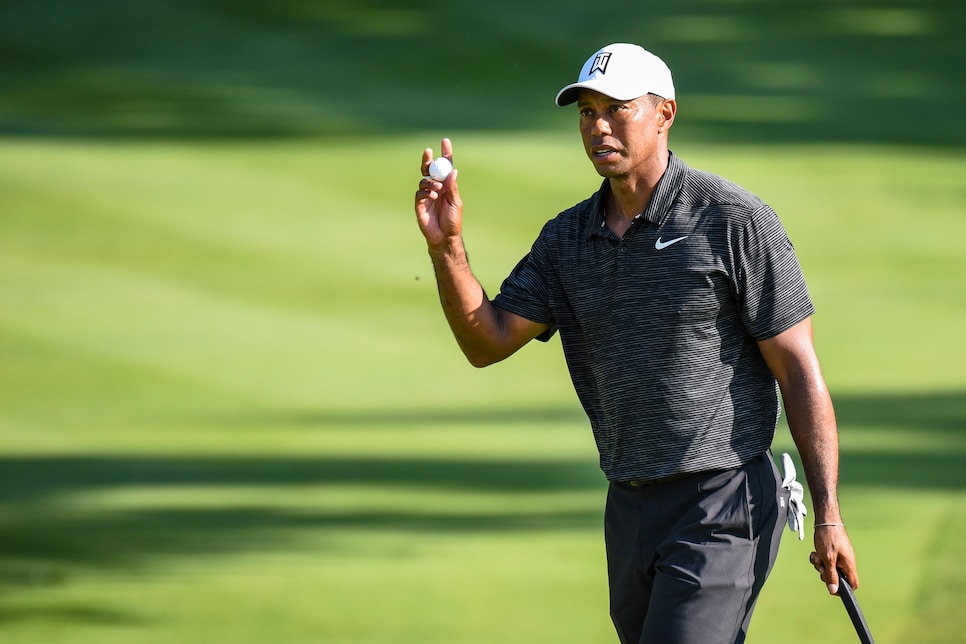 True to his word, Woods has been hands-on with the project. He sits on the board and asserts his own ideas and designs, but is also logical and pragmatic, supportive of others' input. He personally tutors those in the program, serving as a mentor for those on TGR scholarships at his alma mater, Stanford. "I've worked with a lot of charities, and no one is as immersed as him," Singer says of Woods. Adds Bihr: "It's not vanity. He's generally interested in improving their lives."
"Golf's a platform. Golf is what I do," Woods told Golf Digest through his representation. "It's definitely not who I am. I don't get the satisfaction that I get from building this and helping kids and putting a smile on their face and giving them hope."
This week Woods returns to Bellerive for the first time since 2001. A lot has changed, both professionally and personally, since his last visit. Nevertheless, he remains golf's most popular figure, and his quest for major victory No. 15, his first in a decade, will be among the storylines at the 100th edition of PGA Championship.
But, while he strives to regain his dominance inside the ropes, Woods is no longer questioning his impact outside them.