The Loop
Tiger Woods' eye-opening quote, Henrik Stenson's bizarre injury, and a "big" bet on Patrick Cantlay pays off
Welcome to another edition of The Grind, where we were particularly upset to learn about Henrik Stenson's season-ending rib injury. Sure, we like the Swede as much as anyone, but we're more worried about the fate of those wacky WGC-HSBC photo shoots after Stenson strongly hinted he was hurt during this year's event. Who knew that suspending PGA Tour stars on wires high above a building could be dangerous?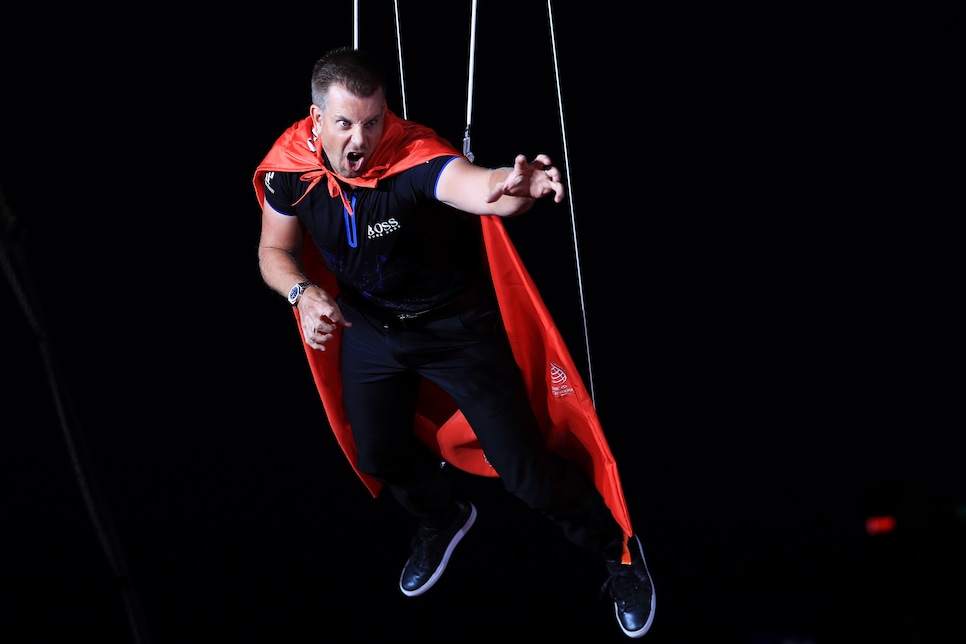 Anyway, if this is the end of this kooky tradition, it was a great run. And on the bright side, Henrik, you got to showcase your acting ability. If there are any superhero films in the works—or any movies involving capes in general—don't be surprised if producers start calling. But while Stenson starts his off-season a bit earlier than planned, we continue to roll on. Here's what has us talking this week.
Patrick Cantlay: What a talent. What a story. Cantlay was as can't-miss a prospect as they come until his back began betraying him at 21. He also had to overcome witnessing the death of his best friend and caddie in a hit-and-run. But during the 2016-'17 season, his first "full" one on the PGA Tour (we say "full" because he still was limited to just 13 events), he made it all the way the Tour Championship. And now in his second season, he has his sights set much higher after winning the Shriners Hospitals for Children Open.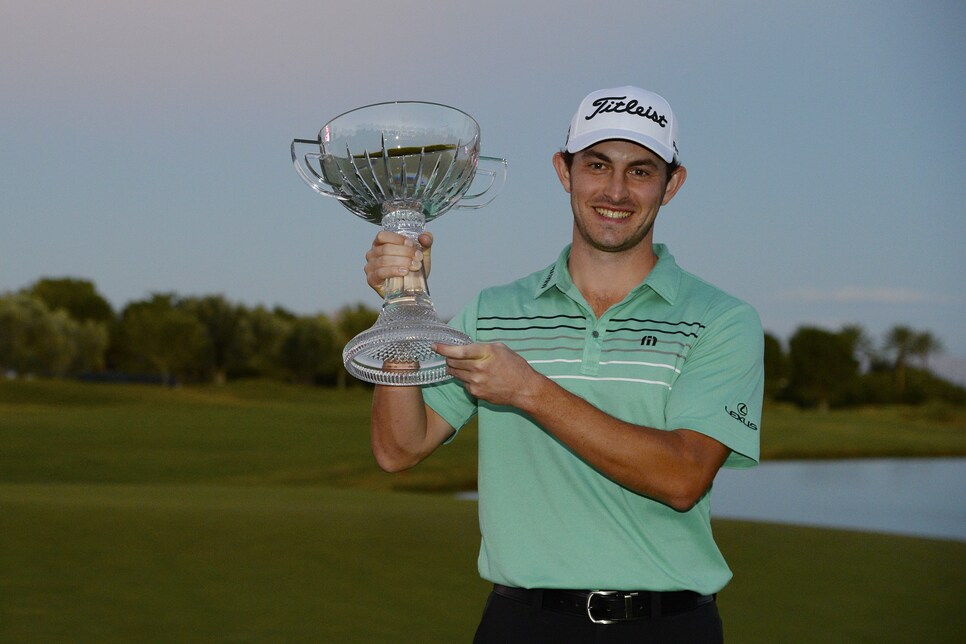 I was especially pleased by this development since I put down a "big" bet on Cantlay at 18/1 when I was in Vegas last week for the Major Series of Putting. This means I pulled off the rarest of feats: A profitable trip to Sin City.
As you can see, I didn't quite earn as much as Cantlay, but I'll take it. Thanks, Patrick.
Justin Rose: With a second consecutive win, Rose has turned the European Tour's Race to Dubai into an actual race. In addition to closing the gap on leader Tommy Fleetwood, the Turkish Airlines victory also gave Rose a 10th career win on the Euro circuit. Of course, none of those things seem quite as exciting every time he sees Sergio Garcia post another photo with the green jacket.
Chesson Hadley: What an incredible few months for the former PGA Tour Rookie of the Year. In May, he was making biscuits at Bojangles! (not really), and now he's one of the hottest players on the planet. After regaining his PGA Tour card by finishing ninth on the Web.com Tour's money list, Hadley has started the 2017-'18 season with three consecutive top fives to earn more than $1 million. That's a lot of Bojangles biscuits.
Doc Rivers: The Clippers head coach revealed that during his time in Boston he once tried to get thrown out of a game so he could watch the Masters because Celtics GM Danny Ainge told him Tiger Woods was "making a run." Doc Rivers. Good basketball coach. GREAT golf fan. Here's how he tells it:
Here's hoping Doc finds himself in a similar situation next April.
Donald Trump's 68: Look, it's possible the president shot 68 (he's a 2.5 handicap, after all), especially on a course with a 66.1 rating and a 118 slope, and especially if he really shot 73 in that fabled round with Senator Lindsey Graham in the rain and wind in October. But you can't play as much as Trump does and have the 68 be the only score you post during the year. That would be like being a presidential candidate and not releasing your—never mind…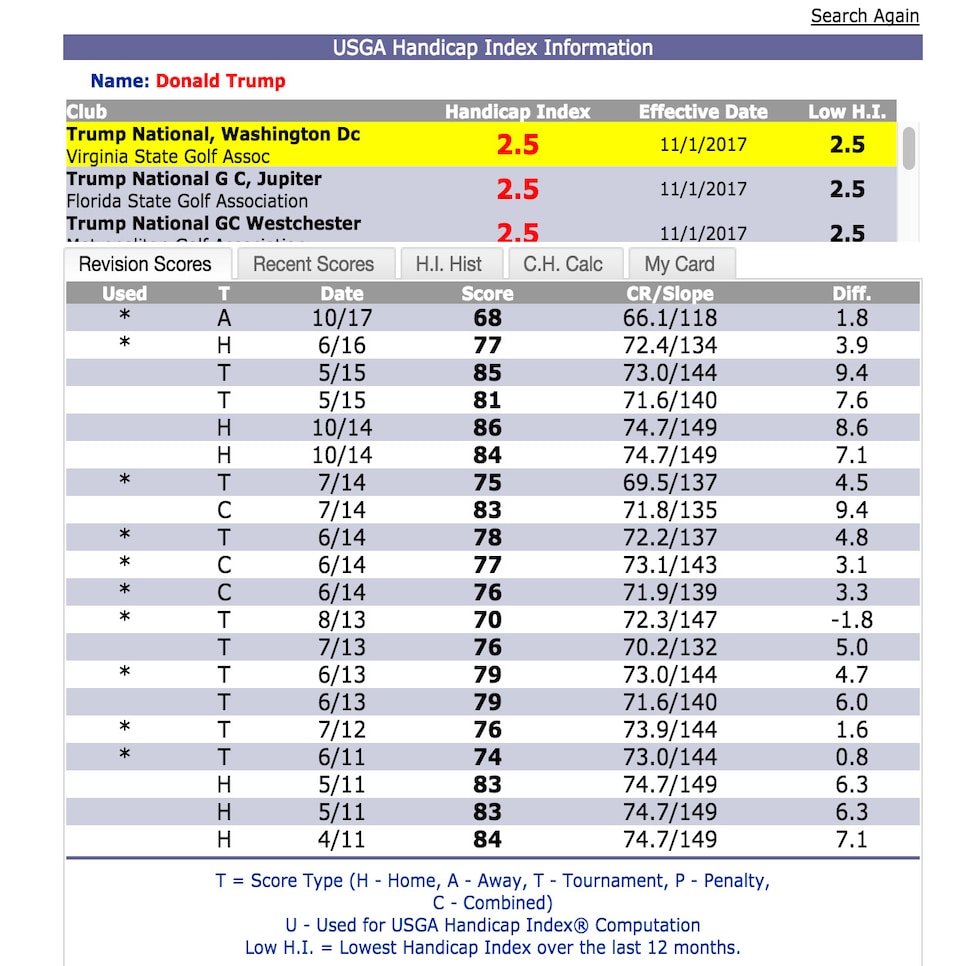 Also, POTUS must be really putting his ball if he's going that low with this swing. Watch and listen to SB Nation's Kyle Robbins break it down roast it Peter Kostis-Konika Minolta-Bizhub-Swing-Vision style:
Actually, I wish I could get through the ball like that. But anyway, well done, Kyle.
A.J. McInerney's choice: Or rather, that he has to make one. Overshadowed by Cantlay's win was this heroic Vegas shooting survivor finishing T-10 after getting a chance for a first PGA Tour start thanks to a sponsor's invite. With the top 10 comes a valuable spot in the next tournament (this week's OHL Classic), but McInerney will play in the second stage of Q School instead. It's a smart choice for his career, but it doesn't seem fair that he couldn't defer the extra start until a different date.
This Jeopardy! Golf question:
We loved seeing an entire "GOLF" category on the game show, but what is up with that question/answer? How macabre of you, Trebek!
The PGA Tour heads to Mexico for the OHL Classic at Mayakoba, aka that tournament that features a giant bunker that's approximately the size of Rhode Island.
Random tournament fact: You do NOT want to hit your ball into that bunker.
RANDOM PROP BETS OF THE WEEK
-- Donald Trump could shoot 68 at Trump Ferry Point: 1 MILLION-to-1 odds (That course is tough!)
-- Patrick Cantlay will win: 18-to-1 odds (Whoops, that was last week. Did I mention I bet on him?)
-- Henrik Stenson will not be involved in another HSBC photo shoot: LOCK
The Ryder Cup took a trip to Vegas:
Love the water show at the Bellagio while Sinatra's "Luck Be A Lady" blares in the background. Almost makes me want to catch the next flight back to Vegas. Actually, I do have to cash that winning Patrick Cantlay ticket …
Here's Terry Pilkadaris launching his putter into the woods after missing a short birdie attempt at the Asian Tour's Panasonic Open:
We don't know much about Terry, but we know he got fantastic distance and velocity on that toss.
THIS WEEK IN CELEBRITIES PLAYING GOLF
Motivational speaker Tony Robbins hits golf balls into the ocean from his luxurious house in Fiji, but not just any golf balls. These golf balls dissolve into fish food. Obviously.
"I can't believe how far I'm hitting the golf ball." —Tiger Woods. Oh boy. I've been trying to stay calm, but "I can't believe how far I'm hitting the golf ball"?! Really? This sounds promising … OK, I can't hold it in anymore: HE'S BACK!!!
THIS WEEK IN DUSTIN JOHNSON-PAULINA GRETZKY PUBLIC DISPLAYS OF AFFECTION
It looks like these two recovered quickly from DJ blowing that six-shot lead in Shanghai.
In addition to his eye-opening quote about how far he's hitting it, Tiger Woods told Geno Auriemma that the golf ball needs to be rolled back. By the way, congrats to Geno for being the first to get Tiger to do a podcast. That might be more impressive than his 11 NCAA titles at UConn. … Texas A&M standout Cameron Champ is turning pro. Besides having an all-time great name, Champ is the guy from the U.S. Open who already swings faster than all the pros. … Sung Hyun Park, 24, is the first LPGA rookie to reach No. 1 in the Rolex World Ranking. Congrats to her, but with 10 previous wins on the Korean LPGA Tour, this is kind of like when Ichiro was a "rookie" for the Seattle Mariners. … Charley Hoffman donated $100,000 to Las Vegas victims' funds after earning $98,600 for finishing T-18 at the Shriners Open. Good stuff. … Not as good? The Boomers edged the Millennials in Golf Digest's annual Seitz Cup: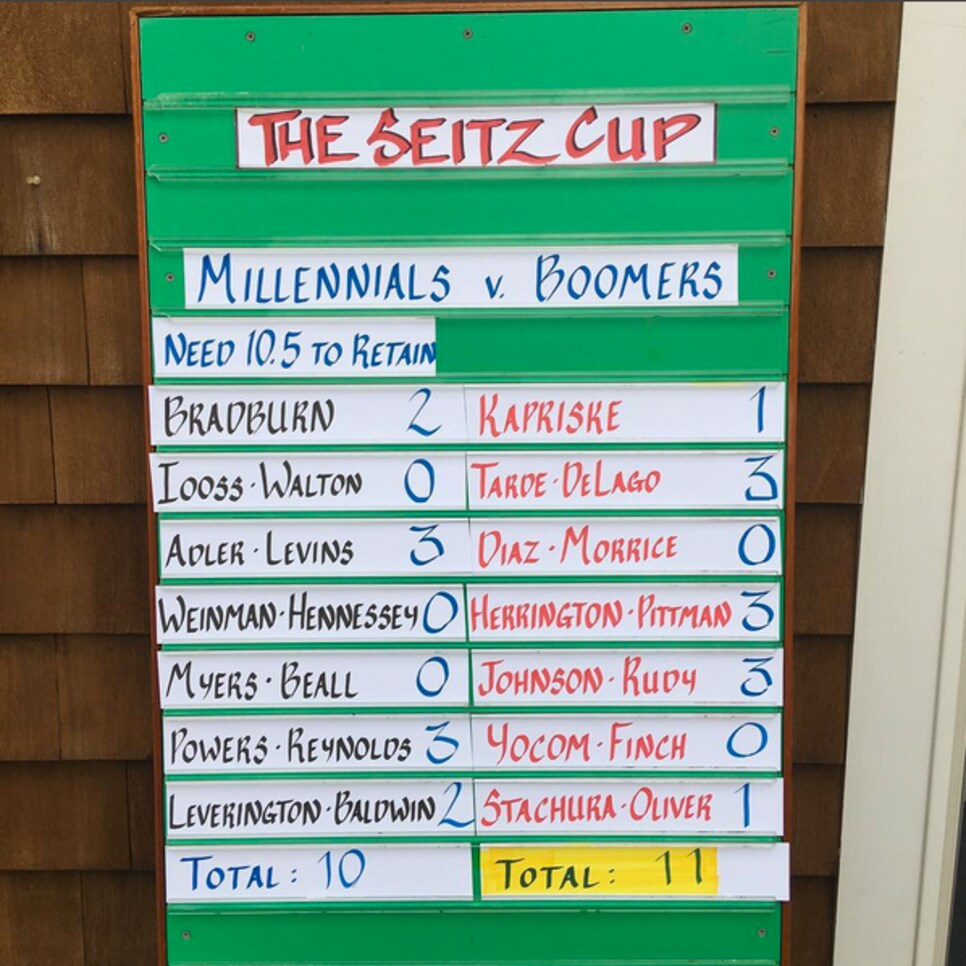 Yes, that's a big goose egg by my name. It's going to be a long off-season.
RANDOM QUESTIONS TO PONDER
How many wins will Patrick Cantlay end up with?
How long can I keep my spot on Team Millennial?
How far is Tiger hitting it these days?!