News
Tiger Woods avoids penalty for double-hitting a shot, but not controversy on Day 2 at Hero World Challenge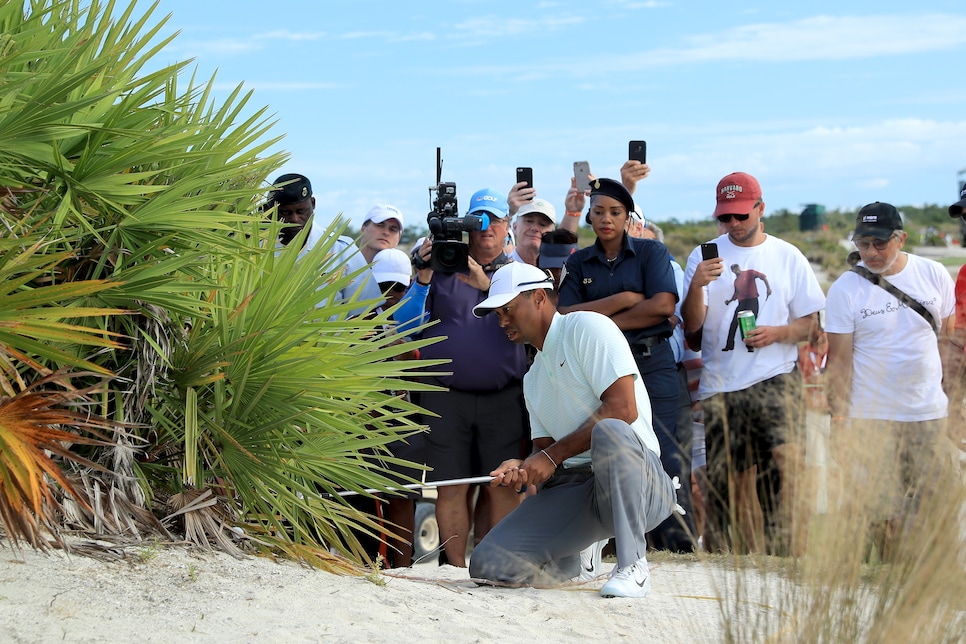 The Hero World Challenge finds itself right in the heart of the PGA Tour's silly season, but things got pretty serious with the event's host on Friday afternoon. Tiger Woods wound up avoiding a penalty despite admitting he accidentally double-hit a shot during a wild closing hole. Confused? So were we.
Woods was cruising at five under through 17 holes until he got to the 18th tee and flared a tee shot into a native area. Woods found his golf ball and from his knees swatted it back into the rough. Here's a look at the shot:
He missed the green with his third, failed to get up and down and walked off the hole with a double bogey to shoot a second-round 69. But the matter was far from over.
When Woods went to sign his card, he reviewed that awkward recovery shot, specifically to see if he made an illegal strike of the ball or double-hit it. This question involved two rules.
Rule 14-1 states, "The ball must be fairly struck at with the head of the club and must not be pushed, scraped or spooned." The penalty for that is two strokes in stroke play (and loss of hole in match play). Then there's Rule 14-4, which says, "If a player's club strikes the ball more than once in the course of a stroke, the player must count the stroke and add a penalty stroke, making two strokes in all."
Interestingly, one of the new rules that will go into effect on Jan. 1 is the elimination of the double-hit penalty, most famously incurred by T.C. Chen at the 1985 U.S. Open.
But after a lengthy discussion, a smiling Woods emerged from the scorer's tent and reported he hadn't been assessed either penalty.
"First of all, I didn't feel like I violated any rules. I felt like I was trying to play a shot. But the rules committee pulled me aside and said 'Hey, there may be a violation there' so we took a look at it," Woods told Golf Channel's Steve Sands. "I didn't feel like I hit it twice, it happened so fast and it was such a short motion, but under high def and super slow-mo, you can see it. I made contact twice, but there was no, they'll explain it to you. There is no violation, I guess, so I shot what I shot today."

Of course, not everyone agreed with the ruling — or Woods not calling a penalty on himself.
Golf Digest Rules Editor Ron Kaspriske expressed surprise at the Woods ruling. "Anyone who plays golf as much as Tiger would notice the difference between a clean hit and a double hit or a push," Kaspriske said. "I'm surprised he didn't call a penalty on himself, as it would be obvious to a skilled player what the difference is."
Woods is currently two under through two rounds and tied for 15th in the 18-man tournament. The 14-time major champ is eight shots behind leaders Jon Rahm and Henrik Stenson heading into the weekend, but again, it could have been worse.