News
Tiger Woods and Phil Mickelson announce price, other details for "The Match" at Shadow Creek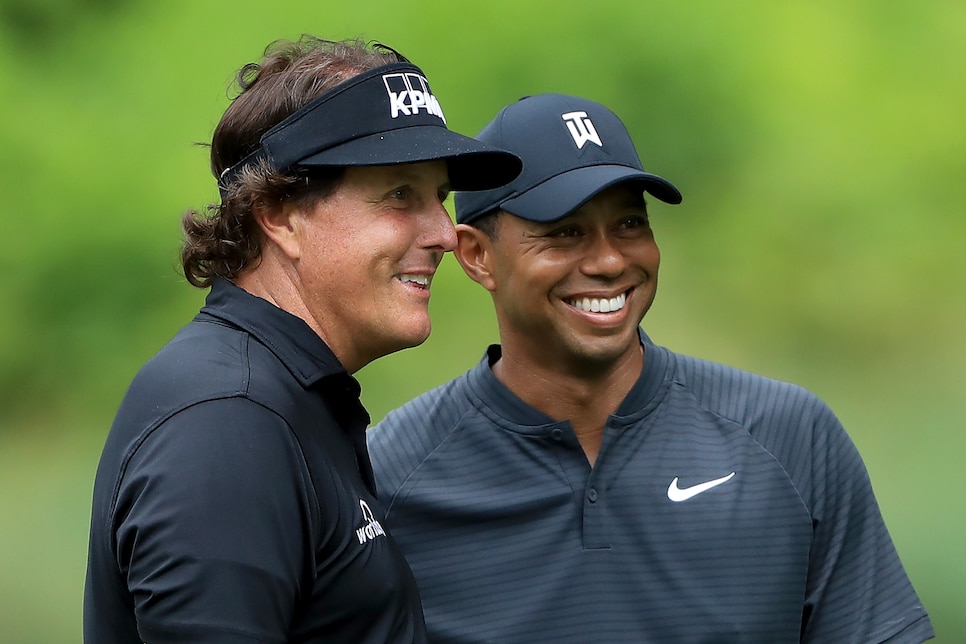 (Photo by Sam Greenwood/Getty Images)
Details about Tiger Woods and Phil Mickelson's Friday-after-Thanksgiving, $9 million match at Shadow Creek have been released slowly but surely. On Thursday, we continued to get more info—as we have finally found out the official pay-per-view price ($19.99), and what time the event will start (3 p.m. eastern).
In addition, a Turner Sports press release announced Capital One will be the title sponsor of the match, which is officially called "Capital One's The Match: Tiger vs. Phil." Fans will be able to purchase the match on Turner Sports' Bleacher Report Live, its live-sports streaming service, in addition to AT&T's DirecTV and AT&T's U-verse. According to a press release, HBO Sports will also capture content leading up to the match for its 24/7 reality franchise. It's unclear when that show would be available to watch.
We now know for sure there will not be any tickets sold to the public for the match at ultra-private Shadow Creek, the $47-million manufactured oasis of a golf course built by Tom Fazio in 1990, which is currently No. 26 on Golf Digest's America's 100 Greatest Courses, but has ranked as high as eighth (1993-1994). From an earlier report, we learned that "a small gathering of sponsors and VIPs will be given access" to the course. This is decidedly and purposely a made-for-TV event.
The press release also confirmed that Phil and Tiger will be making side wagers during the match, in addition to playing for the $9 million prize. As if $9 million wasn't enough to play for, right? It's unclear if side money would be out of Phil's and Tiger's pockets, which many have called for to be apart of this match. The release says money won would likely be donated to a charity of either player's choosing.
And according to the release, Capital One cardholders might receive a one-time discount for 25-percent-off the B/R Live service.