LAWSUIT AGAINST WOODS
Tiger Woods accused of sexual harassment by ex-girlfriend Erica Herman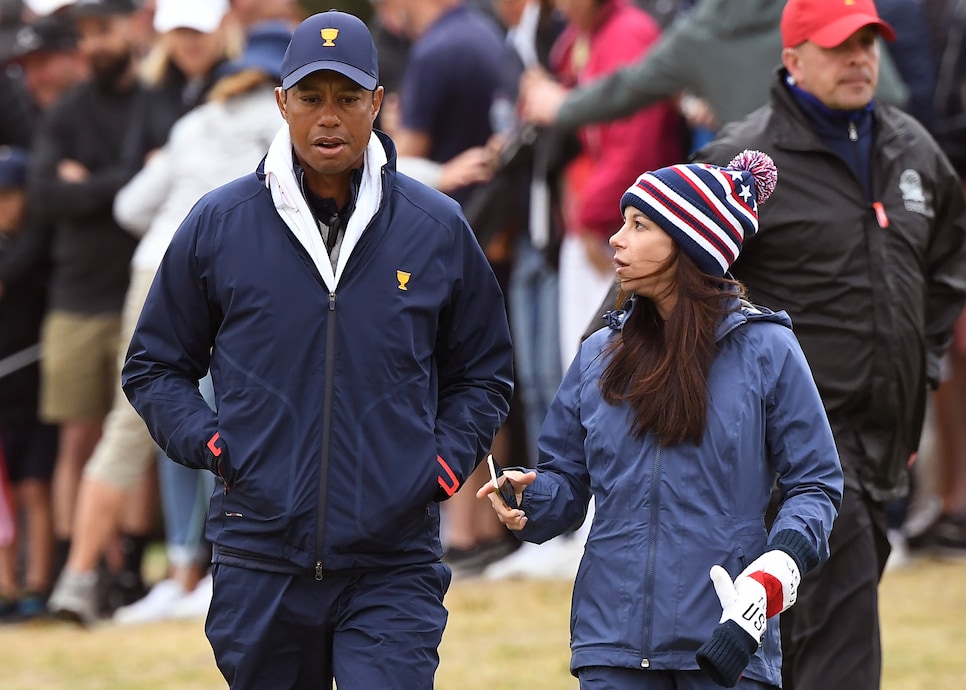 Tiger Woods and Erica Herman together at the 2019 Presidents Cup at Royal Melbourne in Australia.
WILLIAM WEST
Erica Herman, Tiger Woods' ex-girlfriend, has accused the 15-time major champion of sexual harassment, saying that Woods pursued a sexual relationship with her while she worked for him then forced her to sign a non-disclosure agreement or she would be fired, according to a court document filed by Herman's attorney Friday in Florida.
Woods dated Herman for more than five years and lived with him in South Florida. She was an employee for him at The Woods Jupiter, his South Florida restaurant.
"Mr. Woods was Ms. Herman's boss," wrote Benjamin Hobas, Herman's attorney. "On Mr. Woods's own portrayal of events, he imposed an NDA on her as a condition to keep her job when she began having a sexual relationship with him. A boss imposing different work conditions on his employee because of their sexual relationship is sexual harassment."
That lawsuit by Herman, 38, alleged that she had an oral tenancy agreement to stay at Woods' residence for another five years. She said that she was locked out of the home, that it was in violation of the agreement and claimed more than $30 million in damages.
"Tiger Woods, the internationally renowned athlete and one of the most powerful figures in global sports, decided to pursue a sexual relationship with his employee, then – according to him – forced her to sign an NDA about it or else be fired from her job," the Friday court documents read. "And, when he became disgruntled with their sexual relationship, he tricked her into leaving her home, locked her out, took her cash, pets, and personal possessions, and tried to strong-arm her into signing a different NDA."
The Friday filings go into more detail in what it calls a "scheme" in which Herman was asked to pack for a weekend getaway to the Bahamas, where she and Woods often traveled. She was allegedly driven to the airport and then asked to speak with Woods' attorney.
"Then, Mr. Woods's California lawyer, out of the blue, told her that she was not going anywhere, would never see Mr. Woods again, had been locked out of the house, and could not return. She would not even be able to see the children or her pets again," the court filing reads. She was then asked to sign an NDA, which the filing says she refused to sign.
In the original case, Herman did not make specific claims about sexual harassment against Woods, but in a suit filed against Woods on March 6, a form associated with the documents asked, "does this case involve allegations of sexual abuse?" Herman's attorney only answered, "yes."
Woods is currently recovering from subtalar fusion surgery on his ankle that was performed on April 19 and there is no timetable for his return to competitive action. He shot 74-73 at the Masters to make the cut but withdrew prior to the third round.