Tiger Woods
Tiger Woods' ex-girlfriend sues Woods, alleges sexual harassment law nullifies NDA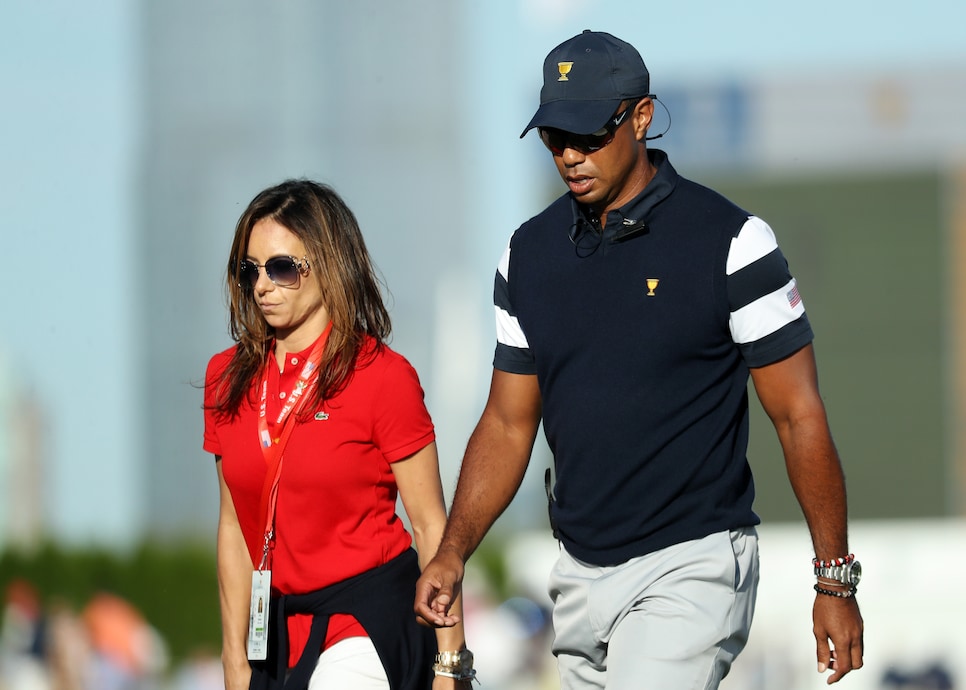 Tiger Woods walks with Erica Herman during the 2017 Presidents Cup.
Rob Carr
Tiger Woods' ex-girlfriend has filed a lawsuit against Woods, alleging a nondisclosure agreement she signed should be declared unenforceable under the federal Speak Out Act.
In a complaint filed in the 19th Circuit Court in Martin County, Fla., Erica Herman acknowledged that a trust controlled by Woods is trying, through litigation, to enforce an NDA she signed on August 9, 2017. For her part, Herman believes the NDA is invalid, and cites "various legal claims she believes she has."
Herman does not specifically state what legal claims she may have against Woods. However, Herman asserts the NDA is "unenforceable as to the Plaintiffs claim in this case and that any determination of its applicability in this case must be decided by the Court, not by an arbitrator, under the federal Ending Forced Arbitration Of Sexual Assault And Sexual Harassment Act Of 2021." Herman also claims the NDA "is not judicially enforceable in this case under the federal Speak Out Act."
The Speak Out Act, which prevents the enforcement of non-disclosure agreements in instances of sexual assault and harassment, was signed into law in December 2022. It is part of a wave of legislation spurring from the #MeToo movement, with the law citing NDAs were found to perpetuate illegal conduct.
"These two alleged grounds are important because they both apply only to claims of sexual assault and sexual harassment," said Tom Allen, an attorney based in Middletown, Ohio, who practices in government services, litigation and labor and employment areas. "That means, in turn, that the type of claims she is bringing in the other unspecified litigation [or in future litigation] are these types of claims. In addition, the Ending Forced Arbitration Of Sexual Assault And Sexual Harassment Act Of 2021 specifically notes that courts, and not arbitrators, are to decide whether the arbitration agreement is enforceable. This gives her a basis to file this lawsuit, instead of having the arbitrator decide the matter, as is typical in most arbitration cases."
According to Allen, the complaint doesn't necessarily mean Woods is being accused of sexual harassment or assault. "The underlying claims she wants to eventually bring, or has already brought, could range from very newsworthy—a claim or claims against Tiger—but they could be a claim or claims that she suffered sexual harassment or sexual assault by a coworker or supervisor—not Tiger, and therefore not as newsworthy," Allen says. "In either case, it is still a very serious allegation, simply because some of her claims, by definition, must be either sexual assault or sexual harassment."
Herman was the general manager at Woods' restaurant, The Woods Jupiter, and was first publicly seen with Woods at the 2017 Presidents Cup. Though Woods kept most of the details of his relationship private, Herman often accompanied Woods' children when Woods played in tournaments, and according to court documents, Herman lived with Woods. Court filings last fall—in which Herman is seeking $30 million in damages—stated Woods and Herman broke up in early October.
Woods did not respond to a request made to his agent for comment.