News
Tiger vs. Phil 'news' conference was short on news, long on hype and friendly banter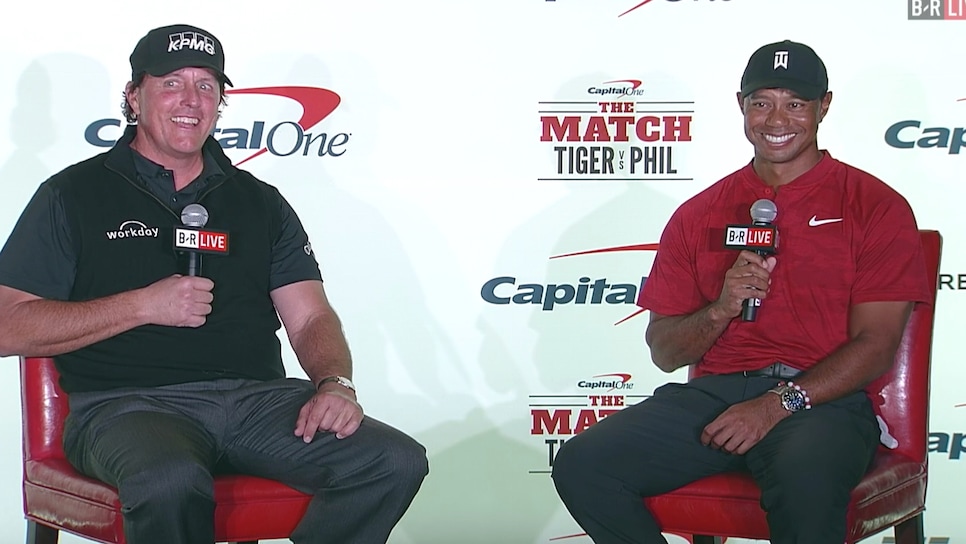 It's all fun and games until someone wins the $9 million.
Phil Mickelson and Tiger Woods kept their trash talk to a minimum and put their bestest-buddy routine on display Tuesday afternoon at Shadow Creek in a joint news conference ahead of Friday's already grossly hyped $9 million winner-take-all match in Las Vegas.
"Capital One's The Match: Tiger vs. Phil" will air live via pay per view starting at 2 p.m. EST with a one-hour pregame show. The event is being distributed worldwide by WarnerMedia's Turner on various platforms.
"That was my first loss," Mickelson noted when it was brought up that Tiger got top billing for the event. Each man noted it's a unique, first-of-its-kind foray for golf, mostly because of the high stakes and the commercial-free pay-per-view experience that might give viewers insight into the two players in a way never before presented. Mickelson likened the affair to a match not unlike his usual Tuesday games at PGA Tour events, just with higher stakes.
Very little news emerged from the affair, which was shown live on WarnerMedia's B/R Live, though the two guaranteed that the opening hole should not be missed. When the subject of their side bets was broached – in which they risk their own money for charity – Mickelson layed out $100,000 that he could make birdie on the par-4 first hole. Woods responded by telling the left-hander to double the bet. What ensued was easily the most entertaining moment of the 45-minute chat.
"Did you see how I baited him like that," Mickelson crowed. "So, $200,000 I make birdie on the first hole."
"Just water down the left. He likes to lose his golf ball to the left. A little flare out that he hits," Woods chided.
"Here's what you're missing," Mickelson replied. "I'm going to hit a 2-iron in the fairway, and I am a great short-iron player. In fact, one of the best."
"Yeah," Woods countered, "but if he hits that 2-iron a little hot, which he sometimes does, it's a little right and hot and it'll be up against that tree, he'll be blocked out, so he can't spin the ball … yeah."
From the golf standpoint, Woods said Shadow Creek will be set up to allow for scoring and estimated that the winner will likely have to shoot eight or nine under par, depending on the conditions. They will not play the course to its full length.
Interestingly, there was a question about whether or not the match truly is winner take all. "That's the way it was set up," Woods assured.
Mickelson, who approached the news conference a little more playfully, said, "If I win I may give him a few thousand." But, he added, "The bragging rights are going to be worse than the money. It's my chance after losing so many majors to you and so many tournament to get a little something back. ... Every time I see you I'm going to want to rub it in."
When Mickelson added that he's had his moments in the past against Woods and wanted to dwell on those, Woods went big picture with a devastating reply. "Yeah, I hear you. U.S. Opens."
At the end of their news conference, the two men agreed to stand hat bill to hat bill as an homage to all the nose-to-nose boxing photos taken in Las Vegas. They had trouble keeping straight faces, though Tiger, naturally, was better able to put on his game face, something he has been doing for 20-plus years.
"It's fun and games right now, but on Friday it's going to be pretty intense," Mickelson promised. "There will be banter, but the intensity is going to be up a notch."
Apparently, from that very first hole. But we shall see.