The Loop
Tiger and Phil's "big bet," a PGA Tour WAG throws shade, and Brooks Koepka keeps enjoying life as U.S. Open champ
Welcome to another edition of The Grind, where we truly sympathize with Kevin Na. Up to a point. You see, it also took me eight long years to get my first win on my annual golf trip, and overall, I have a Na-like record of nine (or so — I stopped keeping track) runner-ups to go with just a handful of victories. There's just one big, BIG difference between us. Kevin Na has made $27 MILLION in on-course earnings despite just two titles while I've lost money when you factor in the three champions dinners I've had to foot the bill for. Even if they're usually at Chili's. Anyway, let's talk about Na and everything else happening during a busy week in golf.
Kevin Na: No matter how much prize money you earn, nothing takes the place of winning and we saw that with an emotional Na after his five-shot romp at the Greenbrier. At first, I just thought Na was choked up over getting a congratulatory text from Tiger Woods (I know that I would be), but then he turned to the camera and delivered this heartfelt message in Korean:
Great stuff, Kevin. We hope you don't have to wait another seven years for win No. 3.
Yeah, kinda like that. Kim shot 31 under! For 72 holes! In the process she broke Annika Sorenstam's LPGA 72-hole mark, which Kim had previously tied, by four shots. After, she credited some YouTube videos for helping her with her mental game. And, hang on, as someone who admits to having the driver yips, I'm about to go down a YouTube rabbit hole now. . .
Tiger vs. Phil: The day news broke of a potential $10 million match between these two legends, I had three non-golf-fan friends ask me about it. So regardless of how much skin they actually have in this, it's a big deal. So I don't care if they're past their prime, I don't care if they're too friendly, I don't care where they play (although Las Vegas' Shadow Creek sounds perfect), and I don't even care if this is one big money grab. I'll be watching. And you're lying to yourself if you say you won't be as well.
Russell Knox's putting ability: Winning the Irish Open is impressive in itself, but the way Knox delivered on the 18th green twice was magical. Needing to make nearly identical 40-footers to force a playoff and then win, Knox delivered both times.
Between Na and Knox, the list of potential Ryder Cup names just keeps growing. . .
Russell Knox's throwing ability:
Wow. As our Chris Powers noted, that's 50 Cent-level bad. What's crazy is Knox gave us a great hat toss after winning the 2015 Travelers Championship.
I'm guessing his arm hasn't deteriorated that much in three years so I'll chock the apple toss up as a fluke. That being said, if he's ever asked to throw out a first pitch, I'm not betting on him tossing a strike.
John Peterson's PGA Tour fate: Six tenths of a point, actually a mere .58. That's how close Peterson came to keeping his PGA Tour card for the rest of the season thanks to a T-13 at the Greenbrier. Instead, at 29 this former NCAA champ is retiring from pro golf to enter the world of real estate. That's a tough way to go out.
Phil's rules issues: This guy really is golf's content king. On a week where he didn't sniff contention, Phil still provided two of the PGA Tour's biggest stories, first by revealing the big money match grab with Tiger and then with a boneheaded penalty for tapping down fescue in front of a tee box during the final round. People were quick to praise Phil for calling this penalty on himself, but at least one writer -- and one prominent PGA Tour WAG (Check who "liked" this tweet) -- disagreed. . .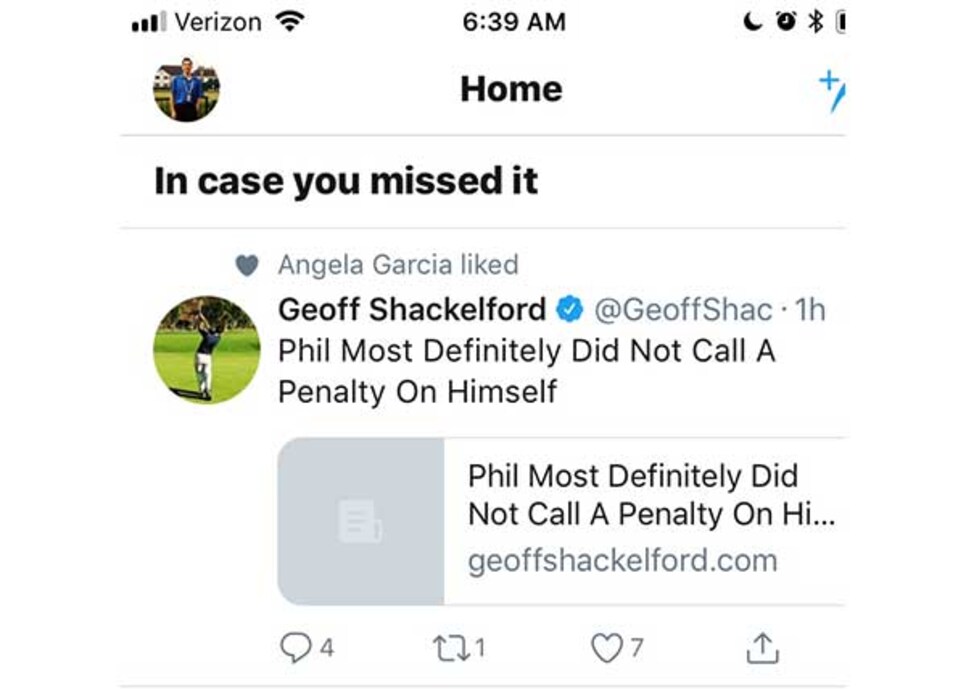 Looks like there's still no love lost between Phil and Sergio Garcia! Back to Mickelson, for someone who seems so sharp about golf, Mickelson's grasp on the rules doesn't seem great considering he's drawn two bizarre penalties in consecutive starts. Then again, is it possible Mickelson did this to draw even more attention for that potential made-for-TV match? Phil, you sly dog, you.
The PGA Tour heads to Illinois for the John Deere Classic, AKA that event that has those cool tractor tee markers and where either Steve Stricker or Zach Johnson flirts with shooting 59 on a daily basis.
Random tournament fact: Bryson DeChambeau is the defending champ, and he will be without the use of his drawing compass after the USGA outlawed it. Considering the in-depth green charts these guys all use, it seems like a ridiculous ruling, but we're guessing Bryson will manage.
RANDOM PROP BETS OF THE WEEK
— John Peterson is retired from pro golf for good: 1 million-to-1 odds
— Someone will shoot 31 under at the John Deere Classic: Even odds
— Bryson DeChambeau has already cooked up something else the USGA will wind up looking into: LOCK
Less than 12 hours after earning a quarter of a million dollars, Harold Varner mowed his parents' lawn:
These guys are good (sons).
Danny Lee had a bad day on the greens, missed the cut, and promptly handed his putter to a young fan.
Talk about being in the right place at the right time.
VIRAL VIDEO OF THE WEEK (TRICK SHOT DIVISION)
Amazing. This guy has done a lot of crazy stuff, but this might be the craziest. And whoever let him do this is nuts as well.
VIRAL VIDEO OF THE WEEK (PHIL BEING PHIL DIVISION)
How about this impromptu chipping lesson Phil Mickelson gave Larry Fitzgerald and some dude named Dennis during the Greenbrier Pro-Am?
So good. And we know the other guy's name is Dennis because before Lefty launched into his lesson, he said, "If you've got a second, you're going to want to hear this Dennis." Classic.
THIS WEEK IN DUSTIN JOHNSON-PAULINA GRETZKY BROOKS KOEPKA-JENA SIMS PUBLIC DISPLAYS OF AFFECTION
How's life as the two-time defending U.S. Open champ, Brooks?
"It's a ridiculous amount of money. No matter how much money you have, this amount will take both of us out of our comfort zone." — Phil Mickelson. Let's do this!
THIS WEEK IN CELEBRITY GOLFERS
Tony Romo won the Racine Tri-Course Amateur Championship by nine shots. Yes, that Tony Romo, and yes, by NINE shots. And in celebrity golf caddies, here's Jimmy Buffett looping at the inaugural U.S. Senior Women's Open for his niece:
"Some people say that there's a caaaaaaddie to blame. . . " Sorry, couldn't help it.
THIS WEEK IN TOUR PROS ARE JUST LIKE US!
Here's Beatriz Recari completely whiffing. On a tee shot.
Steven Bowditch took to Twitter to find a caddie for this week's John Deere Classic. It's a great opportunity, but the lucky looper needs to have realistic expectations considering the Aussie has missed 35 of his past 37 cuts. . . . The PGA Tour and LPGA announced a season-long Aon Risk Reward Challenge in which the winner gets $1 million. Sounds great, although I had to laugh because the title reminded me of George Costanza listening to that "Risk Management" audio book. . . . If you love golf and working outdoors, St. Andrews might have the perfect job opportunity for you:
A lot of people suddenly got interested in agronomy. . . . And finally, Michelle Wie stopped by our office for a putting contest: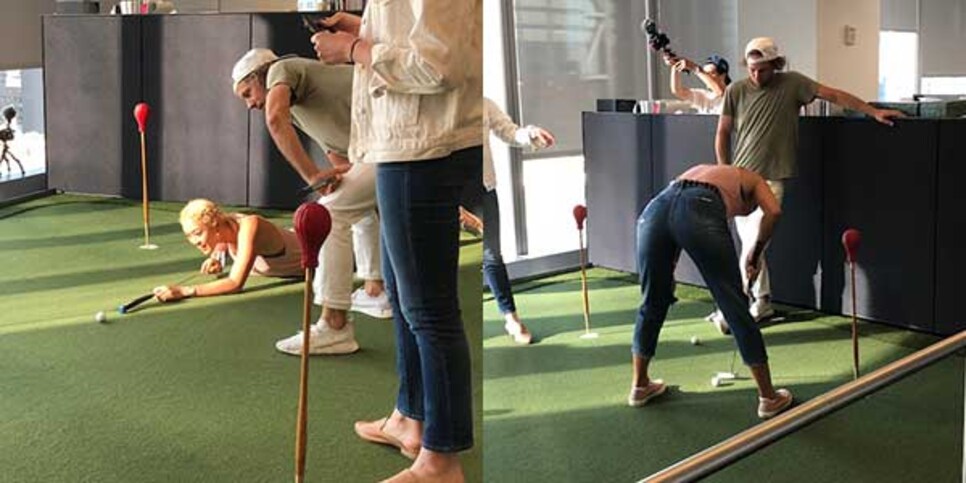 After ditching that unorthodox table-top putting stance, she's experimenting with some new methods. Kidding. I think. . .
RANDOM QUESTIONS TO PONDER
Will Tiger and Phil put up any of their own money in their match?
Will this match do better TV ratings than the U.S. Open?
Are either of these guys looking for a caddie that day?