The Loop
Thomas Pieters' crazy club snap, a tour pro's savvy tweet at Tiger Woods, and Sergio Garcia chooses soccer over golf
Welcome to another edition of The Grind, where we're happy professional golf isn't as predictable as professional basketball. The Golden State Warriors will play the Cleveland Cavaliers in the NBA Finals for a fourth consecutive year. Yawn. Imagine how boring it would be if Tiger Woods and Phil Mickelson were in Sunday's final group at the Masters four years in a row? Wait a minute, actually, that would be awesome. Never mind. Let's talk about something else. . .
Justin Rose: The Englishman skipped the European Tour's flagship event and stomped all over one of the PGA Tour's oldest stomping grounds instead. Rose fired rounds of 66-64-66-64 at Colonial to cruise to a four-shot victory and reaffirm his status as one of the favorites to win the U.S. Open.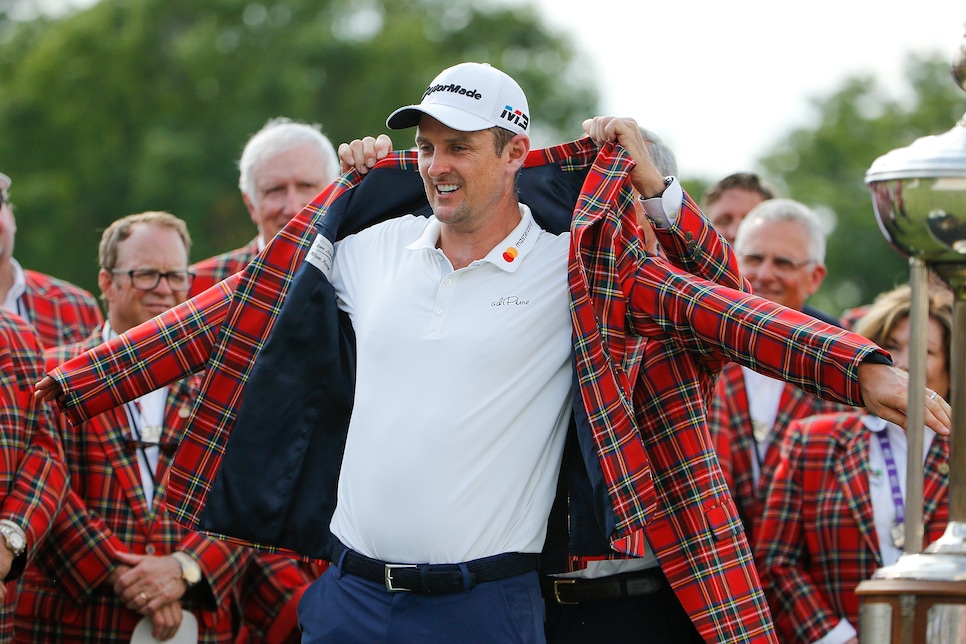 It's not quite the green jacket he nearly slipped on last year, but it's a pretty snazzy prize in its own right.
Francesco Molinari: Throw another name onto the list of potential European Ryder Cuppers. The Italian picked a good time to win for just the second time in six years, taking the European Tour's premier event, the BMW PGA. "It's on a course I love and where I have almost as good a record as I have here, so I'd love to be there," Molinari said of Le Golf National, where he's finished runner-up three times. I can see the "An Italian in Paris" headlines already.
Broc Everett: What a year it has been for college underdogs. After Baker Mayfield, a former walk-on won the Heisman Trophy and went No. 1 in the NFL Draft, this Augusta State golfer went from walk-on to winning an NCAA title. It was also the first college tournament win of the fifth-year senior's career. Talk about saving his best for last.
PGA Tour NBA tweets: The guys were bringing the heat during the conference finals. Here were some of my favorite observations:
Then Cook added a qualifier regarding LeBron and Tiger Woods:
For a PGA Tour rookie, that's a pretty savvy move.
Rory McIlroy: Another Sunday with a chance to win, another disappointing finish at the BMW PGA. McIlroy's "struggles" are usually a tad exaggerated, but the bottom line is, he should be winning more with that kind of talent — something our John Feinstein wrote about. He also hit three spectators during Saturday's round. Rough.
Darren Clarke cologne: This is a real thing:
I Googled it to make sure.
Bubba Watson's singing: The two-time Masters champ had quite a day at Wrigley Field, from helping out the grounds crew to throwing a decent first pitch. But when it came to leading the Cubs faithful for a rendition of "Take Me Out to the Ballgame" during the seventh inning stretch, let's just say he didn't display the same pop he possesses off the tee.
I expected more from one of the original members of the Golf Boys.
The PGA Tour heads to Muirfield Village CC, AKA JACK'S PLACE, for the Memorial Tournament. You probably remember this as the event that William McGirt beat Jon Curran in a playoff in 2016. Or not. . . But seriously, this is one of the biggest non-majors of the year, and all eyes will be on Tiger Woods once again. Although, unfortunately for Austin Cook, he didn't get that big pairing with Big Cat that he was hoping for.
Random tournament fact: The last three Memorial Tournament honorees are all major champs turned TV analysts: Johnny Miller, Nick Faldo and Greg Norman. Well, two of those guys are still TV analysts. . .
RANDOM PROP BETS OF THE WEEK
— Europe will beat the U.S. at the Ryder Cup: 1.2-to-1 odds
— The Cavs will beat the Warriors in the NBA Finals: 7.5-to-1 odds
— I will be salivating at milkshake pics from Muirfield all week: LOCK
Lee Westwood, Luke Donald, Graeme McDowell, and Paddy Harrington are all Ryder Cup vice captains?! I officially feel like an old man.
VIRAL VIDEO OF THE WEEK (WILDLIFE DIVISION)
Here's a bear and its cub taking a stroll:
Actually, they knew not to walk on the green. Pretty courteous for those with late afternoon tee times.
VIRAL VIDEO OF THE WEEK (WILD TOUR PRO DIVISION)
How is this even possible?!
Yep, Bo would be proud. And it makes more sense if Pieters practices on flagsticks.
VIRAL VIDEO OF THE WEEK ("TRICK-SHOT" DIVISION)
This is something else. . .
THIS WEEK IN DUSTIN JOHNSON-PAULINA GRETZKY SERGIO GARCIA-ANGELA AKINS PUBLIC DISPLAYS OF AFFECTION
Sergio skipped both the BMW PGA and Colonial, the site of his first PGA Tour win, to take Angela and Azalea to the Champions League Final in Kiev:
It was worth the trip as Garcia's Real Madrid squad topped Liverpool, 3-1.
THIS WEEK IN TIGER SIGHTINGS
Tiger Woods went to Shinnecock Hills to get some practice in ahead of next month's U.S. Open. That is not surprising. What is surprising, however, is that he's sharing anything — even just a photo — from that visit:
The "new" Tiger continues to impress.
"I took a tip from some PGA guys — when they're out there on the course and it gets kind of logjammed on a couple of holes they've got to slow themselves down between shots. I took that even as the way to do the whole pregame routine or how you go through two-line layups. Take it a little slow because your mind might be processing things a lot faster than it usually does and your body will start to speed up. You've got to dial it back. And try to set the tone early in the day that it's just another day." — Stephen Curry, NBA star/budding Web.com Tour pro. Speaking of which. . .
THIS WEEK IN CELEBRITIES PLAYING (PRO) GOLF)
Jake Owen became the latest to tee it up on the Web.com Tour, and let's just say he didn't fare as well as Stephen Curry. Owen opened with a 46 on his front nine on Thursday and it didn't get much better as he posted a pair of 86s. The country music star did, however, provide an all-time mid-round tweet at one of his critics:
And that led to that critic (and a lot of others) pledging a lot of money for each birdie Owen made. Good stuff. Except for the fact Owen didn't make any birdies. Welp.
THIS WEEK IN TOUR PROS ARE JUST LIKE US!
Been there, man. Been there.
THIS WEEK IN TOUR PROS ARE NOT JUST LIKE US
This exchange between Kevin Na and caddie Kenny Harms was incredible:
So was the chip-in birdie for Na, who also shot rounds of 62(!) and 61(!!) at Colonial. Yeah, tour pros are not just like us.
Tiger Woods (No. 6) and Phil Mickelson (No. 10) led the way for golf on ESPN's third annual World Fame 100 ranking. Golf had eight players on the list, while the NFL had only seven. Take that, NFL! . . . Arizona won the NCAA women's college golf championship. The school's golfers are juuust a bit more clutch than its basketball program. . . . I'm devastated for fellow Demon Deacon Chris Paul getting injured when he's finally one game away from an NBA title. On the bright side, he'll have more time to prepare for that NBA/NFL Ryder Cup-style golf event next month. . . . And lastly, my grandma needed a book to read while visiting my house for the first time, so I provided this John Starks biography that she found riveting. Obviously.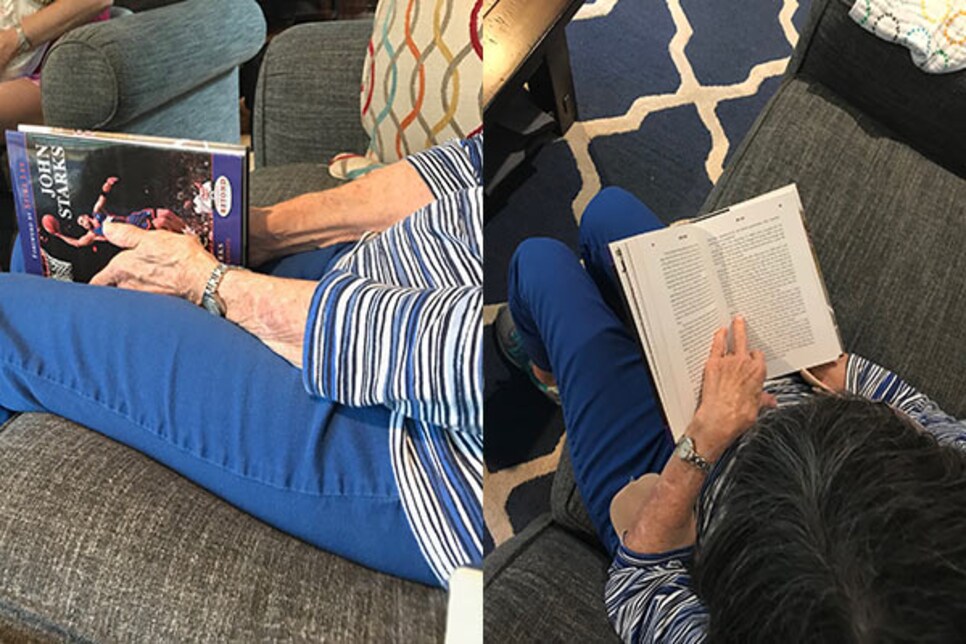 Unfortunately, my house provided a cracked pipe in the basement. I'm guessing she'd trade the book for unlimited running water.
RANDOM QUESTIONS TO PONDER
Why is Chris Paul cursed?
What did Tiger shoot at SHINNY?
What will go wrong at my house next?