News
For Rory McIlroy, 2018 is turning into a year of what might have been
There's still time for the four-time major winner to turn things around, but on Sunday he surprisingly let another tournament slip away
Photo By: Ross Kinnaird/Getty Images
Rory McIlroy has had a remarkable four months—almost. On Sunday, for the fifth time this year, he had a chance to win a golf tournament. After losing to Francesco Molinari by two strokes at European Tour's flagship event, the BMW PGA Championship at Wentworth, he's now 1-for-5. On one hand, he's had five top-fives—a win, two seconds, a T-3 and a T-5—already this year. On the other hand, he could be running away with all the player-of-the-year awards if he'd been a better Sunday closer than he's been.
It isn't as if McIlroy doesn't know how to get to the finish line. He just turned 29 earlier this month and has already won four major championships, two WGC events, a FedEx Cup title and 24 tournaments worldwide. He's been a lock future Hall-of-Famer for a while now.
After a year more notable for injuries and trying to play hurt than anything else, McIlroy took more than three months off at the end of 2017. He had failed to win a tournament anywhere in the world and didn't seriously contend—even though he had two top-10s—in any of the four majors.
"I know I need a rest," he said last summer. "I'd love to play well in the PGA—win it—and take the rest of the year off. If I don't, I'll play out my commitments in the fall and then take a break and hope to come back strong next year. I know I've got it in me."
He finished 22nd in the PGA, wrapped up his lost year on Oct. 1 at the Dunhill Links Championship and then kept to his word, taking more than three months off.
McIlroy returned to competition in late January in Abu Dhabi and promptly finished T-3, four shots behind winner Tommy Fleetwood. A week later, in Dubai, he led by two strokes with five holes to play before stumbling late, losing by one shot to Haetong Li. A strong start, even though he didn't get a win. The break looked like it had done McIlroy plenty of good.
After coming to the U.S., though, he struggled. As usual the problem was with his putter, which lead him to go see Brad Faxon, the wizard of the wand, on the Monday of the Arnold Palmer Invitational. Faxon waved his wand and, six days later, McIroy shot 64 on Sunday and won for the first time since the 2016 Tour Championship.
"Brad makes things simple," McIlroy said after his win. "When you struggle with your putting, it's easy to think too much. I was thinking about far too many things."
Two weeks later, he shot 65 in the third round of the Masters to close to within three shots of Patrick Reed and get himself into the final pairing for Sunday with Reed. But instead of charging dramatically to victory to finish off his career Grand Slam, McIroy was done in by his putting demons again, shooting 74 to finish T-5 while Rickie Fowler and Jordan Spieth were the ones making charges—unsuccessfully—at Reed.
It is remarkable that a player as accomplished as McIlroy is still a work in progress in so many ways.
McIlroy isn't one of those guys who rationalizes defeat. He openly discussed that it took him a solid week to recover from the loss, that he spent time reading a couple of psychology books and binge-watching some television. Even though the Masters is the only major he hasn't won, he readily admits it is the biggest golf tournament in the world.
His first wedding anniversary was two weeks after the lost Sunday at Augusta. En route to pick up an anniversary present for wife, Erica, he talked on the phone about what had happened at Augusta.
"I'd be lying if I said I don't want very badly to win there," he said. "Sunday was certainly disappointing. It was different than '11 when I had the lead and shot 80. I really hadn't figured out back then how to close a major. Now, I know how to do it. I just have to get back in contention and not let the pressure get to me on Sunday.
"I think it'll happen, I really do, but if it doesn't, I'm still going to buy my wife a really nice anniversary present every year and enjoy this day."
One of the things that sets McIlroy apart from many athletes is that he wants to win as badly as anyone, but knows there is more to life than winning golf tournaments.
After missing the cut at the Players—on a golf course he's never liked much—he took a break before playing Wentworth, a tournament he won four years ago. He took the 36-hole lead after shooting 67-65, but couldn't maintain that momentum on the weekend, shooting 71-70 to lose to Molinari, who played almost flawlessly the last two rounds, shooting 66-68 to catch and pass McIlroy.
"I get a bit down on myself because my expectations are high, and with a 36-hole lead, I should have closed it out this week," McIroy told the media afterwards. "But that's taking nothing away from Francesco. He played a great weekend and bogey free around here is some playing. He deserved the win."
McIlroy will never say it, but he believes when he has his, "A game" as a young Tiger Woods might say, he should always win. He struggled Sunday with a two-way miss, falling four shots behind after 10 holes before rallying, too little, too late.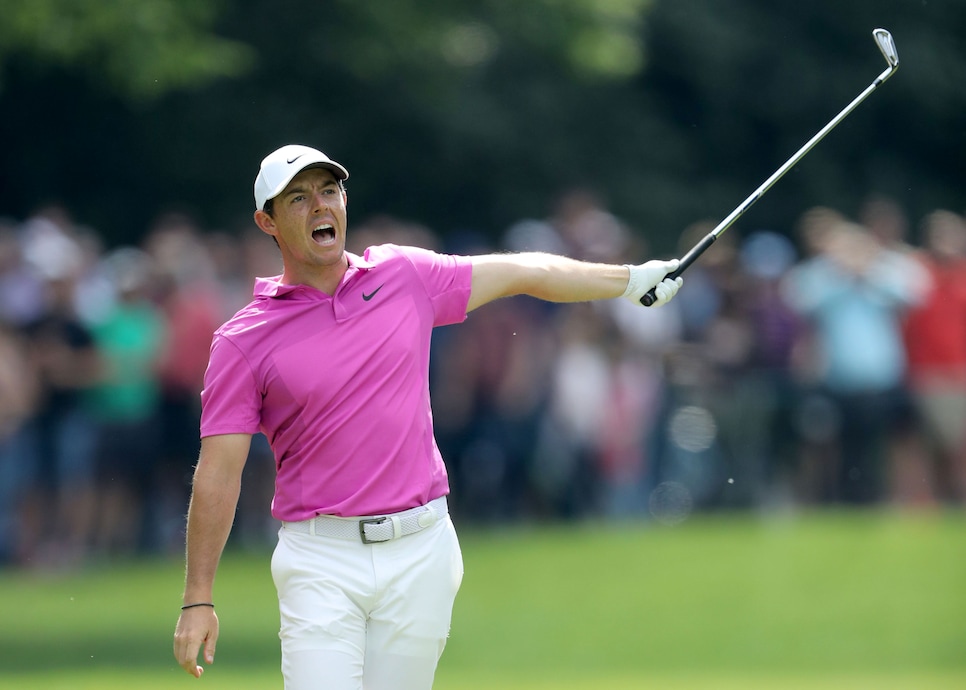 David Cannon/Getty Images
Now he returns to the U.S. to play this week at the Memorial before heading to Shinnecock for the U.S. Open two weeks later. Shinnecock Hills, a links-style course, should be to his liking—if the wind doesn't blow too hard.
It is remarkable that a player as accomplished as McIlroy is still a work in progress in so many ways. He drives the ball as well or better than anyone in the world much of the time, but can get wild. When he is driving the ball well, the rest of his game picks up because he knows he's going to get lots of birdie (or eagle) chances.
That's what happened on Sunday at Bay Hill, when he blew past everyone on a cluttered leaderboard to shoot 64 and win by three shots. No one in the field that day shot lower than 67 and only 16 of 77 players broke 70. That's how good McIlroy can be.
But on other occasions, there is still just enough doubt in his mind under the gun that—at least right now—he isn't closing out chances to win the way he should. He would be the first person to tell you that.
There are still three majors left this year and the Ryder Cup in Paris in the fall. More than anything, McIlroy wants to end his drought in the majors—which dates to his win at the PGA Championship in 2014.
Golfers always like to say, they're "close." They can miss five straight cuts and be "close." McIlroy is genuinely close. If he can find a way to repeat his Sunday magic at Bay Hill—or anything resembling it—on Sunday at Shinnecock, Carnoustie or Bellerive, he will be able to call 2018 a remarkable year.
Not almost. Not close. For real.