News
Rory McIlroy hits three spectators with errant shots, yet is tied for the BMW PGA Championship lead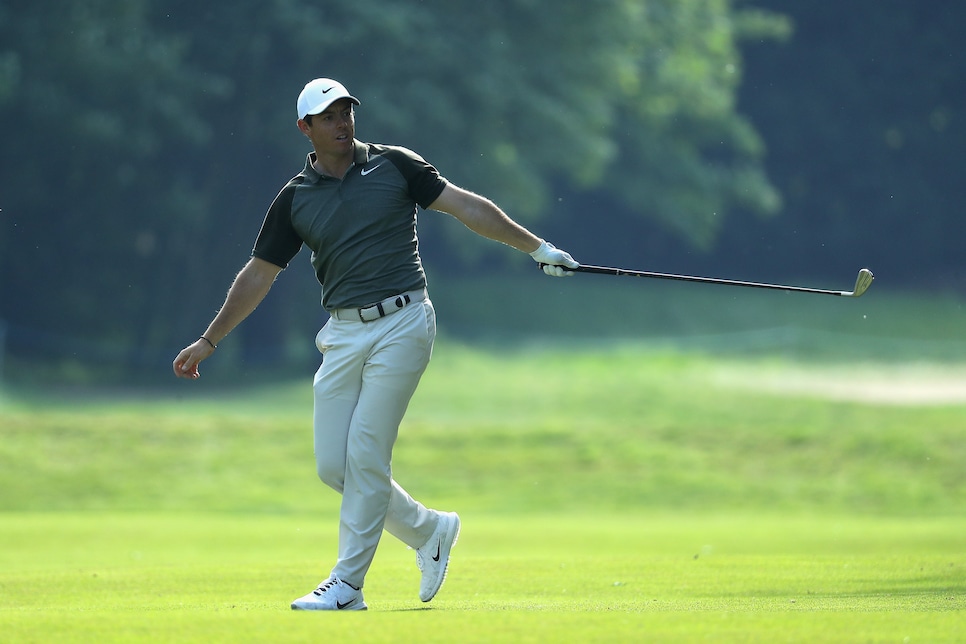 VIRGINIA WATER, England — There have been times over the course of his already storied career when Rory McIlroy has been described as a "dangerous" competitor. But perhaps never before has that description carried more veracity than during day three of the BMW PGA Championship at Wentworth. Three shots clear of the field after 36 holes, the four-time major champion spent a fair proportion of his one-under-par 71 apologizing to spectators struck by his errant shots.
On the sixth, McIlroy's attempted escape from the right-hand trees, shot off the toe of his club and hit a woman on the right hand.
At the par-5 17th, his pulled (and blind) second shot bounced back into play off a marshal's back, from where the 29-year-old Northern Irishman got down in two for birdie. The marshal was not so fortunate. Seconds before McIlroy's ball arrived, he had been hit by a similar shot struck by playing partner, Sam Horsfield.
A lady watching from a few yards left of the 18th fairway was McIlroy's final "victim." Her bloody cranium saved his tee-shot from a devastating fate in nearby bushes. Again, he took advantage, contriving to make a birdie four after a beautifully flighted 81-yard pitch finished inches from the pin.
"I didn't think it was going to carry that far," said McIlroy of his final tee shot. "It was into the wind and it was 275 yards to the bunker with a 3-wood. I thought it was going to pitch in the bunker. So I didn't think anyone was in danger. Obviously that wasn't the case.
"On the sixth, I don't think I quite broke the lady's hand, but I gave her a good mark. On all three occasions I went over to say sorry. There's not much more you can do. Hopefully the medics did a good job and they are OK to come out tomorrow. They saved me really. Those balls were going deep into the trees or out-of-bounds if they had not hit someone. I got very fortunate today."
McIlroy was also disarmingly honest in his assessment of his swing, currently a work in progress. In that respect his round was clearly a learning experience.
"Because the wind was up, I was having to play—you were sort of having to manufacture more shots than just think about your golf swing. A couple of times I was caught between thinking of what I needed to do in my swing and the shot I needed to hit. That's when I got myself into trouble. I need to go do a little work on the range, try to recalibrate and get some good swing thoughts back in my head."
Despite his obvious mixture of concern and regret for the injured in his wake, McIlroy's score in the hot, breezy conditions was still good enough to retain a share of the lead alongside Francesco Molinari. The pair are locked together on 13 under par, four strokes clear of a quartet that includes defending champion Alex Noren of Sweden.
But it was clear from McIlroy's post-round comments that the swing adjustments he and coach Michael Bannon worked on last week still require some time to fully bed in. More than once he looked—and clearly felt—uncomfortable attempting to combine still-new swing thoughts with "seeing" the proper shot in his mind.
"I didn't really have it today," he admitted. "I played some good golf in the middle of the round and was four-under par for the last 12 holes. But especially at the start of the round and the end of the round, there were some loose shots in there. When you're under pressure and the conditions are a bit more difficult, that's when flaws or any little issues with your game start to show up. And that's what showed up for me."
Yet there he is, still atop the leader board. It's what the great ones do.