News
Lee Westwood shows there is still life in his golf game, is on the BMW PGA Championship leader board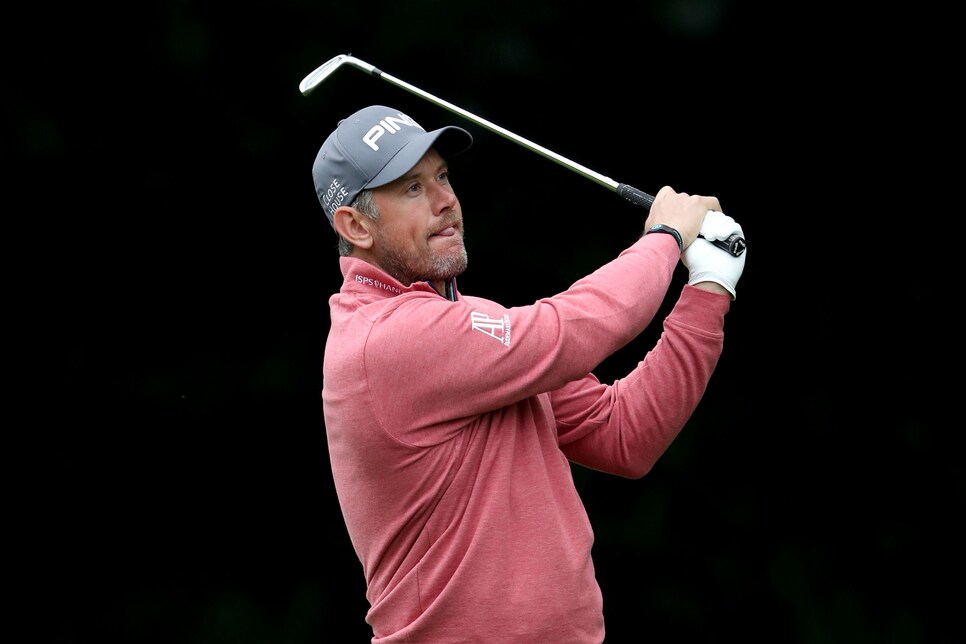 VIRGINIA WATER, England. -- You heard it here first: Beating balls is overrated. So is playing golf. For Lee Westwood anyway. On the back of one range session, a two-day corporate event in Japan and a couple of bounce games with his son, Sam, over the last eight weeks, the 45-year old Englishman is eight-under par after three-quarters of the BMW PGA Championship at Wentworth.
Tied for seventh, five-shots behind leaders Francesco Molinari and Rory McIlroy, the 10-time Ryder Cup player and newly anointed assistant captain is also doing his best to eat his own words. Just four days before, Westwood all but conceded the end of his distinguished playing career in the biennial contest against the United States and, by extension, his ability to remain competitive at the highest level. Which seemed fair enough. Now ranked 117 in the world, the former No. 1 last month missed his first Masters since 2004 and a week from Monday will be forced to pre-qualify for next month's U.S. Open at Shinnecock Hills.
"I'm of an age now where my chances of making the team go down quite significantly," he said last Tuesday. "I haven't played very much and I figured qualifying for the team is a long shot, so I haven't been thinking too much about it. But being an assistant at the Ryder Cup is something I've always been interested in, having played in so many. So when (European skipper) Thomas (Bjorn) asked me to take on that role, I was obviously delighted and jumped at the chance."
Westwood will have another kind of opportunity - one significantly more lucrative - in the final round of an event in which he has twice been a runner-up and on a course where he was crowned World Match Play champion in 2000. And should he claim what would be his 24th European Tour victory, he will surely have to revise his plans for Paris this September.
Which is not to say he was taking anything for granted, despite a fine display of controlled shot-making in the blustery conditions that saw the famous Burma Road turn slippier than it had over the first two rounds. Westwood's 69 - he has dropped only three shots so far - was one of only eight rounds under 70.
That turn of events did not come as a complete surprise though. Westwood may not have been putting in the hours on the range or out on the course - in his last competitive outing he missed the secondary cut after 54-holes of the Shell Houston Open - but his recent trip to Japan produced rounds of 61 and 64 on a par-72 course. So he arrived at Wentworth knowing he was, at least, scoring well.
"This is my 25th PGA," he pointed out, his tongue about to enter his cheek. "That just about says it all. I don't have to play a lot. I don't have to practice a lot. I'm an old dog and I've got old tricks and they are never far away. So while I'd rather have been in the Masters and the World Golf Championships and stuff like that, I wasn't. There were some tournaments I could have played in over the last few weeks, but going to the horse racing at Cheltenham was very important. I went there instead of playing golf. Then I didn't really fancy one week in China, or the week after that in Morocco. And if I'm not in the U.S. Open, I'll have three weeks off next month. That will feel like a weekend for me."
More seriously, Westwood expressed little surprise at the fact that the leader board, previously dominated by McIlroy, is now a bit more crowded. With the wind rising and the course drying out after three days of almost constant sunshine, scoring was always going to rise, even for the gifted Northern Irishman.
"My record round here is decent," said Westwood. "I'm pleased the wind got up and made it tricky. I figured if that happened, Rory might have a chance of dropping some shots. Over the first couple of days it was ideal for him. He scores really well when the course is soft and there's not a lot of wind. If it had stayed like that, hard to see anybody else winning. But when there's a bit of a swirly breeze, anything can happen. It's no surprise to see Frankie (Molinari) playing well. And (T-3) Alex (Noren) won last year and showed he can play this course. So the leader board is no real surprise."
Apart from one name, of course.